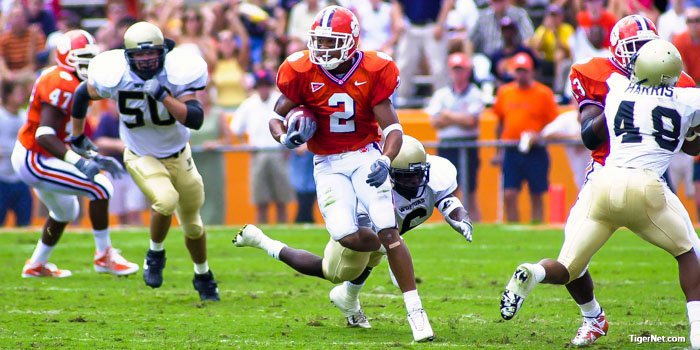 | | |
| --- | --- |
| Former Tiger battles disorder, needs your help | |
---
| | | |
| --- | --- | --- |
| Friday, August 12, 2016, 2:15 PM | | |
Brian Mance made a name for himself at Clemson University by playing with a hard-nosed and gritty attitude. He's using that same attitude to fight a disorder that might rob him of the opportunity to coach at Wofford this season.
Mance played at Clemson under Tommy Bowden and was a coach under Dabo Swinney. He has been the secondary coach at Wofford since 2014, but a GoFundMe page set up recently describes the challenge Mance faces:
Let us share with you how quickly life can change. Brian, his wife, Torrun and their son Jaden were celebrating 4th of July in their hometown with family and friends. On their way home, Brian complained about neck pain. The pain became so severe, they ended up in ER where Brian became increasingly worse and began to lose all mobility in his limbs. After days of waiting for a diagnosis and the consult of more than seven doctors, it was determined that Brian has neurosarcoidosis, a rare autoimmune disorder. He spent 21 days in the hospital and on July 25th was transferred to a rehabilitation center that specializes in the type of extensive therapy that will help him to regain mobility. By the way, this rehabilitation center is more than 75 miles from their home.
We are pleased and happy to say that Brian is making progress, but we understand the process. We also know that there will be major medical costs involved. We are asking that you donate to Brian's cause. Join us as we help this young family!!!
We are all believers and know the love and grace of God and the power of prayer. We ask for your prayers for Brian and his family. He is a loving husband, and father of an adorable 19-month-old son. Help us get the word out, and share our page, and his story.
TigerNet spoke with Mance's wife, Torrun, and she said her husband has made progress.
"Brian is doing pretty good," she said. "He is making progress every day. It's just been a slow process, but he is doing pretty good."
Mance might not be able to coach with the Terriers this season as he continues to recover, and the family has costs associated with the rehab facility and travel. Even five dollars would be a tremendous help to Mance and this wonderful Clemson family.
The goal is $65,000, and as of this morning, a little over $20,000 had been promised. To visit and donate, please click on this link: https://www.gofundme.com/2g9z97e4
Mance is in his second season on the staff after joining Wofford in April of 2015 as the cornerback coach. In his first season with the Terriers, Wofford's total defense ranked third in the Southern Conference. Senior Brion Anderson was fourth in the league in interceptions with three and was named second team All-Southern Conference by the media.
Before arriving at Wofford, Mance completed his third season as the secondary coach and recruiting coordinator at North Greenville University after working at Clemson University for three seasons. While at Clemson, Mance was a player development coach while also working with the Tigers defense.
Mance played at Clemson under former coach Tommy Bowden. As a sophomore, Mance returned an 88-yard punt against Georgia Tech, the fifth-longest punt return in school history. During his junior campaign, he amassed 588 return yards as the kick returner for the Tigers, the fourth-highest in Clemson history.
He ranked 15th in the nation during his final season for career interceptions and is tied for third all-time at Clemson with 12 career picks and 23 pass breakups. He finished with more than 1,000 kickoff return yards and wrapped up his career with All-American and First Team All-ACC selections.
Upon graduation from Clemson in 2005, Mance signed a free agent contract with Washington Redskins. He also played in NFL Europe with Amsterdam as well as two seasons in Arena Football League with Philadelphia, winning a championship in 2008. Mance joined the Arena Football League (AFL), signing a contract with Philadelphia Soul. While he was playing for the AFL, Mance served as a defensive back coach at Manning High School during his offseason, from 2006-2009.