| | |
| --- | --- |
| Following tragic accident, Carlos Watkins on the road to recovery | |
---
| | |
| --- | --- |
| Tuesday, August 5, 2014 10:13 PM | |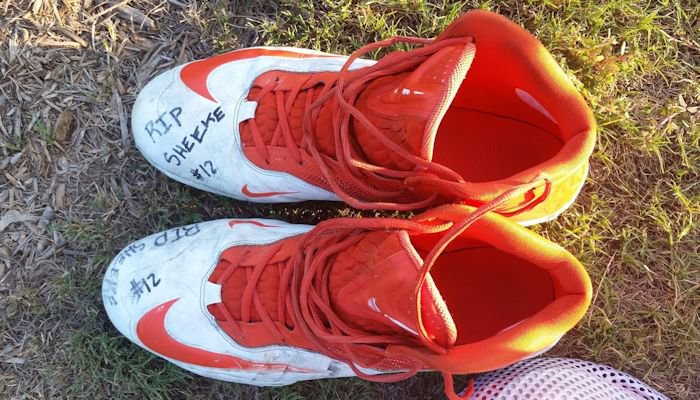 CLEMSON – Every time Carlos Watkins

Carlos Watkins
RS So. Defensive Tackle
#94 6-3, 294
Mooresboro, NC
View Full Profile steps on the football field, he doesn't have to look very far to find reminders of the auto accident that almost took his life and claimed the life of one of his closest childhood friends.
Watkins merely has to look down and see the scars on his arms, scars so large the tape can't hide them, or look down at his shoes and see where he has written the nickname of the friend who was closer than a brother. Along with the emotional and physical scars that come from surviving the ordeal is the knowledge that life can change in an instant, something most young people simply don't understand.
Last September, Watkins was on his way to a cookout with friends when the vehicle in which he was a passenger hydroplaned and slammed into a utility pole. The North Carolina High Patrol said the Dodge Durango lost control while making a left turn, slid off the road and hit an electrical pole, causing it to snap and live lines to fall on top of the SUV. Watkins spent two hours compressed in the car as emergency personnel tried to free a 295-pound man crammed into a small space. Watkins survived the accident, but missed the rest of the season rehabbing his injuries.
However, no amount of rehab could heal the amount of pain he felt in losing Dache Gossett, his close friend and the 21-year old driver of the Durango who was a Homecoming King and football star in his hometown of Forest City, N.C.
Finally healthy, Watkins is trying to move forward with his life, but the accident and his friend are never far away from his thoughts.
"It's a blessing to be back out there on the field after sitting out pretty much the whole year, it feels good to be back out there grinding with my teammates again," Watkins said after Tuesday's practice. "You really don't know how much you miss it til it's gone. Just sitting and watching my boys have fun during the season was tough, but I knew my time would come again."
Watkins said the details of that night, however, are forever etched in his memory.
"We were going to a cookout, and we came up on a turn and the car just lost control," Watkins said. "We spun out and hit a pole, and I hit my head on the window. I was knocked out and unconscious for a minute, and I was trapped under the telephone pole. The telephone pole was stuck on my legs and I was stuck for over two hours until they cut me out. That was a crazy day. I will never forget that day. My dad said he talked to one of the firemen, and said that if I had been a smaller guy I could have broken both of my legs. It was good that I was 295 and a big guy. It was a blessing, and God was there for me."
Watkins spent the night at a hospital in Asheville, most of the time in shock over what had transpired.
"I wasn't really scared. I was just in shock more than anything," he said. "When I woke up I realized I had lost my friend and it was just a tough day for me."
The next few months were spent trying to get healthy while living as normal of a life as he could.
Being around the football team helped.
"My main goal was just to get healthy at first," he said. "I just had to take it a step at a time. I didn't do a lot of damage to my leg – I just had two big hematomas – but once that went down I got my strength back and it was just a matter of gaining confidence. My boys and the coaches supported me. It was good to get back to campus and get my mind away from the accident. They kept me uplifted. We sat around playing video games and laughing all the time. They kept me up. It was good being back around my teammates."
Along the way, Watkins said he learned a valuable lesson.
"It just showed me how quick things can change and how quick your life can be taken away," he said. "You really can't take any days for granted. It changed my mindset a lot."
Clemson head coach Dabo Swinney

Dabo Swinney
Head Coach
View Full Profile said that Watkins is back to being Carlos Watkins.
"He's back to being Carlos. He looks like he did at this time last year," Swinney said. "You may remember that Carlos started against Georgia last year. Had an unbelievable camp and came out of the gate and earned that first start. He played well. The wreck really affected him mentally and physically and it took us a while to get him back. He looks great. He had a great summer."
Watkins said that in an effort to cope with the tragedy, he uses it as motivation.
"You can't really move forward from it. It is always going to be with you because of how tragic it was. I try to use it as a motivational thing. My friend that passed away was a big Clemson fan, so I am doing it for him as well. I am pretty sure he is looking down on me telling me to go for it."
Gossett is never far from Watkins' thoughts.
"His nickname was Sheeke. I put him on my cleats to remind me of him," Watkins said. "And I have the scars on my arm. He was actually two years ahead of me in high school. I was at his house every day, and he was like a big brother. When I went home that was the first person I would look up."
Now, all Watkins has to do is look down for the reminder of the life and friend that was lost, and for a reminder that his life has to go on.