---
| | |
| --- | --- |
| Monday, December 8, 2014 10:34 AM | |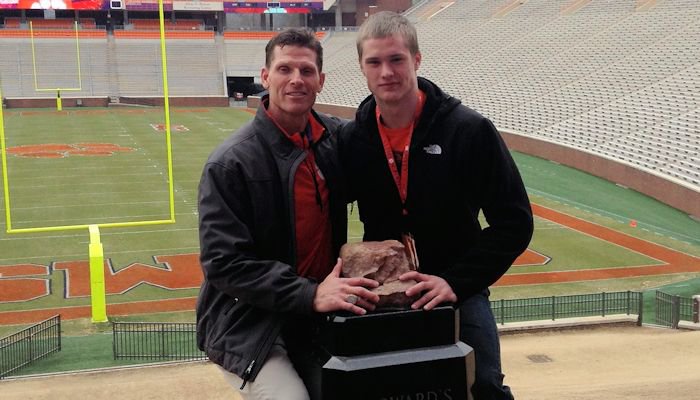 Chad Smith

Chad Smith
Outside Linebacker
6-4, 215
Sterling, VA
ESPN:


View Full Profile has been committed to Clemson since April, but it wasn't until he sat down with head coach Dabo Swinney

Dabo Swinney
Head Coach
View Full Profile and defensive coordinator Brent Venables

Brent Venables
Def. Coordinator / Linebackers
View Full Profile that he and his parents realized what it meant to be a part of the Clemson family.
The Clemson coaches visited the 4-star Sterling (VA) Dominion linebacker over the weekend to conduct their final in-home visit and to answer any questions that Smith or his family may have. It turns out their answers opened the eyes of all involved.
Smith knew what he had signed up for when it comes to football, but what he didn't realize is that when he committed to Clemson, he signed up for a lifetime commitment.
"The program is not a four-year program. When I head to Clemson, it's not something that I'm just going to be there for four years and then that's it," Smith told TigerNet Sunday evening. "The players that go through that program are there kind of for life. They always come back. Former Clemson players and alumni, they all come back. It's a true family environment and it focuses not just on football players and the football aspect but also the character side, the academic side, the way you handle yourself as a person. Getting those questions answered about the Clemson football program was really helpful for my parents and for me overall."
That commitment that Clemson will have to Smith and the fact that he will be taken care of while away at college put his parents at ease with their sons decision and Smith said that his parent have a newfound respect for Clemson's coaches and the program as a whole after the visit.
"It was just the conversations that we had. It wasn't necessarily what I expected," Smith said. "The questions we had for them and the answers they had in response to those questions were eye opening and caught us off guard in a good way, a very good way. I think my parents have a new respect for both coaches and the program. It's not that they didn't have that respect but it's a newfound respect. They didn't really know so much about the program and after this visit they know what the program is all about and are thankful for the way they run the program and are thankful for the way they do things."
One question that wasn't asked, however, is whether or not Venables will be at Clemson for the foreseeable future. Smith said he already knows the answer.
"I didn't ask about that. I read an article somewhere that he responded to that question when a reporter asked him and said that he is the definition of All In," Smith said. "Just talking to him - as a coach, the way he's so passionate about football and the coaching style he brings to Clemson really is the definition of all in. I can't foresee him in the future going somewhere else for a defensive coordinator job. Maybe if it's a head coaching job but that depends on the place and school. I didn't ask him because I have confidence that he is all in."
With all of his i's dotted and t's crossed, there's only one thing left for Smith, enjoy Christmas and prepare for the next chapter of his football career.
"The next time I come to campus will be January 4th - report time for early enrollees," he said. "I can't wait. I'm ready to get to work. There are a lot of things that I need to work on and I can't wait to get down there and start working and helping the program reach a championship."