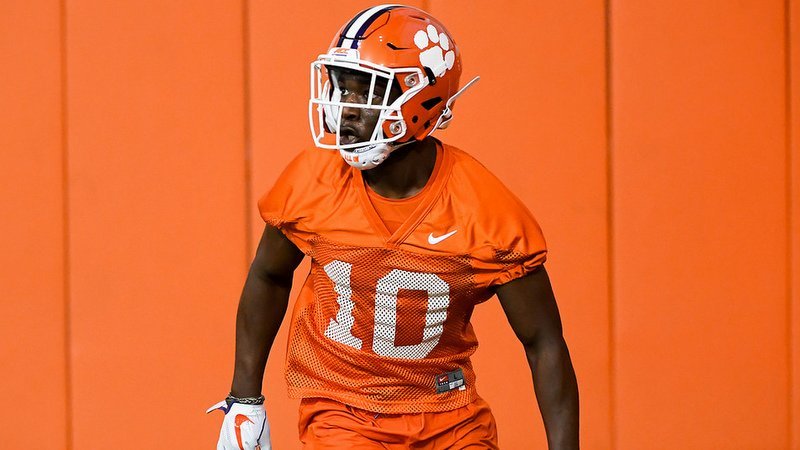 | | |
| --- | --- |
| Elliott says three freshmen standing out, says Kendrick has "a different gear" | |
---
| | | |
| --- | --- | --- |
| Friday, March 23, 2018, 7:01 AM | | |
CLEMSON- New players, same expectations.
Co-offensive coordinator Tony Elliott has seven straight 10-win seasons after becoming a full-time assistant coach. Named one of the top-25 recruiters in the country in 2015 and won the 2017 Broyles Award as the nation's top assistant coach. Listed as a top-10 recruiter by Rivals.com, Elliott has helped produce some of Clemson's finest athletes.
Elliott sat down with TigerNet after last Wednesday's scrimmage to discuss the new faces on the team, including Trevor Lawrence, Derion Kendrick, and Jackson Carman.
On Trevor Lawrence
"Obviously Trevor is getting better every single day," Elliott told TigerNet. "The thing that you have to respect about him is he always explodes, you know never really gets rattled, you see a lot of these young quarterbacks in their first spring ball sometimes seem overwhelmed, they just haven't quite seen that yet. Again, we've gone a little slower with the installation, but granted to him in the way that he prepares and doesn't rattle."
Lawrence was considered that No. 1 overall player in the nation by Rivals.com, and No. 2 by ESPN.com, and has apparently held up his reputation during spring practice.
"His arm is as advertised," Elliott said.
Lawrence's arm ability was well known going into his freshman year, according to Elliott however, Lawrence has impressed with his legs as well.
"What I saw today that he did good is when he ran," he said. "You know he ran a couple plays, took off running and guys weren't able to catch him. So, I think people underestimate his ability to run. I knew that he was a really good athlete, and obviously you don't know how fast a guy is until he's on your practice field and he's running against competition that you see every day, and he was able to pull away from some guys and has a natural presence."
On Jackson Carman
Carman, weighing in 6-6, 330 pounds, a Fairfield (OH) native, came to Clemson as the No. 1 picked offensive tackle and No. 1 player in Ohio by ESPN.com. Carman announced his pick of Clemson over Ohio State on December 20, 2017.
When asked if any mid-year enrollees have stood out to him, Carman was the first name out of Elliott's mouth.
"You know, Jackson Carman is one guy, we all knew what we had in Jackson. He's competitive, he's tough, he can move fast."
On Derion Kendrick
Earlier in the season, Coach Elliott made the comparison of Derion Kendrick to past Clemson superstar, Sammy Watkins.
Kendrick, placed as a national top 50 player by Rivals.com and 247 sports, committed to Clemson as a wide receiver in January of 2017. Kendrick played wide receiver as a sophomore in high school but spent his last two years as a quarterback. His Watkins-like qualities have placed him back at wide receiver at Clemson.
"Derion Kendrick, as I said, Jeff (Scott) kinda beat me up last time I made a comparison, what I was saying, is he just has that suddenness like Sammy, you just see him move into a different gear," Elliott said.
Elliott also commented on Kendrick 's adjustment to the Clemson football program.
"You know for him you start off really strong and as the installation started to mount he's still playing fast, but you're starting to see it's taking them a little longer to process everything, but he's competitive, he tough, he can stretch the field as well," he said. "We were actually able to get some balls in the air and make some plays down the field."