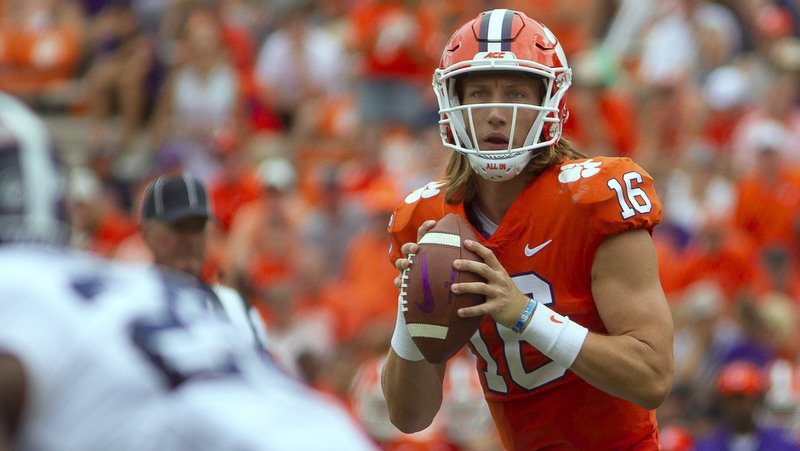 | | |
| --- | --- |
| Elliott: Trevor Lawrence earns reward for production with starting role | |
---
A true freshman will command the Clemson offense as starter this Saturday for the first time since Deshaun Watson in 2014.
Lawrence and Watson's names have been in the same sentence before, as the Cartersville (Ga.) product broke a number of Watson's Georgia state high school records. Now he will have more opportunities at Watson's numbers on the collegiate level.
The decision announced Monday to start Lawrence over senior Kelly Bryant versus Syracuse Saturday (noon, ABC) is a product of his - and therefore Clemson's - efficiency on the field early.
"Kelly didn't do anything wrong," Clemson co-offensive coordinator Tony Elliott said on Monday. "Both of them have played well. Just when you look after four games and you look at the production, obviously you have to reward the production. That's a situation where coach said, 'Hey, this young man has been productive.'
"You look at what he did in the last game with the yards that we had and the points that we put on the board. It's more you have to reward him for that production and he's earned that right."
Lawrence ranks eighth nationally in passing efficiency (191.8) and 10th in yards per attempt (10), also in the top-25 in yards per completion (14th, 15.4) and touchdown passes (23rd, 9). He led Clemson to touchdowns in five of his six possessions in last Saturday's 49-21 win over Georgia Tech - throwing four touchdown passes along the way.
"He just continues to extend plays and has good pocket presence," Elliott said. "The one throw where he rolled to his left and put it on the shoulder of (Hunter) Renfrow in end zone - we obviously all know what his arm talent is...He made some good throws and I think all three quarterbacks can make those plays, but the big thing is when you have those opportunities in a game setting, you've got to make those throws."
Even after an interception Saturday, Elliott says everyone saw what Lawrence can do in response.
"He's such a competitor," said the Tigers' co-OC. "He's his biggest critic. He has that ability to shake things off and go to the next and I think that's what makes him special. He has that confidence knowing that he can make every throw."
Elliott said that any rotation of the two QBs will be coaches' decisions ahead and the starting role is no "lifetime contract."
Incumbent and senior Kelly Bryant had started the last 18 games for Clemson and the team went 16-2 in that span, with one loss coming after a Bryant injury mid-game at Syracuse last season.
Bryant led the first two drives of the Georgia Tech but the offense saw one first down in seven plays up to Lawrence taking over. He also led a 10-play touchdown drive to put Clemson up 42-14 in the second half. His numbers have improved year-to-year, averaging 8.5 yards per pass with a 66.7 completion rate but with just two touchdown passes to one interception (also 30 rushes for 130 yards and two scores).
Elliott expects Bryant to handle the situation well and compete going forward.
"I'm not going to say that it's difficult," Elliott said of the switch on Bryant. "That's the mindset and the culture of our program that these guys know you have to bring it every single day. They recognize the competition level. Obviously Kelly is a guy who has done a lot for us but he understood going into it. That he was going to have to compete…"
"Kelly has done a lot for our program. He is an unbelievable young man and has overcome a lot of adversity. He's put everything he's had into being the starting quarterback. And again, this is just this week. I know he's probably disappointed because he knows that he is leader on this team and guys look up to him. But he also understands that competition and he knows that and trusts the process that we're going to be fair and reward the guys who make the most of their opportunities."
Over four seasons at Cartersville, Lawrence topped Watson state marks in career passing yards (13,902), touchdowns (161) and total touchdowns (171). Lawrence also took over the starting role in his debut season there and finished with 26 touchdowns to seven interceptions as a freshman in high school.
If he is to follow in Watson's footsteps Saturday, the fellow Peach State product set quite the mark. In his starting debut after three appearances, Watson threw for 435 yards and tied an ACC record - and set a school record - with six touchdown passes in a 50-35 win over North Carolina in 2014.

Upgrade Your Account
Unlock premium boards and exclusive features (e.g. ad-free) by upgrading your account today.
Upgrade Now