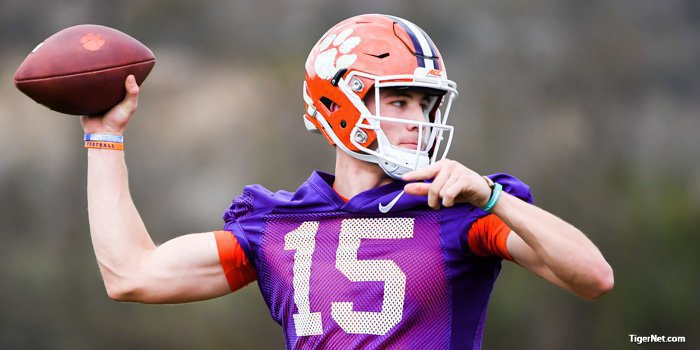 | | |
| --- | --- |
| ESPN analyst says Hunter Johnson will be Clemson's starting quarterback | |
---
| | | |
| --- | --- | --- |
| Monday, July 17, 2017, 7:01 AM | | |
CHARLOTTE, NC – ESPN football analyst Tom Luginbill has strong feelings about who he thinks will be Clemson's starting quarterback this season, and those feelings come from a lesson he thinks the coaches learned with Deshaun Watson.
TigerNet caught up with Luginbill at last week's ACC Football Kickoff in Charlotte, and he said that he thinks Kelly Bryant will be the starter in the first game, but he's only keeping the seat warm for Hunter Johnson.
"I think Kelly Bryant and then Hunter Johnson. I say that and I go back to three years ago and I'm a firm believer and I think if you pin Dabo (Swinney) down, he would say this as well, if they play Deshaun Watson against Georgia on the road, they win the game," Luginbill said. "I think they learned from that experience that if we got some good competition, but we have somebody that's a little bit more experienced, been around, we trust them a little bit more early, maybe we start him early and we play the other guy. Then two games in, we get into a big game and if this kid goes in and shows some flashes we leave him in there. I think that's how it will ultimately play out."
Luginbill said his opinions have changed over the last year.
"I think if you would've asked me 15 months ago, I would've told you the job was going to come down to Zerrick Cooper and Hunter Johnson, I probably wouldn't have mentioned Kelly Bryant," he said. "I think Kelly Bryant not only surprised the coaches, he probably earned the respect of his team and his coaches more so than the staff maybe anticipated. I think from a long-term standpoint, if you're looking at who could do things for us from a physical skillset standpoint, Hunter Johnson is really, really gifted and I think that's something that's hard to ignore. If it's close you're going to go with the more talented kid."
What does he see in Johnson?
"Tremendous polish as a passer. Most high school guys don't look like they are redshirt juniors when they enroll in the spring, but he does," Luginbill said. "Effortless motion. Can make all of the throws. I think the one misnomer about him is that he's not a very good athlete. He actually is a pretty good athlete. He's just not the dynamic runner. They don't have to have that. You've just got to have a guy that can extend and create if you need to and he can do that better than he gets credit for."
The old football axiom says that freshman or rookie quarterbacks are good for two or three losses in their first season, but Luginbill doesn't totally buy into that.
"I think you're always in danger of that when you have a Florida State on the schedule because they're going to have an experienced guy under center as opposed to a young guy," he said. "The one thing I would say that would maybe counteract that is the people around the quarterback are going to be really, really good. You look at Alabama and Jalen Hurts had a lot of deficiencies, but he had a lot of good players around him, so you're able to mask that a little bit. As you continue to grow and you continue to develop, I go back to how Clemson handled the early going of Deshaun Watson and probably looking back should have started him right away or played him a lot more those first few weeks and I think they beat Georgia. They didn't do that, so I think they learned that you go early and often with a guy."