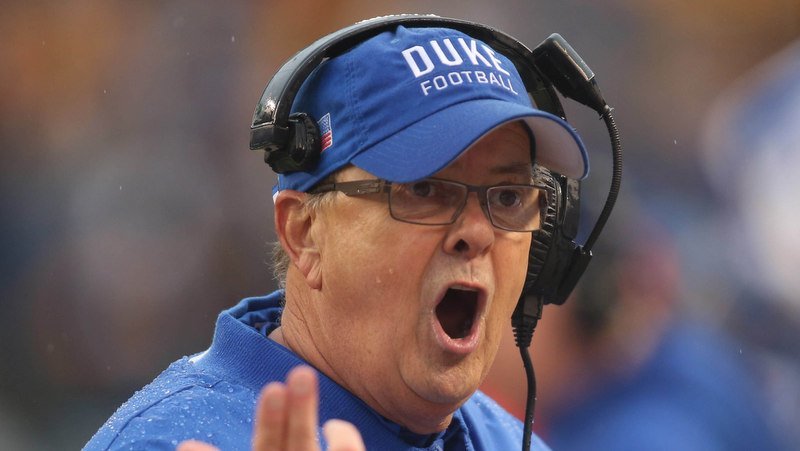 | | |
| --- | --- |
| Duke head coach says Clemson might be "most complete team ever" | |
---
| | | |
| --- | --- | --- |
| Wednesday, November 14, 2018, 8:10 AM | | |
Opposing head coaches in the ACC have been throwing some pretty heady compliments Clemson's way over the last few weeks, and that continued Tuesday when Duke head coach David Cutcliffe said Clemson might be the most complete team he's ever seen.
Boston College head coach Steve Addazio told the media that Clemson might be the best team he's seen, but Cutcliffe took it a step further Tuesday.
"I've kept up with them. I know Dabo [Swinney] very well," Cutcliffe said. "When you look at this team on tape, whether it be offense, defense or kicking, it might be the most complete team ever. I've prepared for many great football teams for more than 30 years, but this team is complete. They play with great effort and great intensity.
"When I say they are extremely well coached, they are extremely well coached. It's just not schematically. It's also their awareness and ability to execute. They have offensive weapons everywhere and they play offensive defense. Their weapons are also everywhere on defense. They are an outstanding team. It will be challenging to play down there on a Saturday night."
The Blue Devils (7-3) play at No. 2 Clemson Saturday night at 7 pm in Death Valley, the first time the teams have met since Clemson defeated Duke 56-20 back in 2012 at Duke.
Cutcliffe said he is looking forward to the challenge.
"It's a challenge I hope everyone on our team is looking forward to. What an exciting atmosphere and opportunity," he said. "I thought our players understand with our practice today. It was as good of a Tuesday work that we've had. Now we have to put together the same thing the rest of the week. This is a big challenge and certainly a big opportunity for this program."
Clemson won its fourth straight ACC Atlantic Division title in last week's win over BC and has a chance to win a fourth consecutive ACC title in early December, and Cutcliffe said Clemson's dominance challenges the rest of the programs in the conference to take a step forward.
"I've been in the Southeastern Conference, where we were like that and that's where Clemson is right now. As good as the ACC is, it doesn't have to only be Clemson for that to happen," he said. "They've done all the right things and a great job, so that's where they are. That changes over time.
"I think it's good for the ACC that everyone feels challenged to take another step. In every great league, I've seen that. I've seen Southern California dominate its league. We've seen Oklahoma, Nebraska and Texas dominate in certain circumstances. I certainly think that will continue to happen in Power 5 leagues and right now, it happens to be Clemson."
One of the keys for the Blue Devils will be stopping Clemson's pass rush – the Tigers are third nationally with 36 sacks and second nationally with 99 tackles for loss.
"You throw it fast. They're good. We have to have balance in our offense," Cutcliffe said. "We're working very hard at that. Your entire offense has to understand that it's not just how to do it or what to do but why we're doing certain things. That's the beauty of it. That excites us as coaches as well as players. We have to plan well and execute well.
"There are a lot of different ways to protect. The quarterback has to put people in the right places and sometimes that's a guessing game. The quarterback has to get the ball out of his hands. Then you have to do the physical parts. That's the most challenging part of protecting."
Another key will be trying to stop a Clemson offense led by freshman quarterback Trevor Lawrence.
"You don't stop him. You have to defend, cover and try to create some rush," Cutcliffe said. "He's a big guy who has incredible arm strength and accuracy. He certainly looks very poised to be a true freshman. He runs well enough to be a true threat. You're not going to stop him. You just try to minimize the kind of damage a player like that can cause you."
Cutcliffe said there will be plenty of excitement heading into the game, and he said he's just happy to "be in the arena."
"There will be butterflies and anxiety. There will also be excitement. These guys have played in some great environments. Once you get going on the field and get hit hard enough, all that stuff you thought about before the game is gone. You hope resiliency, physical toughness and mentally come into play.
"I like our team in that regard. This is a team that hasn't had the same starting lineup in any one week. That requires resilience. Whatever we've used to this point, we need a bit more for this one. I love it from a football coach perspective. I've done this enough times that this is the test that we all look for. There aren't any guarantees in life so you have to just be really happy you're in the arena. This is it. This is what you grasp and what you drive for. We have to play the game. I'm excited right now."