| | |
| --- | --- |
| Dodd playing for championships and cousin | |
---
| | |
| --- | --- |
| Saturday, December 5, 2015 12:01 PM | |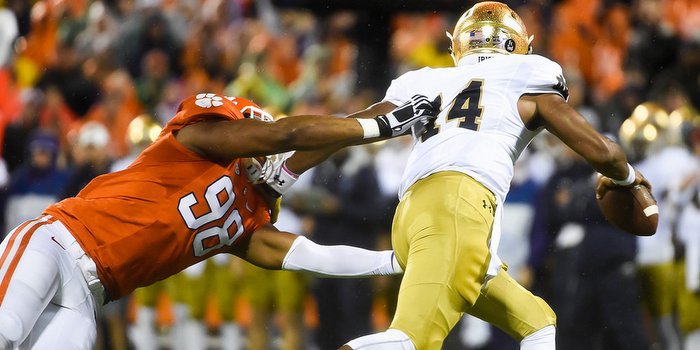 Clemson's defense has a lot of talent from its own backyard. Red shirt junior Kevin Dodd, from Taylors, S.C., was given an honorable mention when All-ACC honors were announced. His fellow defensive end Shaq Lawson, from Central, was named to the first team; Anderson native linebacker Ben Boulware was placed on the second team – not to mention the plethora of other Clemson All-ACC players.
Accolades like that are important, but they're not the only thing fueling home-grown Tigers. Team members like Dodd, who practically grew up in the shadow of Death Valley, play with an extra spark on Saturdays thanks to the community pride they know exists back home.
"I get a lot of love when I go back home, a lot of recognition from people I don't even know. Just a lot of love when I go back to my neighborhood, and I see a lot of orange now in the neighborhood. I'm just blessed to be able to play this game," Dodd said.
Instead of feeling pressure from the tightknit Clemson family, players with this close connection use it as a motivating force. It's also an opportunity to influence the next generation of All-ACC contenders.
Dodd continued, "That's one of the reasons I chose Clemson. I wanted to stay home and stay close to family. I get to have the opportunity to influence my little cousin, and let him see that it's real that you can play football, and he can be out here in front of 80,000. It's another edge that I get, and I always want to play well for them."
Pride is an intangible advantage the Tigers have going into the ACC Championship against the North Carolina, but positive results can also be seen thanks to the players' conditioning. It's normal for bumps and bruises to appear heading into the latter part of any team's schedule, but Clemson's defense has fared pretty well so far when it comes to avoiding serious injury.
Dodd said, "If you're not nicked up or banged up a little bit you haven't played enough football at this time of year. We've played 12 games, so something's wrong with everybody.
"In this program we always preach finish – finishing five yards through the line. I feel like I'm in pretty good shape for this time in the season. And it's 'want-to,' too. I have a passion that I want to get my job done and get this win for the team."
Personal conditioning is particularly a priority for Dodd.
"We're hungry. We want more plays; we want to play more games. Hopefully we can get 15 games under our belt. I make sure I take care of my body because I know I'm going to play. I'm on Coach's back to keep me out there as much as possible, because I want to contribute as much as possible."
The Tigers haven't had an off-week since September, but Dodd's in a comfortable routine and has had tunnel vision on upcoming opponents week after week. The rivalry game against South Carolina was important, but it just a stepping stone to further success.
"The goal is to win them all, that's what we want to do."
This game against the Tar Heels is no different.
"If we don't go out there and do our job it will be [the toughest test of the year]. If we go play Clemson football and do what we have to do, then I feel like it's going to be pretty reasonable and we're going to win the game. They don't have anything we haven't seen before. We've seen explosive offense; we've seen great defense. We've played 12 games, and they're just going to be another competitive D-1 team that we're going to play."
Dodd has never played for an ACC Championship in his Clemson career. To take the next step past an ACC Championship, the Tigers will need to be solid in each phase of the game. Offense, defense and special teams will need to be in sync and attain the consistency they've lacked in recent weeks.
Though he reverberates the same statements of his coaches and teammates, about not looking ahead and the next game being the most important, Dodd is candid about his desire for a National Title.
"The goal is to win the National Championship and win them all. Not to take anything away from the ACC Championship game, it's going to be special playing in that game, but we really want to win them all."