| | |
| --- | --- |
| Diondre Overton: "Clemson has made a big impression" | |
---
| | |
| --- | --- |
| Friday, April 10, 2015 8:01 PM | |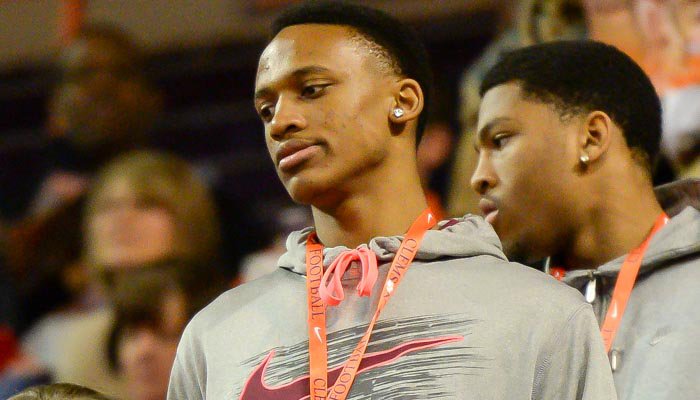 Clemson has sat atop Diondre Overton

Diondre Overton
Wide Receiver
6-5, 195
Greensboro, NC
View Full Profile 's list of schools for quite sometime, but after a recent trip to Tennessee the gap between the Tigers and Volunteers was thought to have narrowed.
However, an overnight trip to Clemson and a heart to heart with one of the Tigers' top playmakers left a "big impression" with the top wide receiver target left on Clemson's 2016 recruiting board.
The 6-5, 195-pound 4-star wide receiver out of Greensboro (NC) Page attended Clemson's spring practice Wednesday afternoon and stayed the night to spend time with the coaches and players, but it was current receiver Mike Williams who opened Overton's eyes to the opportunities available at Clemson.
"It definitely gives me a feeling of what it would be like to be at Clemson for a lifetime or the 1,400 days that they say that you'll be there," Overton told TigerNet Thursday evening. "Staying there gave me a clue of what it would be like if I actually attended Clemson. I loved it. I had a great time with Mike Williams - the rising junior wide receiver there. It was pretty cool."
Williams – who has 77 receptions for 1,346 yards and nine touchdowns in 26 games (14 starts) and was a two-sport athlete coming out Lake Marion (SC) – was able to offer some advice for the up-and-coming receiver prospect.
"Mike basically told me that I would be following in his footsteps," Overton said. "He was in the same position that I'm in. He played basketball all through high school and found a sport that offers more opportunity in football. Coming in, he's the 9-man at Clemson, and if he has a positive season this year he could possibly enter the draft and I could come in right behind him and fill his spot. We both have the same body and the same type of moves. He really told me that Clemson would be a great opportunity and I would definitely get the ball there."
Overton has made several trips to Clemson over the last few months and while he said he's seen everything he needs to in order to make a decision, he doesn't plan to stay away for too long.
"I've pretty much seen everything I need to see," he said. "Clemson is a great place to be around. I really love it out there. They really set the bar high out there on my visits. I would like to spend some more time with Mike, so I'll probably visit a few more times, probably this summer. I have AAU starting soon."
Overton has 13 offers – Clemson, Tennessee, Boston College, Kentucky, Louisville, North Carolina and South Carolina among others, but the recent visit to Clemson did nothing but solidify Tigers' place as the frontrunner for Overton's services.
"Clemson hasn't moved anywhere. They've been at the top since day one and since I visited there," he said. "Clemson has made a big impression."
Overton had 62 catches for 1,187 yards and eight touchdowns in 2014.