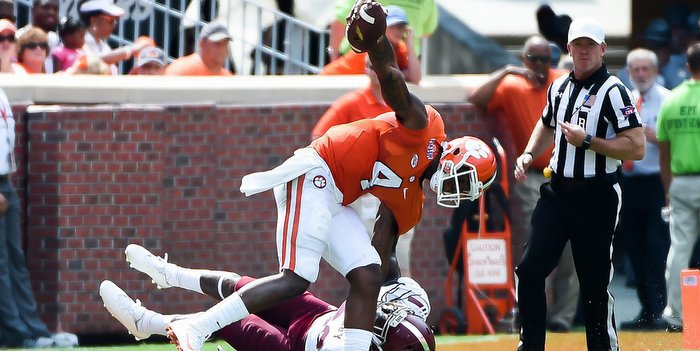 | | |
| --- | --- |
| Deshaun Watson: "I'm not Superman. I'm human. I make mistakes." | |
---
| | | |
| --- | --- | --- |
| Monday, September 12, 2016, 12:15 PM | | |
CLEMSON – Deshaun Watson insists he isn't Superman, even though his superhero style of play has thrilled college football fans over the last two seasons. Superman has been absent through the season's first two weeks, but Monday's honest appraisal might be a step in the right direction if Superman is to get his cape back.
A different Deshaun Watson met with the media Monday morning in the WestZone, the same Watson who wowed the media and fans alike during his freshman and sophomore years with a fun-at-all-costs and happy go lucky attitude.
Since last season, however, the pressure of the awards junket and countless interviews has worn on Clemson's Heisman Trophy contender, and it's appeared that being Clemson's quarterback and the attention that goes with the position has weighed heavily on his shoulders. He hasn't been having fun in games, and he hasn't had fun with the attention.
Monday he apologized for his attitude and said he wants to put the fun back in football and in his life.
He started by admitting he's not Superman. He's human, and he hears the boos and the criticism and realizes something is missing.
"Yeah, I'm not Superman. I had a talk with Coach (Dabo) Swinney this morning. I'm human, I make mistakes. I've started 22 games, and this is probably my worst game. At the end of the day, we're 2-0. You live and learn, and you correct the mistakes. We could easily be 1-1 or 0-2, but we're 2-0. You correct the mistakes, and you move on. I had a reality check this weekend with myself because I wasn't really enjoying it. Looking back at it and Tim (Bourret) and those guys really know, - with y'all I just want to apologize because I think y'all can feed off of the negative energy that I bring to the media because I get it so much, it just kind of wears on me. I'm like why do I have to do this again?"
Watson said he noticed a difference during this past Saturday's win over Troy.
"I kind of figured it out throughout fall camp and after week one. It was a hard win. Auburn is a great team, and it's hard to win down there, especially a night game," he said. "This past weekend, you could just feel the energy starting with me being the leader of the team and not really enjoying it. You can tell my body language has been bad and then it spreads throughout the team and then it spreads throughout the fans. You can feel the energy in the stadium that people weren't really excited about the game. I just have to live in the moment and embrace the moment and just enjoy it. It took a long time for me to put a smile on my face over the course of my lifetime and my experiences and what I've been through on and off the field. It's just a blessing to have the opportunity to be here."
Watson said he is going to approach his dealings with the media different as well.
"It is a blessing, and it is a privilege to have people who want to talk to me, to have people want to hear my story, and hear what is going on because it could easily be the flip side," Watson said. "It is a blessing and it just kind of got away from me for a little bit with all the attention that I have gotten, so I just have to find myself and be the Deshaun Watson that I always will be."
During the process, he's sought advice from those closest to his situation.
"I talked to Coach Swinney a little bit about it today, and I talked to Coach (Brandon) Streeter last night, and I talked to some of the offensive guys, too, yesterday about this opportunity," Watson said. "Everyone kind of feels the same and understands it."
He has heard the doubts that have crept in concerning his play and the play of the offense, but says the offensive will find the things that work and go from there.
"It's very early in the season, and we just have to find what we're good at," he said. "We have to find out what the offensive line is comfortable doing, what the running backs are comfortable running and have to go from there. It's something we can build on."
"It's going to start with going back to the basics and being very detailed with what we're doing and having fun and getting that rhythm and having that confidence. We haven't found our swagger on offense, and that's what we're missing right now. Just having that swag and playing loose and understanding that we have the potential to be one of the best teams in the country but we've got to go out there and really prove. Be loose, have that swag about ourselves and be confident."v