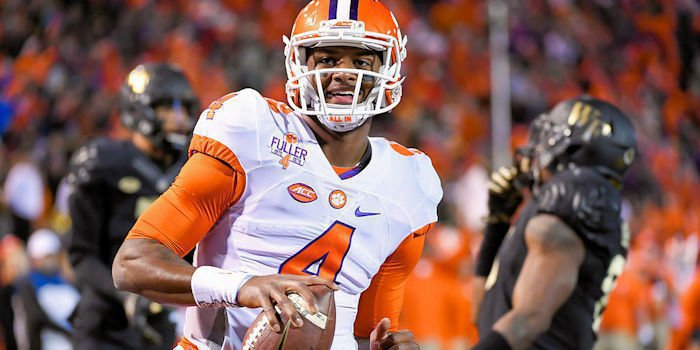 | | |
| --- | --- |
| Dear Todd McShay and draft pundits: Let me help you see what you're missing | |
---
| | | |
| --- | --- | --- |
| Sunday, February 26, 2017, 12:01 AM | | |
Let's face it. The NFL doesn't always get it right. In fact, I am not sure that when it comes to player evaluation that even a majority of general managers or draft analysts get it right more than half the time.
But, just this once, I'm going to help them out.
All you have to do is look at analyst Todd McShay, whose swing and miss track record is more suited to batting eighth for the Colorado Rockies than trying to convince people he needs to be talking about NFL Draft prospects.
Clemson's Deshaun Watson was, in many ways, the same precocious player that stepped on the field against Georgia three years ago and tossed a touchdown pass to Charone Peake. The arm talent, the winning attitude, the poise and calmness under pressure are all the same.
At one point last year, McShay had Watson as a late round draft pick even though anyone who had watched more than a quarter of football in their lifetime knew he was a one-of-a-kind talent. When McShay posted his mock draft in December, Watson's name wasn't to be found anywhere on the list.
McShay's latest mock draft has Watson as the number two overall pick to the San Francisco 49ers. Watson has played just two games since that first draft, hasn't worked out for any NFL teams or attended the NFL Scouting Combine.
However, McShay said he wanted to let everyone know that he thought that pick was "too high" and that he still had Watson with a second round grade. Way to cover all the bases there, Todd.
Anyway, here is how I am going to help you out. There is some homework to be done, but it won't take long, and I am sure even you will be able to grasp what you're seeing.
Find this year's game tape for Clemson's games against Louisville, Florida St. and Alabama. Fast forward to the fourth quarter. Watch in awe.
Against Louisville, Watson led the Tigers to two touchdown drives in the final seven minutes in Clemson's 42-36 victory.
There was the 34-yard touchdown pass to Jordan Leggett with 2:06 remaining at Florida State that proved to be the game winner in Clemson's 37-34 victory over the Seminoles.
And finally there was the drive against Alabama that culminated with the touchdown pass to Hunter Renfrow with just one second left in Clemson's 35-31 win over the Crimson Tide.
Alabama had won 26 straight games and an FBS record-tying 16 in a row over top-25 teams. It came against head coach Nick Saban, his five career national championships and his defense, regarded as the best in many years.
Clemson trailed 24-14 entering the fourth quarter, and Saban had been 97-0 with a double-digit lead entering the final quarter. He had never lost a national championship game (5-0 going into the contest) as well.
Alabama's Jalen Hurts scored with 2:07 left on the game clock to put the Tide up 31-28. And anyone who has watched Clemson knew there was too much time on the clock and that Watson would find a way to win the game. He did, and the rest is history.
In a league known for over-analyzing everyone and everything, there are more draft busts that I can remember, from Tim Couch to Johnny Manziel to Ryan Leaf. They fall in love with height, shoe size, jumping ability, 40-yard dash times and the ability to throw the ball into a tire with no rush. What they forget is the three or four years of game tape they have at their disposal, and decide that they can tell more about a player in two days in Indianapolis than 40 games on the collegiate ever could.
Russell Wilson and Drew Brees? Too short (yet both won Super Bowls). Joe Montana admitted he couldn't throw a football over 55 yards, yet he won four Super Bowls. Kurt Warner? Played at a small school (won a Super Bowl). Warren Moon? Well everybody knows black quarterbacks can't succeed in the NFL (first African-American quarterback elected to the Pro Football Hall of Fame and holds many passing records).
They forget about heart, a willingness to win and the ability to lead. And in the case of the Leaf's and Manziel's of the world, they forget about character.
Watson has leadership, a willingness to win, character and he's always been pretty darn good in the fourth quarter. Quit analyzing the pass he threw with his team up by 21 points in the second quarter against a bad team…how did he do in the fourth quarter with the title on the line?
For his career, Watson completed 138-of-205 passes (67.3 percent) for 1,615 yards, 17 touchdowns, and two interceptions in the fourth quarter.
Hope this helps you guys.