| | |
| --- | --- |
| Dabo says all three QBs could win Atlantic | |
---
| | |
| --- | --- |
| Monday, March 31, 2014 10:00 PM | |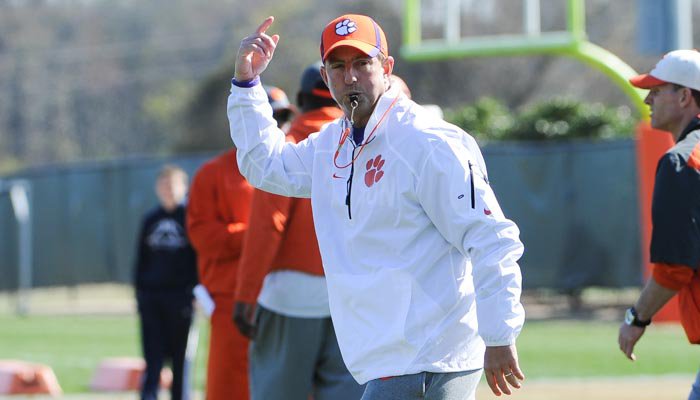 CLEMSON – All eyes were on the quarterbacks during Clemson's first live scrimmage of the spring, but other positions wound up catching the most important eyes on the field – head coach Dabo Swinney

Dabo Swinney
Head Coach
View Full Profile .
The Tigers ran through a scrimmage inside of Death Valley late Monday afternoon, and Clemson's head coach was all smiles afterward.
"I'll tell you, that was a very good first scrimmage. I've been around a lot of first scrimmages and there was a lot of good things on both sides," Swinney said. "A lot of good things, and a lot of back and forth. If I had to say the one thing I was most encouraged with today was the pride our offensive line played with today. We were down (Ryan) Norton, we didn't have Eric Mac Lain

Eric Mac Lain
RS Jr. Offensive Line
#78 6-3, 260
Hope Mills, NC
View Full Profile , so we only had about seven or eight guys for about two groups.
"So they rolled across, and I was very impressed with how they competed. That is what I was really encouraged with. Sometimes in a scrimmage it can be lopsided. Today offensively they had the better day from a short yardage standpoint. Good start. Lot of film, lot of plays and snaps to watch. I think the guys came ready today."
Swinney said he was especially impressed with the quarterbacks.
"Our quarterbacks did a fantastic job. It was an excellent day," he said. "I did something I haven't done since I've been head coach here. I made them live today. It was another chance to evaluate them. It was impressive. Competition brings out the best in everybody. I know y'all want to hear that two of them stunk it up and one was great. It's really, really fun to see what's going on at that position. I know everybody wants to have a quarterback (named) yesterday, but we don't need to worry about quarterback. We're going to be just fine at quarterback. We have some outstanding guys at quarterback and they're competing their tails off. I thought all of them did well."
He was if he thought he could win the ACC Atlantic Division title with Stoudt and/or Kelly, and he said yes.
"Yeah and Deshaun Watson. If you told me, 'Hey this guy is playing,' I'd sleep fine with any of those guys. They're competing hard," he said. "We have put them in a lot of different situations. They've all gotten reps with the first group and the second group. It's a talented, competitive situation. It's like you'd see if you saw James Davis

James Davis
Running Back
# 6-0, 205
Atlanta, GA
View Full Profile , C.J. Spiller

C.J. Spiller
Pro Running Back
#28 5-11, 195
Lake Butler, FL
View Full Profile and Andre Ellington

Andre Ellington
Running Back (2008 - 2012)
#23 5-10, 195
Moncks Corner, SC
View Full Profile compete and you were going to pick just one. What would you expect? All of them do great things.
"They're all different but they're all great players. That's really what we've got at that position. We have a ways to go. The other positive was they were able to show some of their strengths as far as their athleticism and breaking tackles. In practice it's quick whistles because the defense knows it can't hit them. Some of our guys on defense got exposed today. Some of those sacks in practice weren't sacks today."
However, he said the coaches were a long way from naming a frontrunner.
"There's five months ahead of us where things still have to be done. Everything counts if you're going to be the quarterback at Clemson University," he said. "There's a long time between now and August. And it's not like you've just got one guy who's way out in front of everybody. Sometimes it's this and that the next day. We need that type of leadership. It'll be priceless for us. They're all good leaders and they all want to be the guy. They're all working to be the guy. I wish it were easier but you have to go through the process unless it were just obvious. But it's just too competitive right now. We've got a long way to go before we reach that decision."
With the quarterbacks fair game for any defensive players wanting to finally get in their shot on a player usually in a purple jersey, the offensive line stepped up its game.
"You should take pride in that. There were no purple jerseys today," he said. "Take pride in performance. It's one of the things we do in these accountability runs after practice. There are consequences. Everybody suffers when someone doesn't do what he is supposed to do. If a guy's late for class, they all pay the price and suffer. If one guy messes up, it affects everybody. So I was very encouraged with the pride I saw today. I saw a guy like Isaiah Battle

Isaiah Battle
Jr. Offensive Tackle
#79 6-6, 280
Brooklyn, NY
View Full Profile trying to take ownership out there today, trying to be a leader."
Other notes
Eric Mac Lain's injury
"Turf toe. It is swollen up huge. He'll be out at least until next week. He can hardly walk. He did it in a pass-protection drill Friday and it just blew up on him. And Norton I hope to get him back in a couple of days. Jay Guillermo

Jay Guillermo
RS So. Center
#57 6-2, 290
Maryville, TN
View Full Profile stepped up today, though."
Kicker Ammon Lakip

Ammon Lakip
RS Jr. Kicker
#36 5-10, 185
Alpharetta, GA
View Full Profile
"Ammon Lakip is the next thing. Just another tremendous day. He has answered every test so far. That's all you can do. He had a fantastic day."
Freshman corner MacKensie Alexander

MacKensie Alexander
RS Fr. Defensive Back
#2 5-11, 185
Immokalee, FL
View Full Profile
"If we played today, he would start. Ain't no question. It's not even close. He's as good as we've got now. He's a talented young man who's taken a lot of pride in his work. He's a student of the game. It's like he's a different guy."
On the defense
"We've got a good group. This will be the most complete group we've had on defense. Last year y'all thought I was crazy when I told you the front seven would be the strength of our team and then they led the nation in tackles for loss. We were a little suspect in the secondary whereas this year we can be more of a complete group. We'll be much improved on the back end. Much improved. Just more hands on board. We have experience and talent. I think we can be very complete on defense and we have great competition."
On "live quarterbacks"
"When I was coaching with Coach (Gene) Stallings, they were live every day. I remember Norm Chow came out to watch us one year when he was out at BYU. He came and spoke at our clinic, and then he came out to our practice. I went over to talk to him, and he asked, 'Do you really hit your quarterbacks every day?' That was the first time I learned that you didn't hit your quarterbacks. He couldn't believe it, and he was paralyzed by what he had seen out at practice because our quarterbacks were out there getting smoked out there every day. The game has changed so much in how you practice, and we only get so much live work we can do during the spring. But today was one of those days where we felt like from an evaluation standpoint that we needed it."