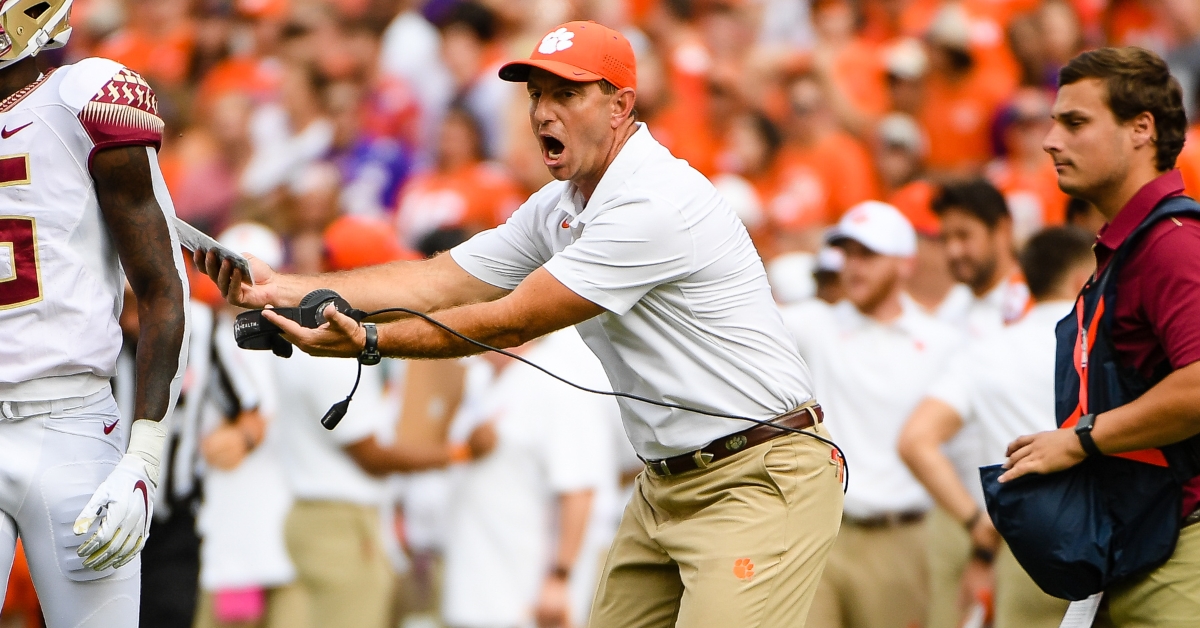 | | |
| --- | --- |
| Dabo Swinney reflects on the night he met Michael Jordan at his bachelor party | |
---
| | | |
| --- | --- | --- |
| Saturday, November 9, 2019, 9:01 AM | | |
Most college football coaches' press conferences last less than 20 minutes. Not Dabo Swinney, though, as he's known to go for nearly an hour and you never know what might be asked of the garrulous head man.
With Deshaun Watson being the talk of the football world, Swinney was asked about his comparison of the former Clemson quarterback and Michael Jordan. The story took many twists and turns and ended up back in Birmingham, Alabama at a club called Jitterbugs.
While Swinney said his initial comment saying the Chicago Bears passed on Michael Jordan was a little misconstrued, he still stands by his message.
"Listen, the whole Jordan thing came about - sometimes, I say things - Y'all know that, and I'm in the moment," Swinney said during his Tuesday press conference. "The whole Jordan thing came about because the Chicago Bulls had the third pick when they took Jordan. The Bears had the third pick. That's the only reason that came up because I'm like, 'if you don't take him, you're passing on Michael Jordan.' That just kind of took on a life of its own. I meant it. I didn't mean he's Michael Jordan, I just meant he's a winner and a killer like that.
"That guy, he's got a will to win that is rare. You just only see that every now and then. When I think of that, I think of Jordan. Jordan, he was going to claw your eyeballs out to win. It didn't matter if he won six championships or whatever. It didn't matter if it was game 50 of 80 or game three of 80, he was going to claw your eyeballs out to win a game. That's why I always loved Michael Jordan… That's what Deshaun is. It came because the Bears had the third pick and the Bulls had the third pick… Had to call Deshaun and say, hey man, I'm sorry."
Now, on to Jitterbugs.
If you know anything about Dabo Swinney, you probably know that he loves basketball and as a basketball fan, Michael Jordan is one of his idols, so when he got the chance to meet the greatest of all time, he didn't pass it up.
Even if it was on the night of Swinney's bachelor party.
"(I met him) one time, but he doesn't know me. I'd love to meet Michael Jordan as today's version of Dabo where he might actually go, 'Aren't you that coach from Clemson?' I met him on my bachelor party," Swinney said. "Clean bachelor party. I was a GA (graduate assistant) at Alabama and he was playing for the Birmingham Barons. I had gone up a couple of times to watch him play baseball for the Birmingham Barons, which was really cool. He bought the team a bus and those Double-A guys are running around in style.
"I was disappointed that he had retired. I just couldn't believe it. I was like, 'What? What are we doing here?' It was like when Barry Sanders retired. What is going on? So he's going to play baseball, but it happens at the Barons. And I'm 40 minutes from the Barons and I'm from Birmingham. He played at the Hoover met and I got to see him play a couple of times there. But my bachelor party with my buddies, it was some time in July, we went to Birmingham and we hung out. They ended up taking us to 'Jitterbugs' a little dance club at the Holiday Inn off of Bruce Springs highway exit in Birmingham. We were just hanging out, ya know? We go to Jitterbugs and I'll never forget it, we're pulling up - we're walking up and there was this car parked right at the front door and it had 'MJ 23' like a Mercedes or something. I have a picture of it, actually. I remember going in like, 'Michael Jordan is in here!' Some of the Barons were in this little dance place.
"It was just a bar dance club. We go in there and I'm looking. Sure enough, I saw him in the back. He's in the back bar area and he's this high over everyone else in the place. I'm like, 'I'm going to meet Micahel Jordan.' "So, I did. I walked back there and I introduced myself. I said, 'Hey, I'm a coach at Alabama and I've always admired you and just wanted to say hey.' He was super nice. I didn't ask for pictures, because I didn't want to do that, but my buddies had the camera - the one you had to roll it. The Eckerds camera thing. They were waiting and as soon as I got over there, they took a picture. That's the only time I've met Michael Jordan. Maybe it'll happen again one of these days. That'll be awesome. He's the best."