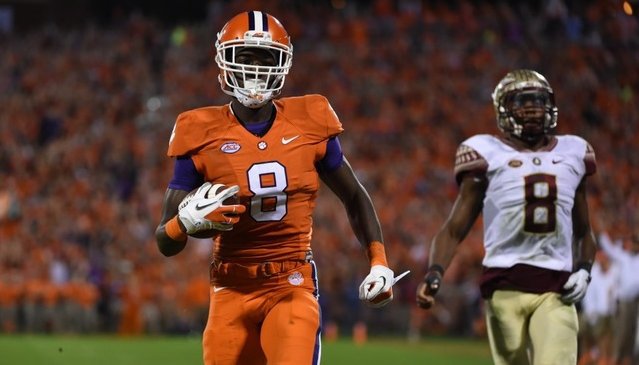 | | |
| --- | --- |
| Clemson's 2017 schedule: Ranking the opponents | |
---
| | | |
| --- | --- | --- |
| Tuesday, May 16, 2017, 8:12 AM | | |
The 2017 Clemson football schedule is loaded with early-season tests, a very winnable October and what head coach Dabo Swinney calls championship November.
It's early, of course, but it's also the time of year when we take a look at the schedule and predict which games will be the most difficult. Last season, the Tigers had to navigate tough road contests at Florida St., Auburn and Georgia Tech, but get all three of those teams at home this season. Two of those teams rank as the most difficult on the schedule.
2017 Clemson schedule
Sept. 2 KENT STATE
Sept. 9 AUBURN
Sept. 16 at Louisville
Sept. 23 BOSTON COLLEGE
Sept. 30 at Virginia Tech
Oct. 7 WAKE FOREST
Oct. 13 at Syracuse (Fri.)
Oct. 21 OPEN
Oct. 28 GEORGIA TECH
Nov. 4 at NC State
Nov. 11 FLORIDA STATE
Nov. 18 THE CITADEL
Nov. 25 at South Carolina
Let's take a look at what I think are the hardest games on the schedule, ranked from most difficult to easiest.
1. Florida St. The Seminoles are loaded yet again, and they have quarterback Deondre Francois back to lead the offense. Key pieces like DeMarcus Walker and Dalvin Cook are gone to the NFL, but there is plenty of talent on hand for the 'Noles to make a run at the College Football Playoff. If Clemson survives the early part of the ACC schedule, the ACC Atlantic might be decided in early November in Death Valley.
2. Auburn. Auburn has talent and a new quarterback in Baylor transfer Jarrett Stidham. These Tigers took some personnel hits on defense during the offseason, but the offense should be in far better shape than it was last season. This game will show both teams where they stand early in the season.
3. Louisville. Clemson and Louisville have played three times since the Cardinals joined the ACC, and all three have gone to the wire. I don't think Louisville will be as talented this season, but they have the revenge motive and still have Lamar Jackson, who can beat you with his legs. This shapes up to be another good one.
4. Virginia Tech. The Hokies lost a lot of talent, including quarterback Jerod Evans (who left early for the NFL but didn't get drafted). Clemson hasn't played at Virginia Tech since 2011, but the Tigers have beaten Tech four consecutive times, two of those in ACC Championship games.
5. N.C. State. The Dave Doeren era at NC State has been checkered at best – he's had a few good wins and some stunning losses. He almost had a great win at Clemson last year, but instead suffered a devastating loss after his field goal kicker wilted under the spotlight. He has some nice pieces on defense, and this is another team that will be looking for revenge on the post-Deshaun Watson Tigers.
6. South Carolina. I waffled on this one a few times. I don't think South Carolina will be very good, and I wanted to put Georgia Tech in this spot. But Clemson hosts Tech and has to play at Williams-Brice, so I put the Gamecocks back in this spot. They have nice pieces on offense, but the defense will be little better than atrocious again.
7. Georgia Tech. Paul Johnson hopes quarterback Matthew Jordan (who saved the day against Va. Tech last season) will be healed from a foot injury and ready to play this fall. Four of the top five backs return, so the Jackets will once again look to ground pound opponents.
8. Wake Forest. The good news is that the Demon Deacons have nine starters returning on offense. The bad news is that the offense was abysmal last season. They won't be quite as good defensively as they were a year ago, and the offense will have more experience. Expect a typical Wake season.
9. Syracuse. I really like the hire of head coach Dino Babers, who brought some energy to the program last season. But he knows that getting to where his team can compete in the ACC means recruiting and sustaining that over a few seasons. They have pieces, but are nowhere near complete.
10. Boston College. Steve Adazzio is another coach who has to recruit really good players to a place with cold weather, lackluster facilities, and almost no fan support. The defense is good unless they play someone with talent, but one change is that the offense will be more up-tempo this season. That in itself is a good change, but they have to find a running game.
11. Kent St. The Golden Flashes finished 3-9 a year ago, but they have 13 starters returning from that team. They've struggled since winning 11 games in 2012, and this season won't be much better. They will provide a good test for Clemson's new quarterback, but that's about it.
12. The Citadel. Sure, the Bulldogs beat South Carolina a few years ago, but Clemson isn't South Carolina, and this is one of those games that the college football powers want to see go away. The Bulldogs will fight – that's what they do – but unless Clemson folds the Tigers should win easily.