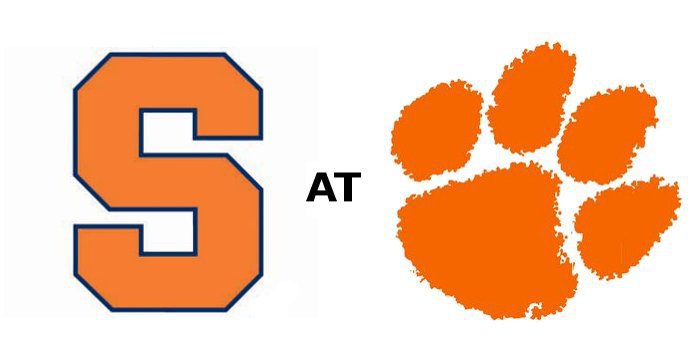 | | |
| --- | --- |
| Clemson vs. Syracuse prediction: Can Tigers get the run game going? | |
---
| | | |
| --- | --- | --- |
| Friday, November 4, 2016, 12:58 PM | | |
Second-ranked Clemson begins what head coach Dabo Swinney calls the Championship Phase of the season.
Clemson is in the top four of the College Football Playoff rankings, and has four games remaining in the season – three home games (Syracuse, Pitt, South Carolina) and one road game (Wake Forest). It all sets up favorably for the Tigers to make an appearance in the playoff for the second straight season, but they have to get past Syracuse first.
NO. 2 CLEMSON (8-0, 5-0) VS. SYRACUSE (4-4, 2-2)
WHEN: SATURDAY, NOVEMBER 5, 2016, Kickoff 3:36 pm
WHERE: Memorial Stadium, Clemson, S.C. (81,750), Military Appreciation Day
TV: ABC (Dave Pasch, Greg McElroy, Tom Luginbill)
XM Satelite Radio: Channel 84
CLEMSON RADIO NETWORK (Don Munson, Rodney Williams, Michael Palmer)
SERIES HISTORY
Overall Record: Clemson leads 3-1
at Clemson: Clemson leads 1-0
at Syracuse: Clemson leads 2-0
at Neutral: Syracuse leads 1-0
As ACC Foes: Clemson leads 3-0
First Meeting: Syracuse, 41-0,
at 1995 Gator Bowl
Last Year: Clemson, 37-27 at Syracuse
Streaks: Clemson won 3 in row
*This is just the fifth meeting between Clemson and Syracuse. The Orange won the first meeting at the 1996 (end of 1995 season) Gator Bowl in Jacksonville by a 41-0 score. Clemson was ranked 23rd entering the game and coming off a five-game winning streak to close the regular season. Syracuse was unranked going into the game, but jumped to 17th in the final USA Today poll with the impressive win. Donavan McNabb quarterbacked Syracuse to that victory. Since Syracuse joined the ACC in 2013, Clemson has won all three games by at least double digits.
*Saturday is Military Appreciation Day at Clemson. Here are a few facts about the school's military heritage:
*The proud military history of what we know as Clemson University really began in 1917, when the entire senior class of Clemson Agricultural College volunteered for service in World War I. A total of 1,549 Clemson cadets saw service in World War I, 25 of which died in battle. Two soldiers from Clemson received the Congressional Medal of Honor: Ensign Daniel Sullivan and Sergeant Erans Foster.
*The famous Senior Platoon was created in 1929 adding to the prestige of Clemson's military heritage. The Senior Platoon gave drill performances throughout the nation, including Yankee Stadium and Fenway Park and became better known as the "Pride of Clemson." *World War II saw Clemson cadets answer the call to arms just as they had for World War I. Only Texas A&M and Army provided more Army officers for World War II than Clemson. A total of 6,475 Clemson alums faced battle in one theater or another, and 370 died in the name of freedom. The Congressional Medal of Honor was awarded to LTC Jimmy Dyess.
WHEN SYRACUSE HAS THE BALL
The Orange average 487 yards per game in total offense, more than Clemson on a per game basis. That includes 357 yards per game passing thanks to the play of quarterback Eric Dungey and receiver Amba Etta-Tawo. Dungey has completed 65 percent of his passes for 2,631 yards, or 329 yards per game. Etta-Tawo is the brother of former Clemson lineman Etta Etta-Tawo, who lettered for the Tigers in 2006 before being forced to retire due to a heart condition. Syracuse's Etta-Tawo is third in the nation in reception yards per game at 134 and sixth in receptions per game. He already has 66 receptions for 1074 yards and seven for touchdowns. Ervin Phillips also has 60 catches and five scores for the Orange, while Steve Ishmael has 40 catches as well. Syracuse is one of two schools with at three receivers with at least 40 receptions so far this year. Syracuse throws the ball 45 times a game, but they still average 130 rushing yards per game. Dontae Strickland is the top rusher with 444 yards, while Dungey is a running threat as well with 289 yards and six scores from the quarterback position.
Clemson's defense has been solid this season, but got gashed by the counter play and Dalvin Cook last week at FSU, had their issues with a running quarterback in Lamar Jackson and struggled with a physical running back in NC State's Matt Dayes. The good news – none of those players will be on the field Saturday, but the Orange go fast and will have the opportunity to put up points. The linebackers and safeties will have to be better this week, staying in their gaps, but Syracuse lives by throwing the ball and Clemson is more than solid in the back end. ADVANTAGE: CLEMSON.
WHEN CLEMSON HAS THE BALL
On defense, the Orange have 35 tackles for loss, led by Zaire Franklin, who has 7.5 and 68 total tackles. Parris Bennett is the top tackler with 73, while Chris Slayton has 26 tackles, including three sacks and seven tackles for loss. The Orange like to play man coverage on the outside, and this could be a big week for Clemson's receivers. I was shocked a few years ago when the Orange stayed with their man coverage against the Clemson receivers and got torched – I was sure they would go zone – but coaches stick with what they do. This is a different coaching staff, but I expect them to stay with their schemes and it could set up a big day in the passing game.
Here's what I want to see, however; the running game has been stuck in neutral for most of the season, and running back Wayne Gallman isn't on track to gain a thousand yards. Gallman seemed a little frustrated after the Florida St. game, telling the media that he was begging for the football and when the coaches finally incorporated Gallman in the attack the Tigers began to move the football freely. Despite the fact that there will be opportunities in the passing game, it would be great to see Gallman get a big workload. Why is that important? Because if you're going to win a championship, you need to run the ball effectively. The Tigers have run it well enough to be 8-0, but Syracuse is 91st nationally in run defense, giving up right at 200 yards per game on the ground. ADVANTAGE: CLEMSON.
SPECIAL TEAMS
Clemson kicker Greg Huegel is getting better and better. He's now 11-of-13 on field goals, and hit three big ones last week at Florida St. He's been solid on kickoffs and, like at the end of last season, has emerged as a major weapon. Punter Andy Teasdall is hanging around the 38 yards per punt mark. The kickoff coverage teams have been amazing – the Tigers are third nationally in giving up 16.13 yards per return. The return games have been almost non-existent the past few weeks. 'Cuse punt returner Brisly Estime is second nationally, averaging 19.80 yards per return every time he returns a punt. Cole Murphy has just ten touchbacks in 41 attempts, and he's struggled with field goals, hitting just 8-of-15 attempts. Sterling Hofrichter is solid, averaging just over 42 yards per punt. Syracuse is tied for 116th in kickoff coverage – giving up over 25 yards per return – and maybe the Tigers can get the return game going this week. ADVANTAGE: CLEMSON.
WHAT WILL HAPPEN
Syracuse has had an extra week to prepare for the Tigers. They last played on October 22 and defeated Boston College in Boston, 28-20, so they'll have new wrinkles and schemes that Clemson will have to adjust to. New head coach Dino Babers has the Orange playing at a higher level than they've played in years, and they've played Clemson tough. Expect more of the same Saturday. The Orange will come out and play well early, but they don't have the defensive horses to contain the Clemson offense and Clemson will gradually pull away on what should be a perfect fall afternoon.
FINAL SCORE: CLEMSON 44, SYRACUSE 17
---
GUEST PREDICTIONS
---
Mickey Plyler - 6-9 AM on WCCP 105.5FM - 48-24 Clemson
Tony Crumpton - Associate Editor - 48-21 Clemson
Nikki Hood - Staff writer - 40-17 Clemson
Lawton Swann - 6-8 PM on Fox Sports Radio 1400 and iHeart Radio - 45-17 Clemson
Tom Meares - Staff writer - 52-13 Clemson
Pigskin Prophet - 42-22 Clemson
| Game | Actual | David Hood | Mickey Plyler | Tony Crumpton | Nikki Hood | Lawton Swann | Tom Meares | Pigskin Prophet |
| --- | --- | --- | --- | --- | --- | --- | --- | --- |
| Auburn | 19-13 CU | 37-20 CU | 31-17 CU | 31-21 CU | 35-24 CU | 38-17 CU | 38-13 CU | 44-17 CU |
| Troy | 30-24 CU | 47-13 CU | 41-17 CU | 44-10 CU | 51-17 CU | 45-14 CU | 55-10 CU | 55-13 CU |
| SCST | 59-0 CU | 52-10 CU | 48-0 CU | 45-10 CU | 49-3 CU | 52-10 CU | 48-10 CU | 55-13 CU |
| GT | 26-7 CU | 28-17 CU | 34-24 CU | 31-21 CU | 31-17 CU | 34-22 CU | 38-24 CU | 27-24 CU |
| LOU | 42-36 CU | 31-27 CU | 31-30 CU | 27-24 CU | 35-30 CU | 38-34 CU | 41-38 CU | 34-27 CU |
| BC | 56-10 CU | 30-14 CU | 31-14 CU | 35-21 CU | 38-10 CU | 34-10 CU | 38-13 CU | 27-9 CU |
| NCSU | 24-17 CU | 27-17 CU | 41-17 CU | 45-20 CU | 56-24 CU | 40-17 CU | 52-10 CU | 42-20 CU |
| FSU | 37-34 CU | 28-24 CU | 34-24 CU | 31-27 CU | 40-27 CU | 34-24 CU | 30-24 CU | 30-20 CU |
| Points | - | 12 | 12 | 8 | 12 | 8 | 10 | 8 |
* Points: 3 pts for best prediction of the week (tiebreaker is Clemson score), 1pt for picking the correct winner