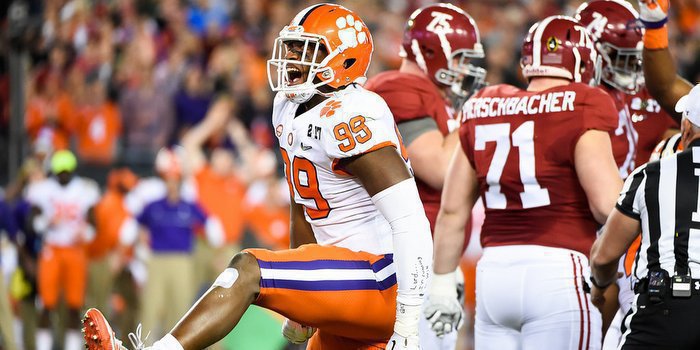 | | |
| --- | --- |
| Clemson versus Alabama part four? Both teams are in a good spot for it to happen | |
---
| | | |
| --- | --- | --- |
| Monday, July 16, 2018, 1:59 PM | | |
Clemson versus Alabama for a fourth straight season? It could happen. Many will be rooting for yet another chapter in what has become a rivalry between the two football schools. Many, many more will be praying it doesn't happen.
I wouldn't bet against it, however.
The last two weeks have been all about travel for me. I made my way to Dallas for The Opening, spent a few days at home and then followed Nikki to Oregon. She had a conference in Portland and I decided to tag along so I could knock a few items off of my mountain bucket list – Crater Lake, Mt. Rainier, Mt. Baker and North Cascades. The scenery was stunning, the people were nice, and the weather was perfect (even though one woman in Bellingham, Washington, told me that when it gets to be 76 degrees there the people don't like it).
The only hiccup was finding out that the place we picked out in Vancouver didn't have an air conditioner.
Heck, we even stopped in Eugene to check out Oregon's Autzen Stadium and in Seattle to check out Husky Stadium.
During our travels, I talk. To everybody. And anybody. I like to talk to the locals, find out the good, non-tourist spots to eat and get a feel for what it is like in other parts of the world. That always leads to questions from the locals about where we're from. One waitress in Portland couldn't believe the fact that South Carolina and North Carolina are two different states and had no idea about college football. She told us, proudly, that she was a big NFL fan and Seahawks fan. When she asked what pro teams were in our area and we told her the Carolina Panthers and Atlanta Falcons, she drew a similar blank (maybe legalizing weed out there is part of the problem?).
But there were plenty of people who wanted to talk about the upcoming season, and the first question I get is, "Who is going to play quarterback?" People also like to ask about the defensive line and some of the players that come through the program.
One gentleman surprised me. While Nikki was in one of her sessions in Portland, I left the hotel and walked up the street for a quick bite and saw a man wearing an Oregon St. shirt. I congratulated him on the Beavers recent College World Series win and we began to talk about the upcoming season. His first statement to me, when he found out I was involved with Clemson, was, "I truly believe Clemson and Alabama are going to play for the title again. Both teams are too talented and their schedules are manageable. If Oregon St. isn't going to make it, I would just rather watch those two battle it out."
His statement stunned me. Not the part about the two teams being talented and playing for a title, but the part about him wanting to see part four. We are a society that gets bored easily, and fans from across the country get tired of seeing the same teams in the playoff each season.
I used the trip to do a lot of thinking (dangerous, I know) about the upcoming season and about the questions that need to be asked as we start the season this week. My conversation with the Beaver was the first time I started imagining the possibilities of Clemson versus Alabama. Again. (Is it just part four or the tetralogy or what?).
There is no doubt in my mind that across the landscape of college football, today, Alabama and Clemson are the two dominant programs. They have the coaches, they have the recruiting and they have the facilities. The schedule sets up in a good way for Clemson this season.
Alabama lost 21 seniors, but also saw underclassmen Minkah Fitzpatrick, Ronnie Harrison, Da'Ron Payne, Calvin Ridley and Bo Scarbrough leave for the NFL. Clemson saw many of its best defensive players return, and Clemson head coach Dabo Swinney talked about the chance for a part four in our postgame interview after the Sugar Bowl.
"Everybody's talking about the trilogy like someone's fixin' to die or something," Swinney said. "We'll be back. They'll be back. We'll have more of these."
Clemson wide receiver Hunter Renfrow thinks the series will make for a good 30 for 30 one day.
"That means we're in a good spot, it means we might be back in the playoff next year," Clemson receiver Hunter Renfrow said. "It would make for a good 30 for 30 down the line."
Will it happen? Its too early to tell, but we are about to get all of this underway. Let the fun begin.