| | |
| --- | --- |
| Clemson shows a fighter's mentality, wins a street fight | |
---
| | |
| --- | --- |
| Sunday, October 13, 2013 12:51 PM | |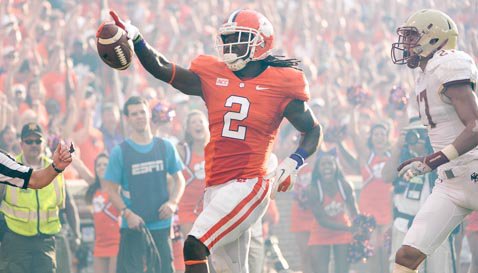 CLEMSON – The Clemson Tigers feel like they have a fighter's mentality.
Much of Saturday's contest against Boston College resembled a heavyweight fight, with punch and counter-punch. Several times during the Tigers' 24-14 win, Boston College had the chance to land the knockout punch, and appeared to deliver that punch when they went up 14-10 late in the third quarter.
The offense got up off the canvas, however, responding with a go-ahead touchdown of their own, and depended on the Clemson defense to deliver the knockout blow that sealed the victory.
Head coach Dabo Swinney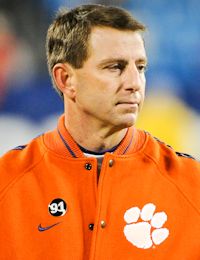 Dabo Swinney
Head Coach
View Full Profile said that it was good to know that his team could fight through adversity and emerge victorious.
"It's good to know that we can win a street fight," Swinney said in his postgame press conference. "You have to give Boston College credit. They were a tough team, but we battled, we played very physically and we were just a little bit deeper than they were. It's good to pull out a win. The play of our defense was tremendous. We held the nation's leading rusher to 70 yard, and that was awesome. We've held opposing teams to 14 points in five straight games. Our defense is playing great."
The Tigers turned the ball over twice, missed two field goals and were held under 30 points for only the second time this season. Some would say that equates to an ugly win, but offensive coordinator Chad Morris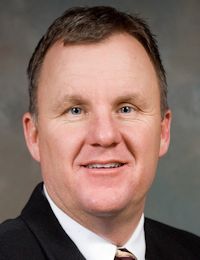 Chad Morris
Offensive Coordinator / QBs
View Full Profile said there's no such thing.
"No such thing as an ugly win," Morris said after Saturday's win. "Great win for this program and team. We may not have played as well, I thought we missed some opportunities early in the first half offensively and never really got a spark rolling, and that's what we needed, but we came back in the second half."
Clemson quarterback Tajh Boyd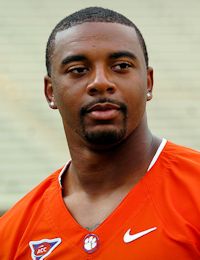 Tajh Boyd
RS Sr. Quarterback
#10 6-1, 225
Hampton, VA
View Full Profile may have disagreed with Morris just a bit, saying that the game was the worst offensive performance that the Tigers could have had.
"I think it's about as bad as an offensive game as you can have, but we still came out with almost 500 yards of offense," Boyd said. "We have some great capabilities, but we have to continue to make adjustment and improve."
Going into halftime, Clemson had fumbled the ball four times, was two-of-nine on third down and only mustered three points, but Morris said there was absolutely no panic in the Tigers' locker room.
"No panic at all. Everything we were calling was working, we were just shooting ourselves in the foot, not executing," Morris said. "Giving them opportunities. We had 5 drives at halftime, missed a field goal, we had Sammy open in the back of the end zone on that opening drive."
Boyd agreed with his play caller's sentiments and said that he was proud of the way his unit responded in the second half, despite missing opportunities at the beginning of the game.
"We should have put a lot of points on the board," Boyd said. "We had the opportunities to convert and we just didn't do it in the first half. But, in the second half the guys came back and handled adversity. That's what I'm excited about."
The offense began to click in the second half, but Morris is going to chalk this game up as a learning experience and a time to get better as an offensive unit.
"I think it's a great opportunity to get better, with a win, so that's even better," Morris said. "Makes things so much better when you're able to coach off of a win. These guys will respond. We've got to get more consistent in our run game. We can't give them opportunities; we haven't fumbled the football this year and today we laid it on the ground twice. Very uncharacteristic of us."
However, the Tigers need improve quickly as Florida State rolls into town in seven days.
"It's another game," Morris said. "We are going to enjoy this win and get better because of this win and it gives us an opportunity to coach them hard this week. It's going to be a great atmosphere, great environment, two top 10 teams."
And if the Tigers find themselves in a tight battle next weekend, tight end Stanton Seckinger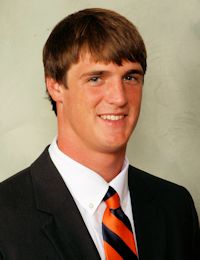 Stanton Seckinger
RS So. Tight End
#81 6-4, 210
Isle of Palms, SC
View Full Profile said that they will do everything they can to fight their way to a win.
"We have a fighters' mentality – when you back us up into a corner, we are going to fight our way out," Seckinger said. "That's a very important aspect of our team and it paid off tonight. "