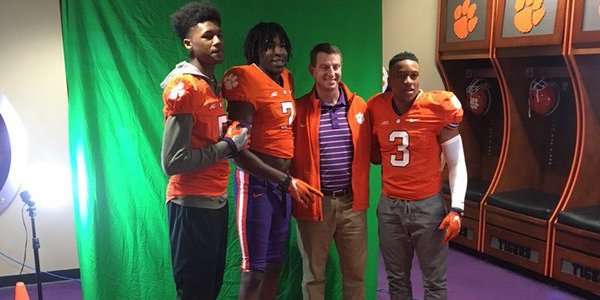 | | |
| --- | --- |
| Clemson Recruiting: When you're hot, you're hot | |
---
| | | |
| --- | --- | --- |
| Monday, February 15, 2016, 7:01 AM | | |
When you're hot, you're hot. Right now, Clemson is on fire.
Clemson's coaching staff reeled in another top recruit Sunday afternoon when 4-star wide receiver Amari Rodgers of Knoxville (TN) Catholic gave his verbal to Clemson. Rodgers commitment gives Clemson seven commitments for the 2017 recruiting cycle, and there are stars aplenty.
Clemson has a commitment from the number one rated quarterback in the cycle in Hunter Johnson, another highly-rated quarterback in Chase Brice, three offensive linemen, safety Baylor Spector and Rodgers. It hasn't even been two weeks since the 2016 class was put in the books and 2017 is already sizzling, and the Tigers aren't done yet. Other commitments from highly-rated prospects could happen in the next few weeks.
Sure, we have a winter chill in the air that surrounds Clemson. But that chill, which might have a permanent home in other parts of the state, hasn't managed to permeate the fuzzy, warm feeling in Death Valley these days.
Yes, Clemson has a lot of momentum.
"We are excited about recruiting and our recruiting in the future because we have a lot of momentum," recruiting coordinator Brandon Streeter said. "We are into our 2017 class and getting names for 2018 and 2019. It's amazing when you win games how much of an impact it makes when you step into a high school. It's pretty special."
Streeter said that Clemson's success on the recruiting trail starts with head coach Dabo Swinney, and the coaches feel like if they can get a prospect on campus and in front of Swinney, the head coach will seal the deal.
"Our coaching staff and the efforts that they brought forth to this recruiting cycle each and every day is amazing. I am learning every single day," Streeter said. "We all kind of just feed off each other and we learn from each other the different styles of recruiting. Obviously, it stems from Coach Swinney. He is a great recruiter. Any time we can get a kid on campus and get him in front of our people and get him in front of Coach Swinney it's somewhat of an easy sell."
Streeter then made sure to mention that while the coaches put in the miles out on the road, Clemson's support staff puts in invaluable time and effort into landing each prospect.
"And it's not only our coaching staff but our support staff. Guys like Woody McCorvey, Brad Scott, Mike Dooley and Jeff Davis," Streeter said. "All those guys are unbelievable in their efforts and what they bring to the program and recruiting. The support that we get from our President and the Athletic Director is second to none. Thad Turnipseed and Jordan Sorrells and what they bring to the table - I have the title of recruiting coordinator but I am really just the liaison between Thad and Jordan and that department and our full-time coaches. They make that job easy because Thad and Jordan do an unbelievable amount of work. And then Jonathan Gantt with what he does as Director of New Media, it's amazing the feedback we get from different schools and other big programs like us how special that these people are and what they are doing to help build our brand."
I thought Clemson's 2015 class – which included Mitch Hyatt and a bevy of playmakers – would be hard to top. Then came 2016, when the Tigers not only added star power but filled several needs. Now we have 2017, and it's shaping up to be a top five class.
Hey, when you're hot, you're hot. And Clemson? Very hot.