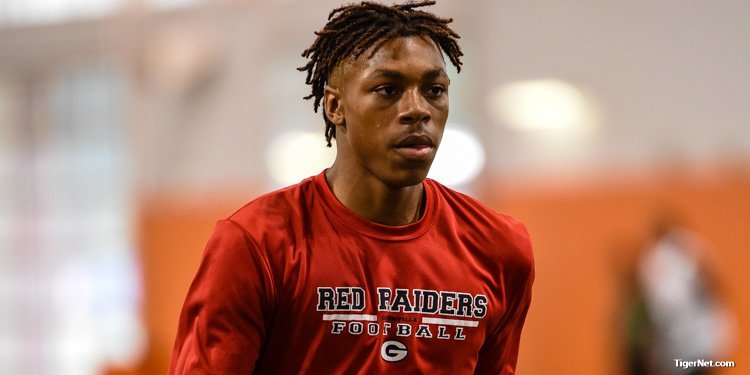 | | |
| --- | --- |
| Born to be a Tiger: Greenville's Kelly has two Tiger athletes as parents | |
---
| | | |
| --- | --- | --- |
| Tuesday, June 18, 2019, 7:01 AM | | |
It's almost like Aalijah Kelly was born to be a Clemson Tiger.
Kelly is a 2022 wide receiver out of Greenville (SC) who also happens to be the son of two Clemson athletes. His father is former Clemson football player Keith Yusef Kelly who was a standout running back in the early 2000s. His mother is Terri Robinson-Kelly, who had a long and storied career as a track athlete for the Tigers from 1997-2002.
Robinson-Kelly was a four-time All-ACC performer, a champion in the 4x100 as well as the team ACC Outdoor Champions. Her team still holds the Clemson record in the 4x200, still in the top 5 in the 55m (5th), 60m (3rd) and long jump (4th). She was also 8th in the nation in the collegiate long jump in 2002. She was 6th nationally in high school and still holds several Southwest DeKalb high school track records.
The younger Kelly has learned a lot from both parents.
"I feel like my mom helped develop my speed and my form. My dad helps me be aggressive and he helps me work on my body when we go workout," Kelly told TigerNet. "It's like having two coaches at home. They always have something to say and are putting in their input.
"They both claim to be the better the athlete, but I was too young to know. My goal is to be like both of them but better."
Kelly was one of the standouts of the last week of head coach Dabo Swinney's high school camp, performing all three days. He was in the A Group under the tutelage of wide receivers coach Jeff Scott.
"I learned a lot that I feel like I can use now that I'm starting my sophomore season," he said. "I'm going to start using it. It was a great honor to get coached by such an amazing coach and go against a lot of great players. I feel like I held my own against them."
Scott had a special message for the young player.
"He told me that I can be a great player," Kelly said. "He said that I need to work on my frame and just the little things. He thinks I'm very coachable."
Kelly is a multi-sport athlete at Greenville – he runs track and finished third in the state in the triple jump this past spring with a 45-5. He also plays basketball in addition to his football duties and is unsure if he will drop a sport to concentrate on football.
"I'm not sure because right now I'm playing three sports," Kelly said. "I might try to narrow it down to two but right now I'm playing all three."
What would a Clemson offer mean?
"It would mean a lot. For years I've watched Clemson go through the ups and downs and I've always felt like I could play for them and make an impact. It would mean a whole lot," Kelly said.