| | |
| --- | --- |
| Bob Stoops on Brent Venables: "Brent has done a great job" | |
---
| | |
| --- | --- |
| Wednesday, December 10, 2014 11:01 PM | |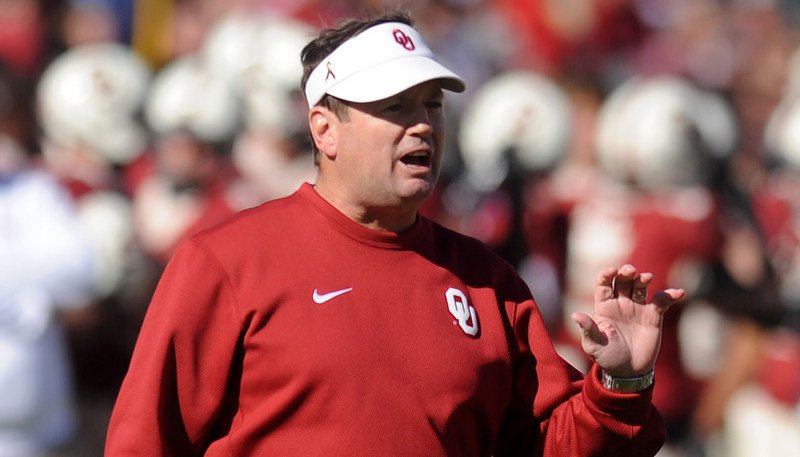 Bob Stoops and Brent Venables

Brent Venables
Def. Coordinator / Linebackers
View Full Profile each knew last week that the possibility existed that Clemson and Oklahoma could face each other during the bowl season, a possibility that became a reality when it was announced on Sunday that the two teams will play on December 29th in the Russell Athletic Bowl in Orlando.
Venables coached at Oklahoma from 1999-2011 and Stoops said the two will have to put their friendship on hold during the game.
"The longer you are in coaching, the more people you know, I guess," Stoops said during the bowl call. "Brent has done a great job. For about four hours, we'll have to go against each other."
Venables was part of Stoops' first staff at Oklahoma, sharing the defensive coordinator title with Mike Stoops (Bob's brother) until 2003. That was when Mike Stoops left Norman to become the head coach at Arizona, leaving Venables as the Sooners' defensive coordinator.
The 2011 season was a rough one for both Clemson and Oklahoma – Oklahoma finished the season ranked 55th in the nation in total defense, allowing 376.2 yards per game. Clemson was even worse, finishing the season ranked 71st in the nation in total defense at 394.4 yards per game. The coup de grace for former Clemson defensive coordinator Kevin Steele

Kevin Steele
Defensive Coordinator/Linebackers
View Full Profile came when West Virginia rang up 70 points and 595 yards of total offense in the Orange Bowl.
Meanwhile back in Norman, Mike Stoops was brought back in January 2012 and it appeared that Venables would once again share the title of defensive coordinator with the brother of the head coach. That all changed when Clemson head coach Dabo Swinney

Dabo Swinney
Head Coach
View Full Profile brought Venables in for an interview for the vacant spot, setting in motion a chain of events that would lead to Clemson having the nation's best defense this season.
During Venables' tenure at Clemson, the Tigers have gone from 64th nationally in total defense in 2012, to 24th nationally in 2013 and first this season, with only 259.6 yards per game allowed. Oklahoma, meanwhile, ranks 53rd in total defense in Mike Stoops' third season back with the program.
Swinney said he knew that the possibility of a matchup with the Sooners could happen and that he is also looking forward to coaching against Bob Stoops.
"Brent and I are sitting on a plane together right now, and we have been flying together all day," Swinney said during the conference call. "When you are in this profession, this happens quite a bit where you are asked to coach against a friend or a school you have worked for at some point. We are very familiar with the Bowden Bowl here with father and son, and I know Brent has great respect for Oklahoma and his time there. As for Coach Stoops, it's an honor to coach against one of the best in the business. This is a huge challenge for us, a team that a lot of people picked number one in the country. I think they have had two overtime losses and had some injuries like we did. This will be as good a team as we have played."
Stoops said that he and Venables have remained friends.
"It's a little different (competing against him) but we're still great friends - we share ideas during the off-season and pull for each other," Stoops said. "It's a little bit different, but the longer you are in coaching, the more people you know, I guess. He's done an awesome job. Just watching his guys, like always, playing disciplined, playing hard and playing well. Again, no surprise to me."