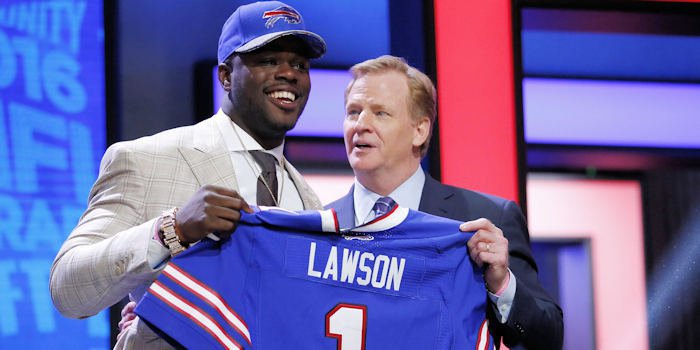 | | |
| --- | --- |
| Bills' GM says Lawson "stuck out like a sore thumb" | |
---
| | | |
| --- | --- | --- |
| Friday, April 29, 2016, 12:34 AM | | |
The Buffalo Bills added to the Clemson connection late Thursday when they selected defensive end Shaq Lawson with the 19th overall pick in the first round of the NFL Draft. It was a decision that was easy for the Bills to make.
Bills General Manger Doug Whaley told the media he couldn't believe that Lawson was around for the Bills to pick at 19.
"There are very few times you can go into the draft and have a really big need, and the guy there standing out like a sore thumb is the guy you want and the guy that fills that need," Whaley said. "We are extremely excited to have Shaq Lawson. We never thought he would fall to us at 19, and when it got closer and got closer we all said, 'Let's keep our mouth shut.' He was the top-rated guy and he stuck out like a sore thumb. To have that caliber of player sitting there at 19 is something we never thought would happen."
Lawson said he feels like he will be playing at home – Bills head coach Rex Ryan's son Seth plays at Clemson and Ryan is a constant fixture around the Clemson program. The Bills selected former Clemson wide receiver Sammy Watkins in the first round two years ago, so Lawson will have familiar faces when he arrives in Buffalo.
"It is a blessing. I have been waiting for this opportunity for a long time," Lawson said. "Having the chance to come to Buffalo is great. A guy, I met Coach Rex Ryan, met him a few years ago since his son came up there and we share the same major, so used to talk about what if I could play in Buffalo. I'm heading to buffalo, but I'm heading to Rex Ryan and them and he is all in like we do at Clemson so it doesn't feel like I am going anywhere but another step but in Buffalo.
"I talk to Sammy [Watkins] a lot. Me and Sammy actually have the same agent, so we have conversations a lot. I mean I talk to Sammy a lot, him and [Jonathan] Meeks both."
Whaley answered the Clemson connection question early in his press conference.
"In Buffalo, we are the lead recruiters for Clemson. We have to keep them stocked with players and one way to do it is to draft their guys high," he said, tongue in cheek. "They were in the national championship for a reason and that's because they have good players. Coach recognizes that he's a good player. He wouldn't take a Clemson player or any player if there wasn't value behind him. I know Rex is salivating over what he can do with this guy."
One concern for NFL teams heading into the draft was his shoulder – he was sent back to Indianapolis for the NFL Combine medical re-check on April 15th, but Whaley said Lawson was checked out by Bills doctors.
"Our medical staff cleared him, said he could play," Whaley said. "If something happens it's going to happen, but it's nothing that we're really worried about or we wouldn't have taken him. We've got complete faith in our medical staff so we're excited to have him."
Whaley projected Lawson as a day one starter.
"He walks in day one as the starter opposite Jerry Hughes. He can set the edge from the outside, and he provides power," he said. "He can rush off the edge, and he has the versatility when we go nickel he can go inside and use his quickness on offensive linemen. I know Coach (Rex Ryan) is excited about it because he can come in day one and start."
Lawson said he built a relationship with Ryan over the last few years.
"I like his scheme and his aggressive defense," Lawson said. "I built a relationship with those guys, and I've had classes with Seth, so I've built a relationship with them over time."