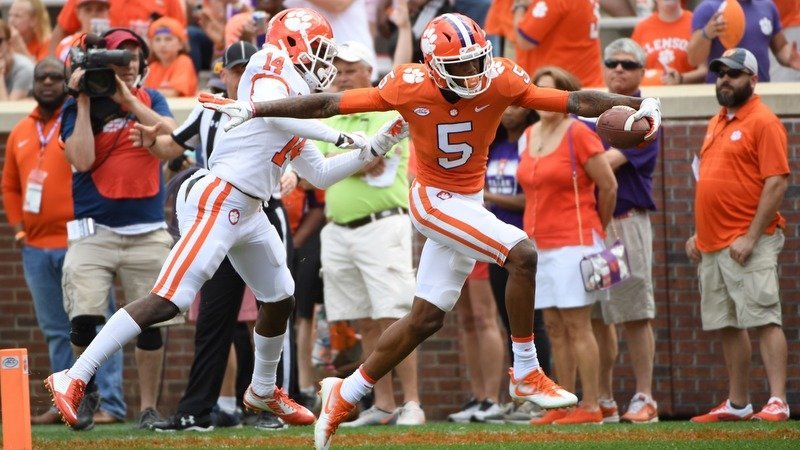 | | |
| --- | --- |
| Bigger and better Tee Higgins will give defenses nightmares this season | |
---
| | | |
| --- | --- | --- |
| Friday, August 10, 2018, 8:01 AM | | |
CLEMSON – A bigger, faster, stronger Tee Higgins is great for Clemson but should give opposing defensive coordinators nightmares.
With a goal of getting stronger to be able to better fend off defensive backs, the Oak Ridge (TN) native weighed in at 209 pounds earlier this month – up nine pounds from his freshman season.
With Deon Cain and Ray-Ray McCloud vying for spots in the NFL, Higgins will become one of the top targets for whichever quarterback sees the field for the Tigers, and with that in mind, Higgins said he dedicated himself to the practice field and weight room during the offseason.
"I wanted to get stronger in the weight room. I really took that to heart," Higgins told TigerNet earlier this week. "Last year, I played at 200 and this year I want to play at least at 212. So I have been in the weight room, just trying to get stronger so I can be stronger with the DBs. In the weight room this summer, I could see the hard work paying off. I'm still not where I want to be but all I have to do is keep grinding and keep working and getting stronger."
Higgins – who is looking to build off of a freshman season that saw him catch 17 passes for 345 yards and two touchdowns – already sees the added strength paying off against some of his teammates and top defensive backs in the ACC.
"I am getting open on my routes. Going against corners like Trayvon Mullen and A.J. Terrell, I am getting open on those guys," he said. "Those guys are really good corners, you won't see corners any better than them. So getting open on those guys you can really see the improvement."
With Higgins' height and repertoire, many people want to compare him to A.J. Green, a comparison he's honored to have.
"I try to model my game after A.J. Green. That's my favorite receiver in the league," Higgins said. "I try but if I can be my own receiver then I want to be my own receiver. I just have to keep getting stronger. Keep working on my craft. Stay in the playbook and keep studying defenses."
Because of that athleticism and skillset, many defenses will key in on Higgins, who said that's great because Clemson has several other weapons in the wide receiver corps who are just as capable.
"They can't just key in on one receiver because we've multiple receivers that are really good," he said. "I kind of hope they do (focus on me) because if they do, we've got other receivers that can do the same thing I can do and do it even better."
One of those receivers is newcomer and Alabama native Justyn Ross.
"That guy is a freak. I thought he was going to need a lot more improvement than he did," Higgins said of Ross. "It's just the little things like releases, his stance - everything we all need to work on. He's quick off the ball. You just don't see that from an incoming freshman like that. I wasn't quick off the ball. I had to learn and get used to the game. He's very quick. You can see it and he can go up and get the ball."