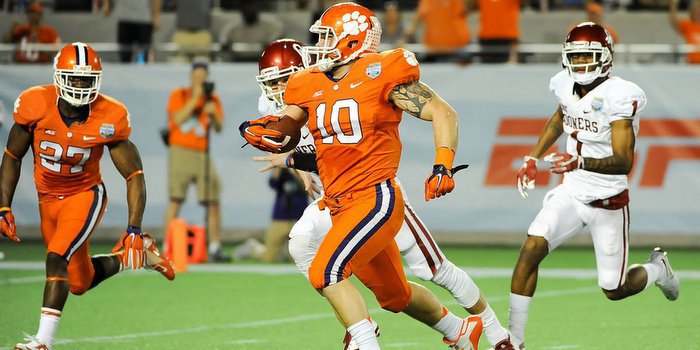 | | |
| --- | --- |
| Ben Boulware says he's heard it all before | |
---
| | | |
| --- | --- | --- |
| Monday, March 7, 2016, 7:06 PM | | |
CLEMSON – Just over a week into spring practice, questions are surrounding Clemson's defense, and they sound a lot like the questions that were asked a year ago.
How can defensive coordinator Brent Venables possibly rebuild a defense that lost eight of 11 starters? Who will play alongside Ben Boulware in the linebacker corps?
Boulware – the senior weakside (WILL) linebacker – told the media following Monday's practice that he's heard it all before, and Clemson's defense figures out a way to respond.
"They're the same as last year," Boulware told the media Monday evening outside of the indoor practice facility. "It's the same M.O. we had coming into last year. We lost a bunch of guys so how are we going to reload? How are we going to rebuild? We finished top 10 in the country, so it's kind of the same thing."
The Anderson (SC) native said he has no doubt that Venables is up to the challenge because he and the coaching staff are the ultimate competitors.
"I think if you're a competitor you embrace this," Boulware said. "I think anybody on this staff would love the challenge of bringing in a completely new set of guys each year, especially Coach V. He's wired every day. He loves to compete. He loves to be the best. Him more than anybody will enjoy this challenge."
Kendall Joseph, who grew up just up the road from Boulware in Belton, is poised to take on the middle linebacker spot, and Boulware said Joseph has been ready to contribute for quite some time.
"Kendall could've played last year. He had the best spring of anybody last year. The tackles and assists he had last year doubled me and B.J., but he was hurt and couldn't play," he said. "I think Kendall was ready to play last year. He was just hurt so much, so he can hold it down. There's no need for me to play MIKE. He's always had a good attitude. I think it's helped him grow as a person having to deal with all of these injuries. He's had to patient and it sucks because he's been hurt and he's been ready to play since his freshman year but his injuries have held him back. I think it's helped him grow as a man and as a leader. I think he'll be able to show that this season."
Dorian O'Daniel has been biding his time at the Nickel/SAM spot, and Boulware said he's more than capable of holding down that outside linebacker spot.
"I think Dorian has been ready. He's just had to do his time and be patient. Just like with me during my first two years, you just have to do your time and keep working and be patient with the role that's in front of you," he said. "I think he's been ready for a long time, and now that his opportunity is here, I think he's made the most of it."
As for the newcomers – Rahshaun (Shaq) Smith and Tre Lamar – Boulware said they are more than ready physically, but they have to be ready to hit the playbook if they hope to contribute.
"They've got a lot to learn, but they're different from a lot of guys because they look like 25-year-old men," he said. "They're already grown. They've already grown into their bodies at 6-3 or 6-4, so they don't really have a maturation process to go through physically. Their main thing is to get right mentally and learn their formations, learn their keys, learn their plays. They're already a step ahead of a lot of guys, but they do have a lot to learn. We'll see at the end of spring how far they've come."
Boulware also likes what he's seen out of redshirt freshman Chad Smith who will push for playing time at MIKE linebacker.
He's (Smith) gotten bigger. He's definitely a lot more physical," Boulware said of Smith. "He's kind of growing into his body more. He's learned a lot more things mentally. He's learned the playbook. He's reacting quicker. He knows his keys and his formations. He's grown in a lot of areas. I think with everybody, me included, there's a lot to learn. That month and a half off you retain most of the information, but you still lose it. I think there's a lot for us to grow in and learn."