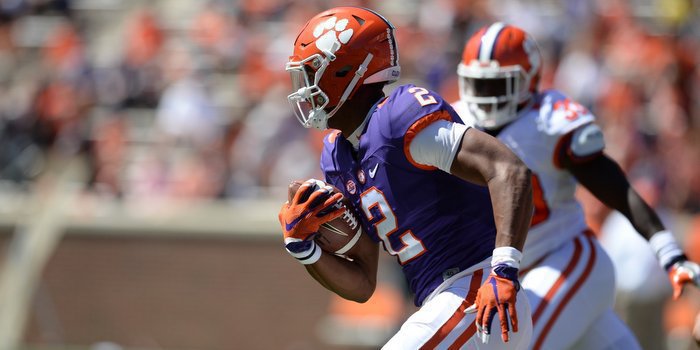 | | |
| --- | --- |
| At quarterback, is there cause for concern? | |
---
Last Saturday's spring game was a cause for celebration. Fans packed the stadium to not only get a glimpse of the future but to give the past one more round of applause as the seniors received their championship rings.
But as the beautiful sun-splashed afternoon gave way to dusk and the assembled media waited for the players and coaches to come off the field so we could hold postgame interviews, a theme kept repeating itself.
Is Clemson good enough to win with the quarterbacks we saw Saturday?
I answered several text messages and emails concerning the subject over the next few days. People were legitimately concerned, and if the only thing you take into account is what we saw Saturday, those fears are founded.
Me? I don't think the time for worry is here, and I'll tell you why.
The media access during spring practice was less than normal, and in my mind, it was because the coaches wanted those four players – Kelly Bryant, Tucker Israel, Zerrick Cooper, and Hunter Johnson – to learn under the watchful eyes of the coaches without having to worry about impressing outsiders.
That meant we had to rely on the players and coaches to give us a glimpse into the battle during our post-practice interview sessions. Early on in camp, we heard that all of the quarterbacks were struggling to find their rhythm. Midway through camp, we heard that each of them would have good days and bad days. By the end of camp, each of the quarterbacks was being praised for stepping up their game.
Following Saturday's game, after a time of reflection, I realized that so many important parts of Clemson's offense were missing Saturday, and I think that was by design. On read-option plays, Bryant would hand it off when he could have kept it for big yards. Heck, running back Tavien Feaster had just five carries on a day when I thought he might get 15 or more. Why? The coaches know what he can do running the ball, they just wanted to see him in pass protection.
Bryant is a dynamic runner and I think Clemson can win with him at quarterback. If he runs the way he's capable of running, it opens up the passing game and makes the throwing lanes wider. The part I hated was seeing him struggle to throw with the tendon injury he suffered on the first drive.
I was on Walt Deptula's show on WCCP Thursday afternoon, and he echoed what I've been thinking all along – both Alabama and Ohio St. made the College Football Playoff last season with quarterbacks who struggled to complete a forward pass.
The potential is there for this to be a run-first offense, with the team relying on its defense and running game to win football games. In other words, this team could closely resemble Alabama from a year ago.
The biggest concern I have is this: At some point during the season, the game will be on the line and the Tigers will be facing a 3rd-and-17 as the clock spins toward zero. Is Kelly Bryant the guy we think can make that pass to keep a drive alive? If he is to be that guy, he has to show improvement over the summer.
But I also liked what I saw from Cooper and Johnson late, and I think Johnson might be the best runner out of the other three quarterbacks. Israel was solid in his action. None of the four looked ready for Kent St., and it's evident that none of them are ready for Auburn.
But like head coach Dabo Swinney says all the time, it ain't September. All of the quarterbacks will take the lessons learned in the spring and apply them during the summer. They will throw with all of the receivers, and Hunter Renfrow told us Saturday that he plans to work with all of them. They will then have a month of fall camp – with no spring break interruptions or school – to fine-tune what they've learned.
The easiest thing to remember – and perhaps the most important – is that none of them are Deshaun Watson. We don't expect them to be. And we can't compare them to Watson because they are all different and bring something special to the table – Israel knows the offense and owns passing records; Bryant can win games and befuddle defenses with his feet; Johnson is perhaps the most polished passer of the group and will be a good runner; and Cooper has arm strength and arm talent to spare.
If the Tigers were playing Auburn tomorrow, I would be concerned. But I also realize that we saw only what the coaching staff wanted us to see last weekend, and the finished product will be far different than what we witnessed.
After all, it's a long way to September.

Upgrade Your Account
Unlock premium boards and exclusive features (e.g. ad-free) by upgrading your account today.
Upgrade Now