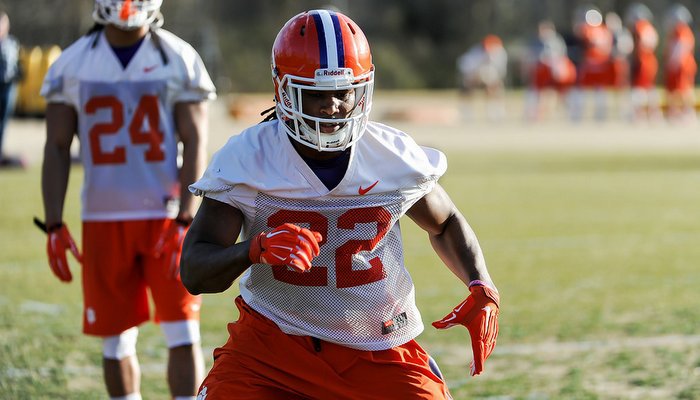 | | |
| --- | --- |
| A sweet soul: Tyshon Dye was more than a football player | |
---
| | | |
| --- | --- | --- |
| Sunday, July 7, 2019, 8:01 AM | | |
A sweet soul.
I was driving early Friday evening when the text came across the phone with the news that former Clemson running back Tyshon Dye drowned during a family outing near his home. Dye was 25 years old, too young to be yanked out of our lives.
Clemson coach Dabo Swinney said everyone with the Tigers was heartbroken over Dye's death. Swinney called his former player one of the "sweetest souls" he'd ever known and was praying for Dye's family. In the hours since the news broke, it seems like everyone that knew "TyDye" has the same description – a sweet soul.
To most Clemson fans, Dye was a football player, someone that maybe they met at some point during his time on campus. Dye was always kind and accommodating, but to some of us, Dye was more than just a football player.
He was so much more.
My son Koty was born nine weeks early and spent most of the first two months of his young life in NICU at Greenville Memorial Hospital, fighting for survival. He is mostly deaf and there are other issues that make it hard for him to make friends or socialize with other people. For years, it's been a running joke in our family – and on TigerNet – when people try to figure out "who is the bored kid" at some of Swinney's press conferences.
Whenever we get a little shorthanded Koty has always been willing to pitch in and help and sometimes that means holding a microphone near Swinney. Sure enough, a few minutes in he'll get bored and zone out and some of his expressions on the videos are priceless.
Four or five years ago, Dye was rehabbing from injury but Swinney's high school camp moved him out of the indoor practice facility. For some reason, we were allowed to interview Swinney that day and I took Koty with me to hold the mic. When the interview was over, I still had camp to cover and Koty wandered off. When it was time to leave, I looked everywhere but didn't see him anywhere.
I finally heard the sound of laughter and found him sitting upstairs at the indoor practice facility with Tyshon. The two were having all kinds of fun – they aren't far off in age – and I almost hated to break it up. When I made it up the stairs, Tyshon broke out into his trademark smile (you would never forget it if you saw it) and said, "Mr. Hood, your son is awesome. We have been talking about all kinds of stuff."
I was blown away. Not everyone gets through to Koty, even people that have known him for years. With Tyshon, however, the barriers came down in a hurry. I let them spend more time together and when it was time to leave, I turned to leave and mouthed a quick thank you to Tyshon. He once again smiled and said, "Koty is awesome. I told him he needs to come over and hang out."
I was blown away.
One was black, one was white. One was a fantastic athlete, the other doesn't really like sports. One was an extrovert, the other doesn't know how to make friends. One was quick to smile, the other has trouble making friends. But here they were, acting like they'd known each for forever. On the way home, Koty admitted that Tyshon found him and started talking and put him at ease.
Over the next few years, Koty would see Tyshon and they lapse into whatever conversation they had been having the last time they saw each other. It was always the same.
When I got home Friday and told Koty the news, the kid who doesn't always show emotion got choked up and walked out of the room. Like me, like all of us, he understands that we've lost someone we didn't want to lose.
We've lost a sweet soul.
Fly high sweet soul. And thank you. From all of us. Especially that shy kid you reached out to.