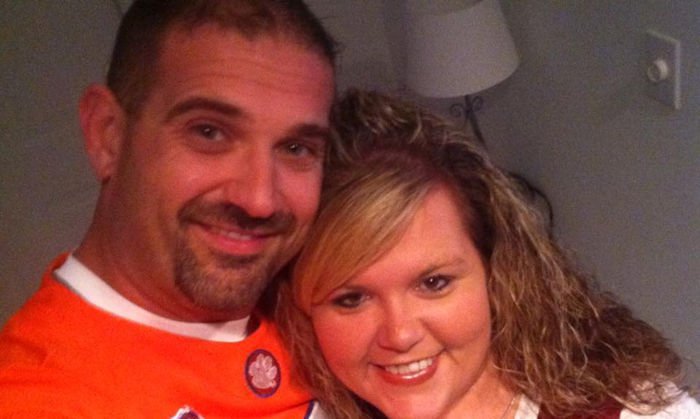 | | |
| --- | --- |
| A father lost, a gift given and an orange-clad guardian angel | |
---
| | | |
| --- | --- | --- |
| Friday, December 9, 2016, 7:01 AM | | |
"There is nothing I should be scared of anymore."
Those last words spoken by Tom Sheriff are telling. They speak of how the lifelong Clemson fan, father and husband lived his life, and now his wife is using those words to deal with a heartbreaking holiday tragedy.
Along with a little help from Clemson head coach Dabo Swinney.
Sheriff, 36, and his wife Ashley left their house early on the Wednesday morning before Thanksgiving so they could close on a new house, a home that would provide more room for their blended family. Tom had two sons by a previous marriage, Ashley had one son by a previous marriage and the couple's marriage produced young Liam.
Ashley turned to Tom as they drove down Pine St. and asked him if he was frightened to be signing his life away with the new home. In true Tom Sheriff fashion, Tom turned to her and said, "I'm 36 years old. There is nothing I should be scared of anymore."
As Tom said those words, the car neared the intersection of Pearl St. and Ashley saw another vehicle enter her peripheral vision. The car hit the Sheriff's vehicle on the side, and Ashley was taken to the hospital with non-life-threatening injuries. Tom wasn't as fortunate – the accident caused swelling on his brain, and a week later he passed away with his family by his side.
It was and is tough on Ashley and Tom's family. Tom, the lifelong Clemson fan, met Ashley (a lifelong and diehard fan of the South Carolina Gamecocks) in high school, but it wasn't until later in life that they knew they were meant to be together.
"Tom was a family guy. The only thing that mattered to Tom was his family. He provided for us," Ashley told TigerNet Thursday. "I worked a job for 13 years and I was previously married and not in the best relationship. We went to high school together and we met again and after that first week we've never been apart. He had two boys previously and I had a little boy previously and then we had Liam together, but all that ever mattered to him was his family. It was his family and Clemson pretty much. He was just an all-around good guy. He always had a smile on his face. He just loved life - period.
"It made life interesting, I'll tell you that. He told me that he had never dated a Gamecock fan, but my family are die hard Gamecock fans," Ashley said. "It didn't matter if they were playing Spartanburg Community College, we were pulling Spartanburg Community College if they were playing Clemson. It made it very interesting."
The blended family went looking for a new home, and were headed to fulfill their dreams when the accident occurred.
"Since July, we've been trying to buy a house, finally we found the house and we were going that morning to close at 10 am, driving down Pine St. and listening to Christmas music," Ashley said. "I asked him, 'Are you ready to sign your life away? Are you scared?' and he said, 'Of what?' And I said, 'You're about to go sign your life away.' He said, 'I'm 36 years old. There is nothing I should be scared of anymore.' Right after that moment, she hit us and those were the last words he said to me."
Tom's injuries were severe.
"On the 23rd we had the wreck. He had severe brain injuries and a broken back, spine damage, broken bones in his neck, injured spleen and severe contusions to his lungs," Ashley said. "He was also on a ventilator. They could never get him off the ventilator or the brain medicine to stabilize his blood pressure. We were never able to see if he would regain consciousness. The neurosurgeon came in on the 30th and said if Tom ever regained consciousness, he would have a life capacity of living in a nursing home and that of an infant child because he had such severe brain injuries."
His injuries and potential quality of life led to a heartbreaking conversation with Tom's doctor, and a life-altering decision for Ashley.
"We had talked many times before in our lives and he told me that he would never want to live that way. He was a very strong willed guy and a provider," Ashley said of Tom. "He said he would never want to live a life if he couldn't be "him." If he can't be Tom he wouldn't want to live. I asked the doctor would he ever be Tom again? And he said, 'What do you mean'" And, I said that Tom would want to be Tom. The doctor said he would never have that life again. We took him off the ventilator and he didn't even take a breath. It only took 12 minutes and he was gone."
Gone, but not forgotten. Not the gregarious and smiling father of four who lived life to the fullest. Not the Clemson fan who made wearing orange a matter of pride. His funeral was a celebration of his life, and he was wearing Clemson's signature purple and orange when he was laid to rest. Tiger Rag played as his casket was carried out of the church.
Knowing that Tom's family needed something good to happen over the holidays, family friend Kevin Sontag reached out to former linebacker Brandon Maye via Facebook to see if Maye could maybe get an autographed picture from Swinney to give to the family.
Maye, and Swinney, went a step further. The family received a handwritten card from Swinney and a signed football. Swinney, who lost his own father 16 months ago, told the boys how to deal with their loss.
Sheriff Boys, I am so sorry about your dad. I know the pain because my dad is gone too. But I also know the joy and peace that comes from knowing Jesus. Your dad and my dad are in heaven and through Jesus we will see them again. Keep your eyes on Him! Dabo Swinney
The package arrived at just the right time for Ashley, who took it as a sign that Tom was still watching over his loved ones.
"Just know that he lived, eat, breathed, slept Clemson Tigers. When I say that he was one of the biggest fans - he was one of the biggest fans I've ever seen for the Clemson Tigers," Ashley said. "So, doing this and everything like that, it's his way of telling me that everything is going to be ok. God has a plan and I don't understand it sometimes, but it's not made for me to understand. This reaching out to me like this touches my heart. You have no idea.
"That's what I'm saying - even being a diehard Carolina fan - I have always said Dabo was an awesome coach and represents God. I don't see how anybody would get through what we have gone through without leaning on God. He took time out of his life at a very busy time, to take time for me and my boys. To me, those are little signs from Tom that tells me we're going to be ok."
Now, the diehard Carolina fan is a big fan of Dabo Swinney.
"I think he is a Godsend. I think that he is the definition of what people should be these days," she said. "He took time out of his life, right before the ACC Championship, to reach out to us and let us know he's praying for us. This is another way that I know this has to do with Tom. Tom Sheriff would be overwhelmed that Dabo took the time to do this and that means a lot to me. We're grateful from the bottom of our hearts.
"I'm a Gamecock fan, but I don't hate the Tigers anymore. I promise."
Ashley now has to pick up the broken pieces of her life, but she knows she has a guardian angel watching her every move. An angel who wears orange.
"My main concern is my boys. I have to take care of my family," she said. "I have to get up every day and live for them. For the first week, I didn't want to get out of bed, take them to school or do anything really. And I was like, 'Tom, you have got to help me get through this.' It was like a light clicked on and now I'm just trying to stay busy. My family, my friends and my support are the reason I'm getting through this. And, I know that Tom is watching over me. He's the one doing all of this. He's the one putting people and the opportunities in our life. I have no doubt that's who's doing it."