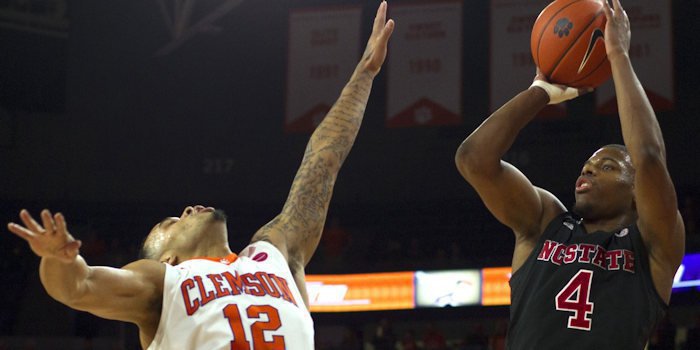 | | |
| --- | --- |
| Tigers win a close one, hold off Wolfpack 78-74 | |
---
| | | |
| --- | --- | --- |
| Wednesday, March 1, 2017, 10:04 PM | | |
CLEMSON – The Tigers finally won a close one.
Dennis Smith's 3-point attempt with three seconds to play was an air ball and Clemson reversed a recent trend of watching opponents hit last-second, game-winning shots in defeating N.C. State 78-74 in Littlejohn Coliseum Wednesday night.
Jaron Blossomgame went scoreless in the first half, but scored the last eight points of the night for the Tigers and wound up with 16 points. Blossomgame hit two free throws after the missed 3-pointer, putting the game out of reach for a Clemson team needing a win.
"First off, I really want to thank our fans for coming out tonight. I thought we had a terrific crowd in some not-so-great weather conditions," Clemson head coach Brad Brownell said. "There was an unbelievable student turnout, and a lot of season ticket-holders there supporting this team and appreciating their efforts, so I want to thank them again for coming. I thought it made a difference. I'm proud of and really happy for my guys. We finally gutted one out and made a couple of plays down the stretch. Jaron [Blossomgame] certainly was very good, especially over the last 10 minutes, he had a huge three and some big free throws. We finally got a couple of stops when we really needed them."
Clemson improves to 15-14 overall and 5-12 in league play. N.C. State falls to 15-16 overall and 4-14 in the ACC. Shelton Mitchell also scored 16 points for the Tigers, while Sidy Djitte added 12. Blossomgame also led the Tigers with eight rebounds.
Abdul Malik-Abu led N.C. State with 18 points.
The first half was as close as the one-point differential at the intermission. Mitchell scored 10 of Clemson's first 12 points (all in the first five minutes as Clemson took a 12-9 lead, but neither team led by more than four in the first 20 minutes.
Clemson led 37-33 with a little over two minutes to play, but the Wolfpack scored the last five points to take a 38-37 lead into the locker room.
The teams traded baskets over the first 11 minutes of the second half, but a 6-0 run that ended with two free throws by Sidy Djitte gave Clemson its biggest lead of the night at 61-55. However, the Wolfpack continued to fight back, and a short jumper by Malik-Abu trimmed Clemson's advantage to just one at 63-62 with 7:12 to play.
A 3-pointer by Terry Henderson tied the score at 67-67 with just over five minutes to play, but Marcquise Reed hit a trey from the right corner on the ensuing possession and Clemson was back out in front at 70-67 with 4:51 remaining in the contest.
The teams traded empty possessions, but Blossomgame hit a one-hander in the lane that put the Tigers up 72-67. The Wolfpack then hit back-to-back shots – the last one a 3-pointer – that tied the game at 72-72 with 1:54 to play.
Blossomgame answered with a three of his own just 27 seconds later for a 75-72 Tiger advantage, but Malik-Abu hit two free throws and Clemson held a 75-74 lead with just under a minute to play. The Tigers spent much of the next possession passing the ball around the perimeter, but Henderson bailed out Clemson by fouling Blossomgame with just a few seconds left on the shot clock.
Blossomgame hit just one of two free throws, and the Tigers found themselves in a familiar position - leading 76-74 with 25 seconds left to play and trying to hold off an opponent's desperation attempt to tie or win.
The Wolfpack called a timeout, but Smith's 3-pointer from the top of the key with three seconds remaining missed everything and Clemson called a timeout of its own leading by two.
"I could tell that one was off," Brownell said. "It was funny. There are some of the other ones that I've been on line with and I could tell they were in, the Seth Allen one [at Virginia Tech] for sure. Our guys did a better job. We switched a bunch of things, and guys really reacted. Sidy [Djitte] made a good contest to step out as well. He made a nice read to jump out. Jaron [Blossomgame] did a nice job of zoning up some things behind it. It was just good all the way around. We had to make some offensive plays and defensive plays, and get the ball in bounds at the end. Jaron [Blossomgame] had to make some free throws. It was just nice to execute a bunch of good things in the last minute of the game."
Clemson returns to action Saturday, hosting Boston College at 4 p.m. on Senior Day.