| | |
| --- | --- |
| Steele: Littlejohn feared no more? | |
---
| | |
| --- | --- |
| Monday, March 3, 2014 11:53 AM | |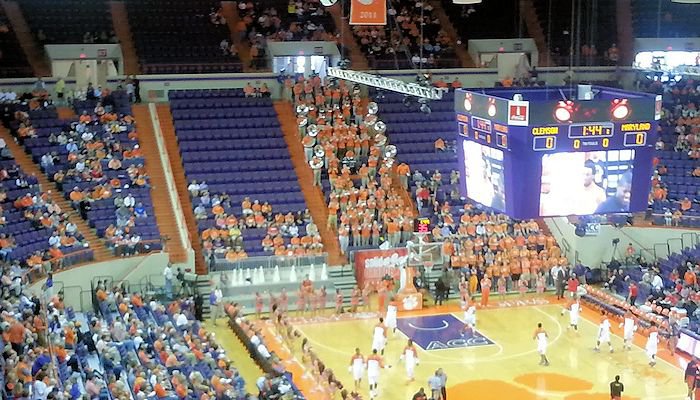 It wasn't that long ago that Clemson's Littlejohn Coliseum was revered as not only one of the toughest places to play in the ACC, but as one of the toughest in the country.
It was just five years ago that EA Sports named Littlejohn as the toughest place to play in America, and it was just four years ago that College GameDay made its first and only appearance for a Clemson basketball game.
Now what was once a proud student section is filled with fans who bought upper level tickets and are moved down by event staff because the students won't show up to support the basketball team, a team that was picked to finish 14th in the conference but is fighting for fifth place and an invitation to the NCAA Tournament.
Clemson head coach Brad Brownell

Brad Brownell
Head Coach
View Full Profile told TigerNet Monday that a less than stellar turnout at basketball games isn't unique to Clemson, and that other schools around the country have had the same problem
"We don't have bad crowds, but we're not 10,000 strong every night either," Brownell said during his weekly ACC conference call. "Student attendance has kind of come and gone. There have been nights where we've had really good student attendance and then there have been others like yesterday where it was just okay. It's not just unique to our situation. I see games on TV and I go to other arenas in the league and we all struggle from time to time to garner student interest."
However, Clemson should be the exception, not the rule.
When I chose to attend Clemson University in 2004, it wasn't because it was like every other university around, it was because there is something special about Clemson – the way we rally around every cause, around every team, around each other.
Clemson is a small community and it's not uncommon to have a class with a Rod Hall

Rod Hall
Jr. Guard
#4 6-1, 210
Augusta, GA
View Full Profile or a K.J. McDaniels

K.J. McDaniels
Jr. Forward
#32 6-6, 200
Birmingham, AL
View Full Profile , and if you do, then you probably see how hard each one of those guys are working on and off the court. So why not show up and support your classmates and those that are representing the university that you are so lucky to attend?
Brownell laid out all of the excuses for the low student turnout, but he was quick to point out that the regular fans, the paying fans have been fantastic with their support this season.
"There are a lot of things going on. Yesterday, it was a gorgeous day down here. It was 70 some odd degrees and people were outside," Brownell said. "There was a baseball game against South Carolina just after the basketball game so I'm sure some people were doing that. There's a lot of stuff for people to do right now. I think our traditional fans have been very good this year, our season ticket holders, our fans that come and support us that aren't students – that fan base has been great all year. I think our students have been kind of come and go. We have to continue to do our best to motivate them and market them and make them understand what we have with basketball sometimes that we have so many games going on.
"It's not like with football where everybody comes on a Saturday and there's only one a week. This week we have three games in a row. We didn't play at home for a month – we had one home game in 20-some odd days. I think that can lose interest too when all of a sudden your basketball team isn't home for so long and you forget about it a little bit. It's a bunch of different things and I don't think it's unique to Clemson."
In the end though, those are all just excuses.
I was a student not long ago and I remember the long nights of studying and the exams and the social activities, but it's two hours.
Two hours is all it takes to show the basketball team that their hard work isn't for naught, and that basketball can be as important as football and baseball. I help with TigerNet's Twitter account during the games, and one convenient excuse I hear is that Clemson basketball isn't fun to watch.
Since when is winning not fun? Would they rather be entertained by up-and-down the court basketball and two ACC wins? Since when does a win not count as entertainment?
As a Clemson student and a general fan, you have two more opportunities – Tuesday night and Saturday afternoon to see one of the most exciting players to ever play basketball at Clemson University, and to support a team that is scratching, clawing and fighting for every win heading into the post season.
"I think this is a team that plays really hard and has been fun to watch," Brownell said. "I certainly think we have one of the most exciting players in all of college basketball in K.J. McDaniels. I said that earlier in the season that if our fans aren't careful, they are going to miss one of the most athletic and special players to play at this school.
"There isn't a game that goes by that he doesn't do something that makes you shake your head in amazement. To watch him is special. Our team competes hard. We've kind of got an over-achieving group that the collective parts have really blended well together. If you appreciate guys who compete hard and play well together, then you will really appreciate this team."
Need a great crowd tomorrow night at 8pm as @ClemsonMBB hosts Miami. Youth (18 & U) can purchase $5 tix. Quick Change to perform at halftime

— Clemson Marketing (@CUSportsMktg) March 3, 2014
Attention all educators...tomorrow is Teacher Appreciation Night! Any educator can purcahse a $5 tix to Clemson vs. Miami Game at 8pm!

— Clemson Marketing (@CUSportsMktg) March 3, 2014