---
| | |
| --- | --- |
| Sunday, March 23, 2014 9:05 PM | |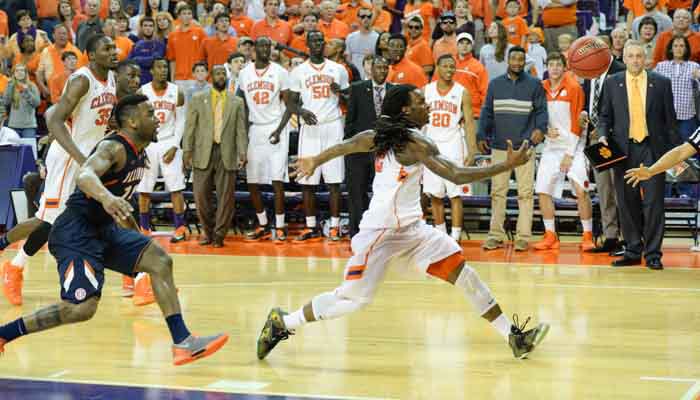 CLEMSON – When Illinois took its first lead of the game with just over two minutes remaining, the energy and excitement that filled Littlejohn Coliseum turned into, 'Oh no, here we go again.'
However, Rod Hall

Rod Hall
Jr. Guard
#4 6-1, 210
Augusta, GA
View Full Profile and the Clemson Tigers were having none of it.
The Illini's final basket – a trey by Jon Ekey – at the 2:05 mark in the second half set up a flurry of missed shots and a final nine second showdown that left many Clemson fans wondering if the Tigers' season would end in similar fashion to the Pittsburgh and Duke games.
This time, though, Hall hit the driving layup to give Clemson a one point lead and Damarcus Harrision was able to inbounds the ball to seal the 50-49 victory over Illinois and advance the Tigers to a Tuesday night bout with Belmont for the right to play in New York City.
Clemson head coach Brad Brownell

Brad Brownell
Head Coach
View Full Profile told the media after the game that he wanted the ball in Hall's hands because of his ability to drive to the basket.
"We really played well in the last three or four plays of the game," Brownell said. "We told our guys if we get the stop, then we had a play called. But then we thought if we get a rebound and have an open court, then go play and trust Rod to go make a good decision. He got to the rim and scored and we called a timeout to set up our defense and then had a really good last stop on the last possession of the game."
Sunday's game had many similarities to the Duke game in the ACC Tournament, but this time Hall said he was determined to have a different outcome.
"I was just going to do better and get the ball into the basket," Hall said. "Even though the call didn't go the way I wanted it in that [Duke] game, I put that out of my memory and focused on what I was doing. We got a stop and [Landry] Nnoko gave me a good outlet. I was just trying to get my ball to my right hand and I did for a good layup."
After taking a 50-49 lead with nine seconds remaining, Illinois' Tracy Abrams shot a three that never touched the rim and fell out of bounds, leading Brownell and the Tigers to think back to the Pittsburgh game where they failed to get the ball inbounds.
Harrison took the ball out of bounds and with neither of his first two options – Hall or Austin Ajukwa

Austin Ajukwa
Fr. Guard
#1 6-5, 190
Columbia, SC
View Full Profile open – he launched the ball down court toward Nnoko, hoping that one of his teammates could get a hand on the ball in order to start the clock.
"That [the Pittsburgh game] certainly came to mind," Brownell said. "We were trying to get it in, first thing. The one thing though, is that as athletic as K.J. [McDaniels] and Rod are, they're not great cutters. They're strong guys and K.J. is more of a jumper than a runner. It is hard sometimes for us to get open. The great play, because we were trying to go to Nnoko but they were fouling him and not letting him get the ball, was for Rod to get to the ball and tip it back in. Phenomenal, heads up play. Rod certainly made a great play on a difficult situation."
Seeing that Nnoko was being held by an Illini player, Hall raced down the court and tipped the ball into the air to keep it in bounds and preserve the win.
"The dude had Nnoko in a headlock down there, so I just had to get my hand on the ball to get the clock going," Hall said. "I was just trying to tip it, so that I could get the clock going. I had a hard time getting away from him so that I could get to the ball. I'm glad Rod ran down the court and tipped it back."