| | |
| --- | --- |
| Illini see something familiar in Clemson | |
---
| | |
| --- | --- |
| Saturday, March 22, 2014 3:44 PM | |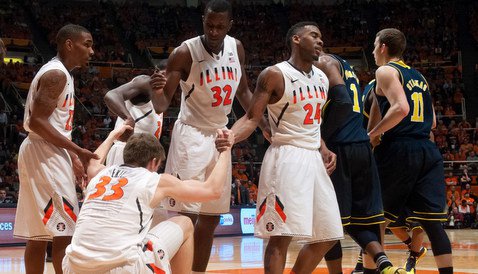 Clemson plays like a Big 10 team that is stuck in the ACC, but Sunday morning they will have the opportunity to see how they fair against Big 10 competition.
Brad Brownell

Brad Brownell
Head Coach
View Full Profile hails from the Midwest and his team plays a physical, low-scoring style of basketball, something that the Tigers second round NIT opponent, Illinois, faces week in and week out.
Illinois head coach John Groce told the media that both teams are very similar in the way they defend and the style of offense.
"We've talked about that a lot. I told our guys that from an offensive prospective as well as a defensive prospective – we are very, very similar," Groce said Friday. "They are very good defensively – long, they block shots, guard the ball well, they challenge shots well, they rebound well. I think on that end of the court, they are one of the best teams in the country on the defensive end of the court. That's going to be a challenge. We've got to do a great job moving the basketball, moving bodies because they really load it up against you, a little bit like we do. We've got to do a great job offensively."
Groce has made several stops during his coaching career, including North Carolina State and Ohio, making him very familiar with Brownell.
"I've got great deal of respect for Brad. I coached against him when I was at Ohio, Groce said. "I've always watched his teams from a far even when he was at UNC-Wilmington. Brad is from the Midwest as well. He's a blue-collar guy and his guys play that way as well. They play with a lot of physicality and toughness. They take on his disposition for sure. They've had – this is only the fourth time in program history that they've won 10 or more ACC games. He's done a really good job. I've got a great appreciation for the job that he's doing there because I was at N.C. State 1996-2000. I think he's done a great job."
The biggest difference in the two teams?
Clemson has K.J. McDaniels

K.J. McDaniels
Jr. Forward
#32 6-6, 200
Birmingham, AL
View Full Profile , who is the type of player that most teams don't have.
"We haven't played against a lot of guys like K.J. McDaniels in that he has great size at the three," Groce said. "He has a post up game at the three and a dribble drive game. Obviously, he is capable of making shots. He gets to the free throw line. He's as good a shot blocker as we'll play against all year. Normally, when you hear shot blocker, you think of fours or fives. He's a Pogo stick. He's athletic. He's long. I think he's a mismatch problem for a lot of teams watching him on film. He's certainly a concern."
The Illini got off to a slow start against Boston University in the first round of the NIT, trailing by nine and intermission. Fifth-year senior forward Jon Ekey knows that Illinois can't do the same on Sunday.
"Defensively, they are very good," Ekey said Friday. "They've got three shot blockers. Their three-man blocks shots like he is a center and he cleans up a lot of mistakes. If we start the way we did last, they might not let up."
Both teams will face a challenge with the 11 a.m. tipoff, but Groce think playing in the Big 10 Tournament will help the Illini
"There are always challenges for both teams," Groce said. "Fortunately for us, we've played a couple of 12 noon Eastern Time games in Indianapolis, which was 11 our time. Those games were right around the time change, so it was like a 10 a.m. game. Hopefully that helps us in preparation for Sunday."