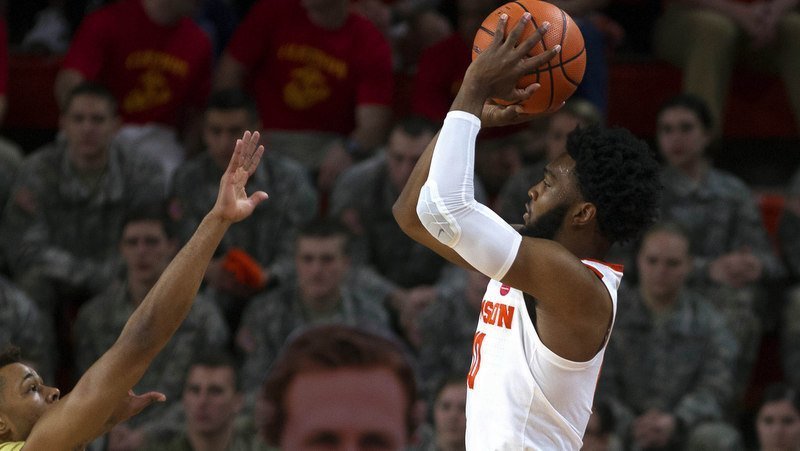 | | |
| --- | --- |
| DeVoe scores 25 points on Senior Day as Tigers beat Jackets | |
---
| | | |
| --- | --- | --- |
| Saturday, February 24, 2018, 5:17 PM | | |
CLEMSON – Trailing 58-47 with just over ten minutes to play, Clemson needed something good to happen. It did.
The 15th-ranked Tigers used a 23-6 run that covered nine minutes in overcoming the 11-point deficit and held on to beat Georgia Tech 75-67 Saturday afternoon in Littlejohn Coliseum, breaking a three-game streak. Georgia Tech has lost seven in a row.
Clemson improves to 21-7 overall and 10-6 in the ACC). Tech falls to 11-18 overall and 4-12 in the league. Clemson has won three in a row in the series and leads the all-time series with Georgia Tech 70-63. Head coach Brad Brownell is now 14-4 against Georgia Tech in his career. Clemson has overcome a halftime deficit to Tech seven times in the last 12 years, more than any other opponent.
Clemson has won 12 straight at home against the Jackets. The 10 conference wins tie a Clemson program record.
On Senior Day, Gabe DeVoe tied his career-high with 25 points, including 4-7 from 3-point range. Shelton Mitchell returned from injury to add 14, while Marcquise Reed and Elijah Thomas each added 13.
"Just proud of my team for the way we came back and won today. I don't think we played our best basketball but I thought the Georgia Tech kids played well. We got off to a great start, 17-7 and guys were making shots, and I think maybe we thought the game was going to be a little easier than it turned out to be," Brownell said. "I thought Josh Okogie for them was unreal in spurts. Just tremendous athleticism. I thought we imposed his will on the game and gave his team a lot of confidence. Our guys rallied a little bit in the second half, but I felt like we were a little bit slow, maybe a little tired right now. I need to really look at that over the next 48 hours with our team.
"I thought Gabe was fantastic for us throughout the game. It was great to have Shelton back. I thought he made a big difference and played with good poise today. Those guys were the difference makers for us...Really proud of the way our guys closed the game out. We didn't have our best stuff today because of the way Georgia Tech competed. Our guys found a way to win which is significant this time of year. Great win for us."
Brownell said the sold-out crowd was the difference in the game.
"I don't think we win this game on the road. We were just a little bit low energy level in the middle of the second half. We weren't sure we wanted to play as hard as you had to play today," Brownell said. "Sometimes I tell our guys, 'You get in a fight you're not ready for and you're never going to win.' That was kind of what happened to us today. We were ready to play. We were sharp but we wanted it to be easy once we had that lead and it went away quickly because of Josh Okogie and then it wasn't going to be easy. Now it's hard to pick yourself back up and the reason we were able to do that was because of our crowd. Our crowd gave us the energy that we needed to win this game. We had a couple of guys step up and make plays but that was what was significant about coming back winning."
Clemson threatened to blow the Jackets out early. Tech jumped out to a 3-0 lead early, but the Tigers went on a 17-4 run to take a 17-7 lead with 12:56 to play in the half. The Jackets then got hot and outscored Clemson 30-16 the rest of the half.
A 3-pointer by Evan Cole put the Jackets head 26-24 with just under five minutes to play, but the Tigers pushed back on a pair of baskets by Mark Donnal to take a 28-26 lead. The Tigers scored just four points over the final 3 ½ minutes and Tech took a 37-33 lead into intermission.
Clemson plays host to Florida St. Wednesday night at 9 p.m. in Littlejohn Coliseum. It's the final home game of the season for the Tigers. Florida St. defeated Clemson in overtime two weeks ago.
Georgia Tech came out on fire in the second half and scored the first seven points to take a 44-33 lead. The lead remained at 11, at 49-38, when the Tigers began to find their range and a free throw by DeVoe with just over 12 minutes remaining made it 53-47. The Jackets eventually pushed the lead back to 11 at 58-47, but hot-shooting Josh Okogie went to the bench with his fourth foul.
With Okogie on the bench, the Tigers went on an 8-0 run that brought Clemson to within three at 58-55 with just over seven minutes to play.
With Tech in a cold spell, a 3-point play by Mitchell brought the Tigers to within two at 61-59 with just over four minutes to play. A little over a minute later – after the Jackets hit just one of nine shots in a two-minute span – Mitchell was fouled on his way to the basket. That fouled out Moses Wright, and Mitchell hit both free throws, tying the score at 61-61 with 3:40 to play.
On the ensuing possession, the Jackets were called for a shot clock violation and Marcquise Reed calmly hit a jumper from the top of the key for a 63-61 Clemson lead. The Jackets promptly missed another shot, and Reed drew a foul on the other end. Reed was forced to leave the game, and Thomas wound up hitting one free throw for a 64-61 advantage with just over two minutes to play.
Mitchell stepped in front of a Jacket pass on the other end and was fouled before he could get out of the backcourt. He drained both free throws and Clemson led 66-61 with just under two minutes to play. The Jackets – on the wrong side of an 11-0 run and scoreless for four minutes – were forced into a bad shot and Mark Donnal grabbed the rebound.
The Tigers grabbed an offensive rebound on the other end and pulled the ball out to take time off the clock. As the shot clock wound down, DeVoe stepped in calmly and drained a 22-footer for a 69-61 lead with 42.4 seconds to play. Reed drained two free throws with 27 seconds left that made it 71-64, but the Jackets hit a 3-pointer with 17 seconds remaining that made it 71-67.
Ben Lammers finally got Tech on the board, getting an old fashioned three-point play, that made it 69-64 with 29.2 seconds on the game clock. The Tigers hit their foul shots in the final seconds and held on for the win.
Clemson returns to action Wednesday night, hosting Florida St. at 9 p.m. in Littlejohn Coliseum, the final home game of the season. Florida St. defeated Clemson in overtime two weeks ago.
Donte, Mark & Gabe...

THANK YOU!#ClemsonFamily ???? pic.twitter.com/3k4c3ryvea

— Clemson Men's Basketball (@ClemsonMBB) February 24, 2018