| | |
| --- | --- |
| Brownell thinks renovated Littlejohn will "help our program" | |
---
| | |
| --- | --- |
| Tuesday, November 5, 2013 9:17 PM | |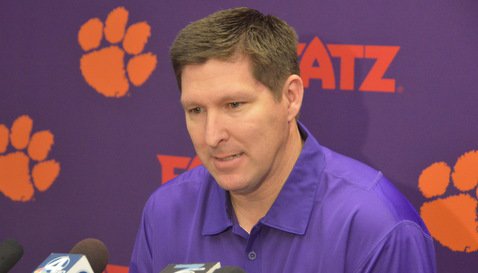 CLEMSON – The Clemson basketball program is still a few years away from actually benefiting from a "new" Littlejohn Coliseum, but Brad Brownell

Brad Brownell
Head Coach
View Full Profile is still excited about the direction of his program.
Originally, the basketball program was supposed to get a new practice facility that would include office, sports medicine and strength and conditioning space, but when Dan Radakovich was named the new athletic director last season, plans morphed into a new facility.
Late last month, Clemson's Board of Trustees approved plans to completely gut the current Littlejohn structure and build and more open arena that will incorporate coaches' offices, weight rooms, locker rooms, video editing and theater areas that are all currently housed in other areas on campus.
Brownell told the media Tuesday that he realizes that all of those plans are in the infant stages, but that he is excited about the statement that the Clemson Athletic Department and Board of Trustees is making about Clemson basketball to rest of the ACC.
"I'm really excited about it. I'm thankful to the trustees and the administration for pushing things forward," Brownell said Tuesday. "I think it's really going to help our program. I don't know that we'll see the benefits for a while. I think we are still a few years away from really benefiting from things until you start seeing dirt move and real projects, but I do think that I think the idea that we are going to make a major rebuild to Littlejohn is going to be major for basketball. It makes a statement to players, recruits, fans, former players, and everybody that basketball is important at Clemson and that we want to be good here."
A new facility gives Brownell, as well as the women's program, a place to call home and place where the coaches can see their players throughout the day, and not just at practice.
"The added benefit that every time your guys come to your facility, you feel like it is your home – the offices are there, the treatment offices are there, the strength and conditioning offices are there," Brownell said. "You have so much more interaction with your players on a daily basis and so much of this is about that. It's about having as many touches with your players as you can. Instead of just seeing them at practice, when they come over for treatment, maybe you stop by and see them. It's easier.
"Or they come up to your office because it's right there. It's a huge improvement for our program that most people wouldn't realize. Everybody being under one roof and kind of having a place that you feel like is your true home really helps a lot."
Before coming Clemson, Brownell coached at Wright State where he said he began to understand the importance of having an integrated facility.
"People don't understand. I had the good fortune at Wright State that we had the practice facility in with our offices," Brownell said. "It wasn't connected to the arena. Because our arena was used for more than just basketball, we were in our practice facility a lot and practiced there most of the time. "
With the addition of Syracuse, Pittsburgh, Louisville and Notre Dame, there will be a bigger emphasis placed on recruiting, atmosphere and fan support, so the new additions couldn't come at a more opportune time.
"I think it couldn't come at a better time with the new schools coming into the ACC," Brownell said. "I think every school in our leagues is looking to make a bump with their program. A lot of people have been doing it, but I think this is a great opportunity for us and I'm excited about it. It's a great step in a direction to move our program forward. A lot of really good things are happening in our program. I think we are going to see the benefits of that in a couple of years."
Other notes
On the progression of the freshmen
"Ibrahim [Djambo] has done well. He and Jaron [Blossomgame] at the four spot have played most of the time at that position. He has made the perimeter shot for us. He has to rebound better. Jaron is a great energy guy, a guy who can make a shot but a guy who continues to get comfortable at times. He's a half-step slow sometimes in transition, but still plays with great energy and purpose.
"Sidy [Djitte] is just very physical. He rebounds well for his size. He goes after every ball. He still needs polish. His development will take a little longer like most post players. There's more technique involved. But he brings a physicality that helps us."
On Devin Coleman

Devin Coleman
RS So. Guard
#15 6-2, 200
Philadelphia, PA
View Full Profile 's recovery from Achilles injury
"He's still finding his way some but he plays with good confidence. He has to improve a little bit defensively in some areas. We want him to shoot. It's going to be a battle because we have so many guys at those positions. His advantage is that he can shoot the ball."
On Landry Nnoko

Landry Nnoko
So. Center
#35 6-10, 245
Montverde, FL
View Full Profile 's
"I think Landry is a very smart player defensively. He's really coming into his own at that end of the court. I think his moves are much better. He still has to get lower and his leg strength needs to be better. He needs another 10 pounds in his legs in order to hold people off. His moves and touch around the basket are better. He can make a 12-15 foot shot. He runs the court well. He can get down the court like Devin. I feel like he's made good progress."
On what to expect defensively
"We could possibly zone more this year. There's a concern with the amount of fouls that could be called [because of the new hand-checking rules]. I do think there are times when we can extend the floor more than we did last year. You saw some of that in the exhibition. We do need to use our depth, though. We can wear some teams down with that."
On what to expect offensively
"It's not a complete overhaul but there are differences. We're trying to play faster. We're trying to run more motion, a few other things. This year we feel like we can do a few more things, including push the ball more. I would like to play faster and push it and have different types of ways to play and not just get locked into one."