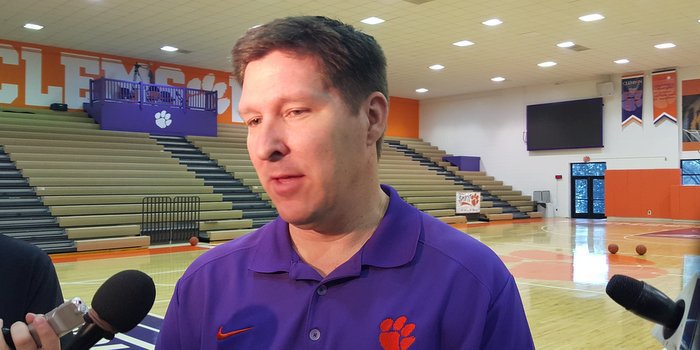 | | |
| --- | --- |
| Brownell not concerned with job status, more concerned with job at hand | |
---
| | | |
| --- | --- | --- |
| Wednesday, March 16, 2016, 12:46 PM | | |
CLEMSON – Head basketball coach Brad Brownell spent 40 minutes with the media Wednesday morning, and he made it clear that despite another season without an NCAA Tournament bid or even a berth in the NIT, he feels like his program is headed in the right direction and he isn't going anywhere.
The Tigers finished the season by losing four of the final five games, including blowing an 18-point lead to Georgia Tech in the ACC Tournament last Wednesday. Five consecutive wins in ACC play in January (Florida St., Syracuse, Louisville, Duke and Miami) had the Tigers poised for a big season, but the Tigers lost eight of the last 13 in the conference.
Clemson finishes the season with a 17-14 record and missed the postseason for the fourth time in six years under Brownell.
"We are all disappointed with the way the season ended abruptly, but I thought our guys played much better than what most people probably think down the stretch," Brownell said. "We put ourselves with an opportunity to actually play for an NCAA Tournament bid and it did not go through. But I was really pleased with how our guys handled the year and the challenges we faced from playing in Greenville.
"We've been kind of stuck in the middle in ACC in the last three years," he continued. "I looked it up, and we are 28-26 in ACC play over the last three years and 29-29 overall which in the grand scheme of things is pretty good. But we need to take the next step, we need to get over the hump and get into the NCAA Tournament. We also recognize that. It's what we are fighting to do every day. But to sound like we're not in a good place or not doing good things I would dispute all of that."
I asked Brownell if he felt like next season was one of "NCAA or bust" when it comes to job retention, and he said no.
"I don't feel that. I have several years on my contract. I have not had anyone talk to me in that manner," he said. "Again, to me a little bit of that, and I understand it, we need to make the tournament and we want to make the tournament. It's what we are trying to do, believe me, but I also think that is a little bit of outside anxiousness that would lead to nothing productive for me. That's not going to help me in the way I think about things and the way I do things. We are going to continue to do the things we are doing."
Brownell said one only has to look at his recent contract extension to understand that he has the backing of the administration.
"Am I disappointed in what we've been able to do the last couple of years? I certainly am," he said. "But I think we are right there. Obviously, I've been given a couple of extensions because maybe things weren't as good on the inside as everybody thought. People on the outside don't always know the things that have gone on. I've had two bosses give me extensions because of the things that we are doing not only on the outside but also on the inside of this program to make this place better. One of them is the building across the street, and I would like to think I've had a big part in making that a reality.
"At the end of the day we need to make the NCAA Tournament and we understand that and that fuels us. It fuels me. But to stick our head in the sand and act like we aren't doing a good job or we're not doing anything right over here, that's completely false. I am going to fight for what we've done here. I think my administrators have recognized and that's why I've been rewarded with contract extensions. It's about more than just wins or losses to me."