| | |
| --- | --- |
| Brownell: "We have to figure out some ways to score" | |
---
| | |
| --- | --- |
| Monday, February 23, 2015 4:01 PM | |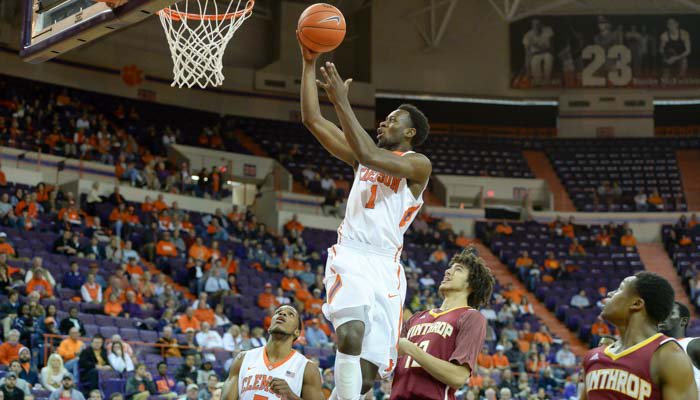 The Clemson basketball team has what is essentially an "open week" in the schedule, an anomaly created by an uneven amount of teams in the conference. For Brad Brownell

Brad Brownell
Head Coach
View Full Profile 's squad, it comes at an opportune time.
The Tigers were blown out 78-56 at No. 4 Duke last Saturday and have a week in between games, not playing again until hosting Georgia Tech this Saturday at noon. Following a 6-4 start in league play, the Tigers have lost four of five and offense has been a major culprit in the slide – the Tigers have scored just 211 points in those four losses, an average of just 52.75 points per game.
The Tigers are dead last in the ACC in points per game (62.0), field goals made per game (22.0), field goal percentage (.411), assists (284) and next-to-last in assists-to-turnover ratio (0.89). Even for a good defensive team, that won't get it done most nights in the rugged ACC and Brownell said he thinks the week off comes at a good time.
"It's probably good for our team. We are licking our wounds and haven't played very well the last week or so and we probably need a little time off," Brownell told TigerNet Monday. "But we're also anxious to get back in the gym and work a little bit more here. The season goes a lot of different ways and we have played well at times but we're in a down cycle and we just have to pick ourselves up and play better against a Georgia Tech team that is playing good basketball."
Priorities for the team during the break are – no surprise – a return to fundamentals and getting up plenty of shots.
"We have got to get better offensively. We have to figure out some ways to score," Brownell said. "We are having a hard time scoring. We don't shoot the ball very well so we are going to get a bunch of shots up this week and I think that will be good for our guys to get in the gym a little bit and make sure we are repping out some shooting. I think it is a chance to get back into some fundamentals - I think sometimes you do so much game prep that it's good to get a week and get back into the fundamentals. Whether it is screening and executing the screen better or defensively whether it's rotating the ball screen. I think we do that the first part of the week and as the week gets going a little bit further we will start concentrating more on Georgia Tech."
The Tigers got a lift from the play of freshman Gabe DeVoe

Gabe DeVoe
Fr. Guard
#10 6-3, 200
Shelby, NC
View Full Profile (eight points) and sophomore Austin Ajukwa

Austin Ajukwa
So. Guard
#1 6-6, 205
Columbia, SC
View Full Profile (six points) as the duo combined to play 35 minutes, but Brownell said there won't be any drastic changes to the lineup.
"We are not going to change anything drastically at this point. We are this far in and we have played a lot of good basketball," he said. "We have had some times where we haven't played as well. We have to just make sure our guys' confidence is high and I think we need to get a lot of shooting in this week and we need to get our minds right by repping out even more shots than normal and spending a little extra time on some offensive schemes, especially Monday and Tuesday. I think we will work on that on Monday and Tuesday. But I don't see any drastic changes in lineups or anything of that nature."