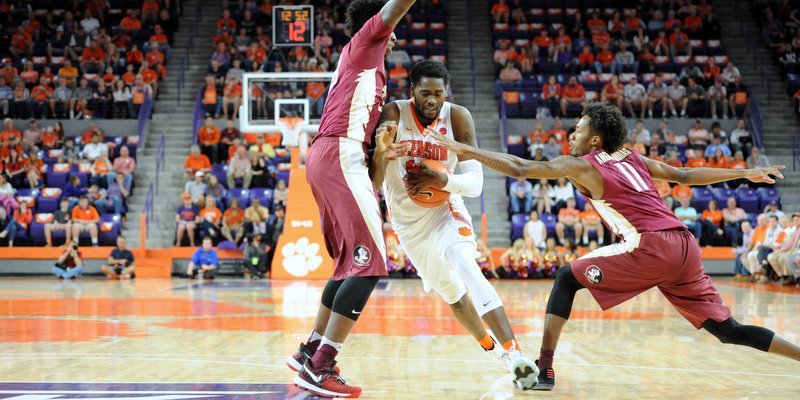 | | |
| --- | --- |
| Another close game, another close loss as Tigers fall to Seminoles | |
---
| | | |
| --- | --- | --- |
| Saturday, February 25, 2017, 2:34 PM | | |
CLEMSON – Another close game. Another close loss.
Clemson missed its last five shots and didn't score over the final 2:06 of the game in losing 76-74 to 19th-ranked Florida St. in Littlejohn Coliseum Saturday afternoon.
Clemson lost its 11th game this season decided by six points or fewer and suffered its sixth defeat in the last seven games. Seven games have been lost by a total of 14 points since losing by three in overtime to North Carolina to start ACC play. Clemson is 3-11 in games decided by six points or less.
A free throw by Blossomgame gave Clemson a 74-71 lead with 2:06 to play, but the Seminoles scored the last five points of the game in improving to 23-6 overall and 11-5 in ACC play. Clemson fell to 14-14 overall and 4-12 in the league.
Blossomgame led Clemson with 24 points, playing 38 minutes, while Shelton Mitchell added 15. The teams were called for a combined 49 fouls, and Clemson was 26-32 from the free throw line.
Sidy Djitte scored 12 points and grabbed nine rebounds.
"I thought our seniors today really competed at a very high level. I don't think Avry (Holmes) shot it as well, but he was very good defensively with energy. Sidy (Djitte), I thought, was fantastic," head coach Brad Brownell said. "We really needed him today, and I thought he played a terrific game. Jaron Blossomgame was great, as well. That's a hard team to play against. They do a great job of limiting touches and making it hard to get into rhythm. I think that was certainly evident early, when we were a little bit shaky with the ball and had a bunch of turnovers in the first 12 minutes of the game, but we settled down and played much better. Unfortunately, we just didn't finish the game."
Brownell said the final play was designed for Avry Holmes.
"We had a double screen going on for Avry, and if (Marcquise) Reed thought that Avry was open, he was going to pass it to Avry, and if he wanted to go score, he could go score," he said. "(Reed) backed them off, he spun, probably had a little more time that he realized and let it go a little quick. But he got to 12 or 13 feet from the bucket, and he's our best player at that range. So that's one you live with."
The first half was full of turnovers and fouls. The Seminoles were whistled for 15 fouls and committed seven turnovers, while Clemson was called for nine fouls and had eight turnovers.
The Seminoles jumped out to a quick 5-0 lead after Clemson turned it over three times in its first four possessions. Florida St. took its biggest lead of the half after Dwayne Bacon hit two free throws for a 28-21 lead with just under seven minutes to play in the opening stanza.
Clemson trailed 38-32 with 1:25 to play, but scored the final five points of the half and trailed 38-37 at intermission.
The teams did nothing more than trade baskets and the lead for the first 13 minutes of the second half, and the story was Florida St.'s continued foul trouble. The Seminoles picked up their 10th foul of the half with 10:46 to play in the game, and Clemson continued to hit enough free throws to keep the game close.
Neither team held more than a four-point lead, and the score was tied at 62-62 when Elijah Thomas picked up his fourth foul with 6:37 to play in the game. Michael Ojo hit both free throws, and the teams went into the final stretch with the Seminoles holding a 64-62 advantage.
Sidy Djitte picked up three fouls in a little over a minute, and the Seminoles extended their lead to 69-64 with just over four minutes to play. Blossomgame ended a 7-2 Seminole run with a jump hook in the lane that made it 69-66, and thirty seconds later Mitchell hit a 3-pointer from the left wing that tied the score at 69-69.
Marcquise Reed followed a Seminole miss with a runner in the lane, and Florida St. was forced to call a timeout with Clemson leading 71-69 with 2:53 left on the game clock.
The teams traded free throws over the next 90 seconds, but a miss by Reed turned into a layup by Xavier Rathan-Mayes, and the Tigers called a timeout trailing 75-74 with 1:09 to play. Mitchell missed a runner with just under a minute remaining, but the Seminoles missed a shot on the other end, and Clemson had a chance to take the lead.
Mitchell once again drove the lane and missed the shot, and despite drawing contact, no foul was called. Djitte fouled out on the rebound, but Trent Forrest hit just one of his two free throws, and the Seminoles led 76-74 with 8.4 seconds to play.
Reed took the inbounds pass, dribbled the length of the court and got an open look, but his shot from eight feet was off the mark and time ran out on another close Clemson loss.
"You feel for the team because you know how hard they're working and the time they're putting in," Brownell said. "It's painful. It's hard when you work and put your energy and effort and emotional side of you into all of these games, and you don't get rewarded. That part is very difficult. Having said that, it's hard not to be proud of this group of guys for the way that they're playing in terms of good basketball."
Clemson returns to action Wednesday night, hosting NC State at 8 p.m.