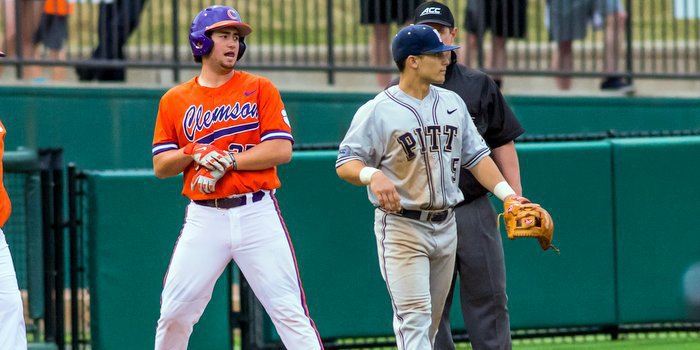 | | |
| --- | --- |
| Williams hopeful of making an impact while he heals | |
---
| | | |
| --- | --- | --- |
| Friday, February 17, 2017, 8:05 AM | | |
CLEMSON – The loss of catcher Chris Williams leaves a big hole in the middle of Clemson's lineup and with the Tigers' defense.
Head coach Monte Lee announced Tuesday that Williams will miss four to six weeks after suffering an injury to his left hand. Williams suffered the injury in an intrasquad scrimmage Sunday and Lee hopes to have Williams back by the start of ACC play in March.
"It just happened out of nowhere," Williams told the media Tuesday. "I took kind of an awkward swing and felt a little pop in my hand. I didn't think anything of it at first. I went out to catch the next inning and caught a few balls and noticed a little pain. So I went back to the trainer and told him I thought something was wrong."
Testing Monday revealed an injury that required surgery, which he's already undergone.
"I was kind of in a dark place after it happened," Williams said. "I was really down in the dumps, and these guys pulled me up and helped me out a lot."
Head coach Monte Lee says Williams will be missed.
"That is a tough blow. Chris Williams is the first kid I signed at Clemson, so he is a special, special kid to us. We have to move on to Plan B, and those other two guys have to be ready for opening day," Lee said. "We hope, optimistically he can come back in time for the start of ACC play. It is typically in that four to six-week time frame, and we hope he comes back pain-free and can get the reps and be ready to play. We hope he can start catching here in about three weeks, but the big thing is how he feels swinging the bat."
The defending ACC Champions host a Raiders team picked to win the Horizon League and led by first-year head coach Jeff Mercer. Wright State returns 16 players from last year's 46-win team. Among the returning players are the 2016 Horizon League Freshman of the Year in pitcher Caleb Sampen and second-team picks senior pitcher Trevor Swaney and sophomore outfielder Peyton Burdick.
Wright State played in the Louisville Super Regional last season, losing the series 3-1 to the Cardinals, and Lee knows his team will miss Williams' presence on and off the field.
"He's such a good kid, and he is a great player," Lee said. "This is a kid who has a chance to be an All-ACC-caliber player and a draft pick this year. He's a leader. He's a guy who's very well respected in the clubhouse and by the coaching staff. It's a tough loss for us, but we have to move on."
However, Williams knows he can still have an impact.
"That is one thing that Coach Lee emphasized to me," Williams said. "He told me that it sucks, but my teammates need me. It's not the best situation and we didn't plan for it, but it happens. I am a leader on this team, and I'm not afraid to be a leader on this team even though I am not on the field."
Junior Robert Jolly is one option to replace Williams. Jolly is a career .268 hitter with a .369 on-base percentage in 76 games and Clemson's first lefthanded-hitting catcher since 2000. Jolly also has considerable experience as the Tigers' designated hitter the past two seasons.
Frehsman Kyle Wilkie (Cumming, Ga.) was rated as the No. 102 freshman in the ACC in the preseason by Perfect Game after an all-state career in both baseball and football at Creekview High School.