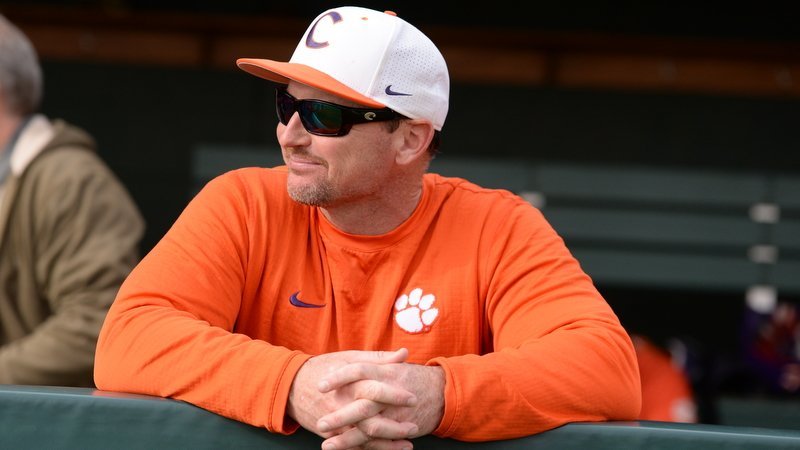 | | |
| --- | --- |
| Monte Lee excited about three-headed monster in middle of the lineup | |
---
| | | |
| --- | --- | --- |
| Friday, January 26, 2018, 5:30 PM | | |
CLEMSON – Monte Lee is not only excited about the 2018 baseball season, he's excited about the three-headed monster in the middle of his lineup.
The Tigers held their first full-squad practice of the new year Friday at Doug Kingsmore Stadium before they open their 121st season against William & Mary in a three-game series at Doug Kingsmore Stadium from Feb. 16-18.
"I'm very excited. We're very excited to get the full squad out here and get started on the process of one day at a time trying to get our team better," Lee told TigerNet Friday. "We're letting our guys compete against each other to determine their roles, trying to earn the roles on a starting pitching staff that lost all of our starting pitching. Then, we have a number of positions that are still up for grabs as well. It's a time of competition and that's the way I look at it. It's one day at a time, let's compete as hard as we can to try to see who are the best nine, not necessarily the best nine players but the best nine guys to help us win, but also teach these guys as much as we can in a short amount of time to prepare them for one of the best leagues in the country, which is the ACC."
Ryley Giliam returns as one of the leaders of the pitching staff. As a closer in 2017, he was 3-1 with a 2.57 ERA and 50 strikeouts in 35.0 innings pitched. However, the Tigers lost weekend starters Charlie Barnes, Alex Eubanks, Pat Krall and midweek starter Tyler Jackson.
Lee was asked if he would like to have a weekend rotation in place early in camp, and he said it might go down to the last day.
"I think a lot of people put a lot of stock in that. I'm in my 10th year as a head coach and I've had a number of years that it was after Sunday's intrasquad, the week before you started before we determined who's going to be Friday, Saturday, Sunday," Lee said. "Oftentimes that happens when you've lost some guys when some guys are trying to fight for those spots and earn that right. I think our pitching staff will get better as the season goes. We feel good about the pool of candidates that we have in the mix to start. It's just a matter of who's going to earn the right to toe the rubber on game one, game two and game three."
Clemson returns two preseason All-Americans in the field in Seth Beer and Chris Williams. Beer is a career .333 hitter with 34 homers and 123 RBIs in 125 games, while Williams has 22 homers and 89 RBIs in 106 career games. The Tigers totaled 73 home runs in 2017, as the top three players (Beer, Williams, Logan Davidson) in terms of long balls are back in 2018.
That trio forms the nucleus of Lee's three-headed monster, even though he was hesitant to say if this could be one of the best offensive teams he's ever had.
"I don't know that. I try not to make too many predictions one way or the other just because injuries happen," Lee said. "It's baseball. I've seen guys have incredible years one year and struggle next. Guys that you didn't think were going to be factors be big time factors for you. The unpredictability of the game is there. You just don't know but we on paper definitely have the chance to be a good offensive ball club and it all starts with that three-headed monster that we have in Logan Davidson, Chris Williams and Seth Beer.
"Those three guys, any college baseball coach would sign up for those three bats in the lineup. They make all of us look like we're pretty good hitting coaches. All three of those guys are dynamic offensive guys who bring a different skill set than the other ones. It all starts right there and then we're going to build around those guys. We feel like we have a chance to be a good offensive ball club."
*Lee said that freshman centerfielder Kier Meredith is still recovering from shoulder surgery and could begin swinging a bat by the middle of February, but won't be back until either late March or early April. "We are going to be very cautious with him," Lee said.
*When asked what position Beer would play, Lee smiled and said, "Offesnse." He then said that Beer will spend time at first base and in left field, but will spend the majority of camp at first base as he learns the intricacies of the position.
*Williams told us he was at "90 percent" as he recovers from his surgery, and doesn't mind sharing the catching duties with Kyle Wilkie. Williams then went out and hit several over the wall in center and right.

Upgrade Your Account
Unlock premium boards and exclusive features (e.g. ad-free) by upgrading your account today.
Upgrade Now