| | |
| --- | --- |
| Leggett discusses his future with candid comments following loss | |
---
| | |
| --- | --- |
| Saturday, May 30, 2015 11:47 PM | |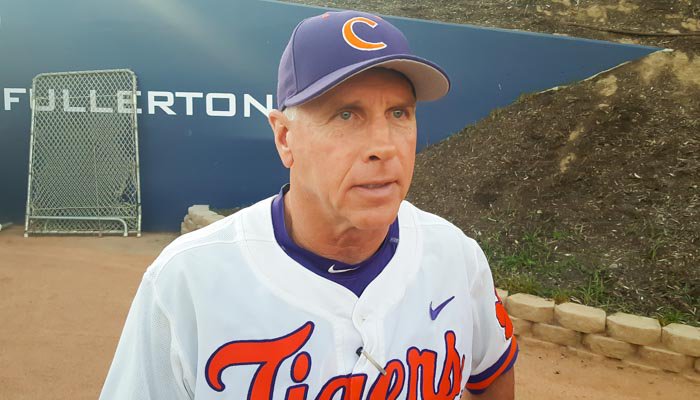 FULLERTON, CA – Clemson head coach Jack Leggett

Jack Leggett
Baseball Head Coach
View Full Profile hugged a tearful Tyler Krieger

Tyler Krieger
Jr. Infielder
#3 6-1, 170
Johns Creek, GA
View Full Profile and a somber Steven Duggar

Steven Duggar
Jr. Outfielder
#9 6-2, 195
Moore, SC
View Full Profile following the main interview session at Cal State Fullerton Saturday evening, then talked to the Clemson media one final time this season and his remarks were not the same as after last season's ouster at Vanderbilt.
Leggett faced the media following an elimination loss against Xavier in Nashville last June, and he boldly stated that he should return for the 2015 season and stated that he thought the question was ridiculous.
"Am I fully confident that I'm going to be back coaching next year? I'd like to tell you that's a ridiculous question," Leggett said after last year's season-ending loss. "I've been here for 21 years and have a track record that's pretty good. I'm sure we'll sit down and talk about it."
After a long pause, he finished the question by saying, "I would hope so."
"The future is always bright for this program," Leggett said last year. "It has been one of the top programs in the country for a long period of time. I haven't lost any confidence in anything that we do. Everyone looks at our program on the outside looking in. Five percent of your fan base is always unhappy about something, but people who know what our baseball program is all about and people who look at our program from the outside and know college baseball, know that as a coach we have strong, traditional prideful baseball program. Not many programs have been in the NCAA Tournament 20 out of the last 21 years, been to nine Super Regionals and been to Omaha six times during that span. I would think that the future is always bright for us. We just have to continue working hard."
Following Saturday's heartbreaking loss to Pepperdine, Leggett was asked if he thought he would be at the helm next season and he declined to give a yes or no answer and insisted he wanted the here and now to be about his players.
"To be honest with you, I just want to focus on our season and the kids," Leggett said. "I want to get on the bus and talk to them and be able to reminisce about what this year was all about - what they've learned, what's next for them on the horizon, what we've got to do to make ourselves better. We'll address those things when we get back and see where it goes. I'm proud to work at Clemson. I'm proud to coach this team. I'm proud of my coaches. I'm proud of my players. They've done a really good job this year and worked extremely hard."
He then added that he thinks there are things in place that can help the program, including the upgraded facilities.
"I think all of those things will help. The facilities are a big deal," he said. "The Academic Common Market will hopefully help us out and make our scholarships go a little bit farther in a couple of states. It's still tough out there. You're fighting the pro issue all of the time and you're fighting recruiting battles. We've got some good kids coming in. I think those things will be helpful to us before it's all over. Hopefully, we'll see some positive things out of that."
Leggett has been under fire from Clemson's fan base and a meeting with Athletic Director Dan Radakovich

Dan Radakovich
Director of Athletics
View Full Profile after last season left little doubt that there wasn't a lot of room for error and Leggett admitted that the noise surrounding the program had an effect.
"I think they did a really good job of putting things out of their minds, but everything affects, you know? If there is a positive vibe everybody feels good. If there's not then it's a little bit tougher," he said. "But our kids are focused, they work extremely hard and they love to play baseball. But when we get out on the field it's about us and playing together. They love to play baseball and they love to come out on the field together. I am proud of how these kids play and how they act, how they are in the classroom and how they battle all of the time. That's how I feel about them and I know how they feel about me and that is an important thing."
A tearful Krieger threw in support for Leggett.
"I love the man, first and foremost. He's taught me more than anyone," Krieger said. "He's right up there with my parents. He's taught me lessons that it's not always about baseball. He's a great baseball coach. He's taught me more about life than people think. Baseball just didn't go well this year. We played well at times. At times, we had pieces together but we just didn't have it together all of the time. That's the key - consistency.
"People talking negatively about the program - we really don't care, because we know the integrity of this team and of this program and we take a lot of pride in everything that we do because we're Clemson University. I love the coaching staff. I love the players. I've loved my experience so far at Clemson. I've learned a lot in my three years. I just want to say, 'thank you,' to coach because he's taught me a lot."
Leggett ended by saying he was proud of his players and coaches.
"I am just really proud of our team and how they have battled all year long. We've had our backs against the wall and we've had some really good games and really good moments," he said. "We've also had some tough moments but that's baseball. A lot of teams would like to be in our situation and play in a regional. We've had some really tough games and tough losses but this is really about my team and about my players. I am just proud of our team and proud to be their coach. We've got some really awesome kids and awesome coaches that have done an excellent job this year of keeping everybody together."