---
| | |
| --- | --- |
| Sunday, January 13, 2013 5:51 PM | |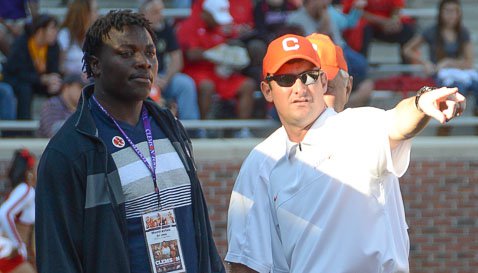 CLEMSON – The weekend is over, and Clemson's official visitor list had quite a few impressive names on it, including Montravius Adams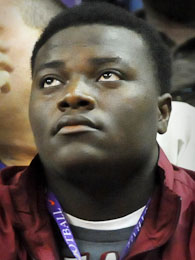 Montravius Adams
Defensive Tackle
6-3, 281
Vienna, GA
View Full Profile and Carl Lawson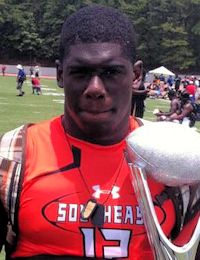 Carl Lawson
Defensive End
6-3, 251
Alpharetta, GA
View Full Profile .
None of the players who weren't already committed gave a verbal, but we've talked to a few people from this weekend that say that this weekend went off about as well as it could have gone.
Most of the recruits arrived in Clemson on Friday, had a meal in the WestZone with their player hosts Friday evening and took a trip out to Dabo Swinney's house on Lake Keowee for dessert. On Saturday, they toured the facilities and attended Clemson's basketball win over Virginia.
TigerNet spoke with the mother of defensive end prospect Carl Lawson out of Alpharetta (GA) Milton, who is considered by many scouting services to be the number one-rated weakside defensive end prospect in the state and the number two player in the state of Georgia.
She said that Lawson had been up with former Clemson commit Ryan Jenkins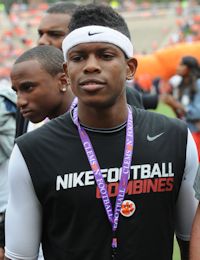 Ryan Jenkins
Wide Receiver
5-11, 177
Alpharetta, GA
View Full Profile , but this was her first trip to Clemson.
"This was my first trip to Clemson, and it went really well," she said. "We enjoyed the visit. But we are declining all interviews right now."
Lawson is committed to Auburn, but is thought to be seriously considering Clemson. The 6-2, 253-pounder is also considering Tennessee and Ole Miss.
Adams also texted back to TigerNet and indicated he had a great visit as well, and we will update his status later with a story. Adams spent a lot of time with Clemson head coach Dabo Swinney at Saturday's basketball game.
Adams is rated as the third-best player in the state of Georgia, behind former Clemson commit Robert Nkemdiche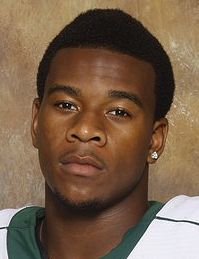 Robert Nkemdiche
Defensive End
6-5, 275
Loganville, GA
View Full Profile and Lawson, and it appears that he is now down to Clemson and Georgia, with Florida also in the mix but trailing the first two schools.
Adams has one final visit set – with Georgia – and will announce on National Signing Day.
It is interesting to note that defensive back Korrin Wiggins

Korrin Wiggins
Safety
6-1, 190
Durham, NC
View Full Profile out of Durham (NC) Hillside had a prior relationship with Mike Reed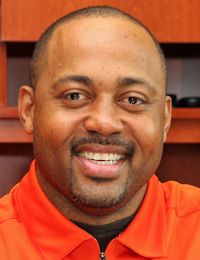 Mike Reed
Defensive Backs Coach
View Full Profile – Clemson's new secondary coach – when Reed was at N.C. State. Wiggins is committed to UNC, but defensive end commit Dane Rogers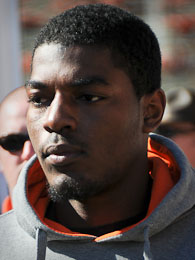 Dane Rogers
Defensive End
6-3, 245
Shelby, NC
View Full Profile told TigerNet Sunday that he is working on his fellow Tar Heel and wouldn't be surprised to see Wiggins wind up at Clemson.
Next weekend will be another big recruiting weekend for the coaching staff, with OG Tyrone Crowder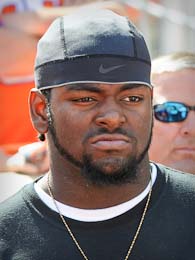 Tyrone Crowder
Offensive Guard
6-2, 315
Rockingham, NC
View Full Profile among the big names that will be attending.
2013 Prospects visiting this weekend
DT Montravius Adams Vienna (GA) Dooly County
DE Carl Lawson Alpahretta (GA) Milton
CB Korrin Wiggins Durham (NC) Hillside
2013 Commits visiting this weekend
LB Ben Boulware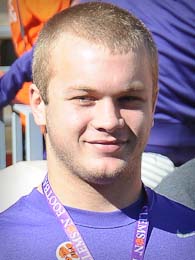 Ben Boulware
Outside Linebacker
6-1, 230
Anderson, SC
View Full Profile Anderson (SC) T.L. Hanna
RB Tyshon Dye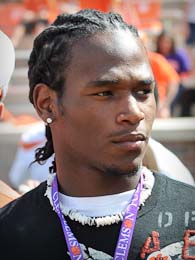 Tyshon Dye
Running Back
6-1, 210
Elberton, GA
View Full Profile Elberton (GA) Elbert County
RB Wayne Gallman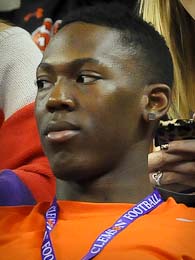 Wayne Gallman
Running Back
6-1, 195
Loganville, GA
View Full Profile Loganville (GA) Grayson
LB D.J. Greenlee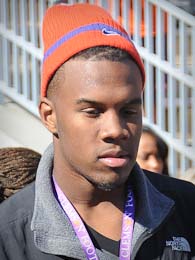 D.J. Greenlee
Linebacker
6-2, 210
Central, SC
View Full Profile Central (SC) D.W. Daniel
S Jayron Kearse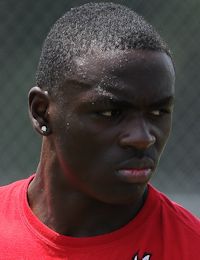 Jayron Kearse
Safety
6-4, 205
Fort Myers, FL
View Full Profile Fort Myers (FL) South Fort Myers
OT Maverick Morris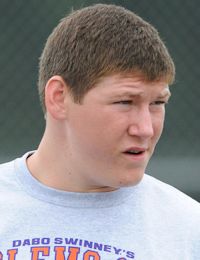 Maverick Morris
Offensive Tackle
6-5, 290
Douglas, GA
View Full Profile Douglas (GA) Coffee County
LB Dorian O'Daniel Olney (MD) Our Lady of Good Counsel
DT Scott Pagano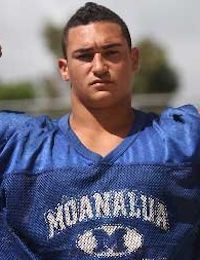 Scott Pagano
Defensive Tackle
6-4, 280
Honolulu, HI
View Full Profile Honolulu (HI) Moanalua
DE Dane Rogers Shelby (NC) Crest
WR Mike Williams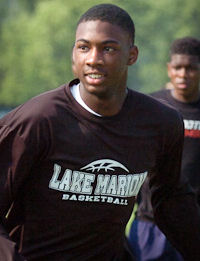 Mike Williams
Wide Receiver
6-5, 205
Holly Hill, SC
View Full Profile Santee (SC) Lake Marion
Click here to see a photo gallery of Clemson football recruits at the basketball game on Saturday