| | |
| --- | --- |
| Swinney says Tigers won't hesitate to call Watson's number in running situations | |
---
| | |
| --- | --- |
| Monday, July 27, 2015, 3:13 PM | |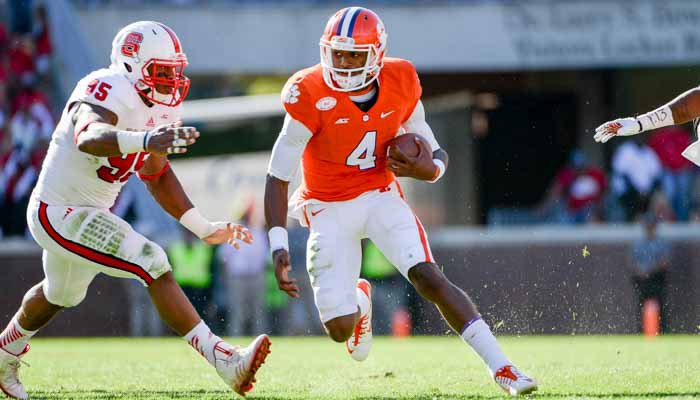 Any time the Clemson offense faced a third-and-short over the past four seasons, there was no doubt in anyone's mind who was going to get the football. Opposing defenses knew it. Fans knew it. The commentators knew it. We all knew it.
The offense would line up in the shotgun, send the playmakers out wide, run a slot receiver or tight end in motion and the quarterback would run the football. Tajh Boyd was perfect at it, converting third down after third down. He also never missed a start in his Clemson career, his thick body taking the brunt of the punishment time and time again.
According to head coach Dabo Swinney

Dabo Swinney
Head Coach
View Full Profile , don't expect things to change too much this season.
Last season was more of the same, albeit with scattered results. Cole Stoudt

Cole Stoudt
Quarterback (2011 - 2014)
#18 6-4, 225
Dublin, OH
View Full Profile ran the ball 69 times, and Deshaun Watson

Deshaun Watson
So. Quarterback
#4 6-2, 205
Gainesville, GA
View Full Profile ran the ball 63 times in limited action. However, the past four seasons have shown that the Clemson offense – known around the country for its passing attack more than the running game – has sent the quarterback scampering downfield as much as some of the more well-known running teams in the country.
Oregon's Marcus Mariota had 337 rushes during his last three seasons, averaging 112.33 rushes (scrambles and called runs) per season; Auburn's Nick Marshall rushed 325 times over his last two seasons for an average of 162.5 rushes per year; South Carolina's Connor Shaw was known for making plays with his legs, and he ran the football 440 times over his last three seasons for an average of 146.6 rushes per season.
Boyd ran the football 154 times in 2013, 186 times in 2012 and 142 times in 2011 for an average of 160.6 times per season; overall, Clemson's quarterbacks have run the football an average of 153.5 times per season the last four seasons.
Questions about the ability of Watson to stay healthy will persist all season long, but Swinney said the coaches won't hesitate to call Watson's number if they need a big first down.
"He came to Clemson to do what we do," Swinney said on ESPN this morning. "Hopefully he can be a little smarter. One of the best parts of his game is he is a creator. It is not necessarily a play that we called for him to run, but he becomes a scrambler. I think there are times where he has to be smart and not necessarily take that hit. He doesn't have to prove anything to anybody. And there are times when it is 3rd and 1 and we got to have it.
"We got to do what we got to do to win the game, but hopefully he can be a little bit smarter as he goes through the season. Last year he got hurt, but they were noncontact. He hurt his knee, and no one touched him. You can get hurt playing this game doing anything. You just can't worry about that stuff. You got to go play and cut it loose and let the cards fall where they may."
Swinney said he had no doubts about Watson's ability.
"My confidence level comes from - first of all, a young man's ability, his aptitude, his work ethic, his commitment to being great and he is above and beyond in all those areas," Swinney said. "If the scale is 1 to 10, he's a 12 in everything. I can just tell you. If the good Lord keeps him healthy - and it is a violent game and things like that - but if he plays in all 12 games then he will be a tough out for anybody. He is a special player."
OTHER NOTES
on Clemson being picked to win ACC
"It doesn't change anything at all. Whether we are the 5th pick or the 1st pick we just try to make it about Clemson. Keep it about Clemson. We have a formula for excellence that we believe in, and that is what we stay dialed in on. I think when you get distracted by those type of things you become inconsistent, and we have become one of the most consistent teams in the country because our guys have bought into that concept, and I am proud of the process we have made. It really is irrelative. It's about November and December. If we are there at the end then we will celebrate that, but right now they are not going to bring us the trophy over here because a bunch of people looked at some paper and said we will pick them number one. It's fun to talk about. Y'all got to have something to talk about on SportsCenter. What else are you guys going to do around here? I get all that, but our guys have a good perspective. They know you get what you earn. It's a game of performance not potential. We appreciate the fact people have respect for our program."
On why he thinks his defense can be successful this season
"Good players. We have recruited well. Then you've got to have a great staff. Brent Venables

Brent Venables
Def. Coordinator / Linebackers
View Full Profile , Dan Brooks

Dan Brooks
Assoc. Head Coach / Def. Tackles
View Full Profile , Marion Hobby

Marion Hobby
Co-DC / Defensive Ends
View Full Profile , Mike Reed

Mike Reed
Assist. Coach / Defensive Backs
View Full Profile . They are the best in the business. They really are. That's one of the things I challenge every coach on our staff is to be the best at what you do. And there is no doubt that Brent Venables and our staff, they do a fantastic job in maximizing the potential of players. And the guys buy in. We have good players, talent and depth, but they are guys that believe in the team."