| | |
| --- | --- |
| Practice Report: Venables on position battles, freshmen linebackers | |
---
| | |
| --- | --- |
| Monday, August 4, 2014 10:10 PM | |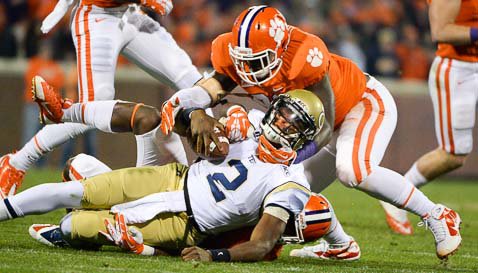 CLEMSON – Practice number three is in the books for the Clemson football team, a practice that was moved indoors following an afternoon thunderstorm, and we have plenty of news and nuggets to report.
The Tigers worked out in shells, which means the team was in shoulder pads, helmets and shorts. Known as a "thud practice", the Tigers will be in the same attire on Tuesday, then go to full pads for the fifth practice on Wednesday. The Tigers will not have two practices in the same day until Friday.
Let's start with the offensive line – you remember Zach Riggs

Zach Riggs
RS Fr. Offensive Line
#54 6-4, 240
Greer, SC
View Full Profile , the son of former Clemson tight end Jim Riggs. Jim lettered four times (1983-86) at Clemson and was a First-Team All-ACC tight end in 1985 and 1986 and played seven seasons (1987-93) in the NFL with the Bengals and Redskins . Zach came to Clemson as a tight end, but many thought he would outgrow that position. He red-shirted last season, and suffered an injury to his kneecap in the spring. However, he is finally healthy and has been taking snaps at third-team center.
* Joe Gore

Joe Gore
RS Jr. Offensive Tackle
#73 6-4, 275
Lake Waccamaw, NC
View Full Profile told us that he has been getting most of the first team reps at right tackle, and freshman Maverick Morris

Maverick Morris
RS Fr. Offensive Line
#69 6-4, 285
Broxton, GA
View Full Profile has been seeing the most snaps at second team. With Shaq Anthony

Shaq Anthony
RS Jr. Offensive Tackle
#76 6-3, 265
Williamston, SC
View Full Profile out for the season opener, right tackle will be a position watched closely during fall practice.
* Jordan Leggett

Jordan Leggett
So. Tight End
#16 6-6, 235
Navarre, FL
View Full Profile told us that he is proud of the fact that he weighs 250 pounds, and that he has been working on his blocking so he can be more of a dual-threat. However, he said something that was intriguing – he mentioned with a sly grin that he might not be locked in as a true tight end during some snaps this season, saying that he and Stanton Seckinger

Stanton Seckinger
RS Jr. Tight End
#81 6-4, 210
Isle of Palms, SC
View Full Profile might see time as wide receivers.
The fact that Clemson has running backs that can catch the football simply opens up the playbook for offensive coordinator Chad Morris

Chad Morris
Offensive Coordinator / QBs
View Full Profile . Morris might not have Sammy Watkins

Sammy Watkins
Wide Receiver (2011 - 2013)
#2 6-1, 205
Fort Myers, FL
View Full Profile or Nuk Hopkins, but he might have the most complete group of targets he's had since he's been at Clemson.
*Seckinger left practice on the back of a golf cart, his ankle wrapped in ice. Backup wide receiver Seth Ryan, the son of New York Jets head coach Rex Ryan, suffered a broken collarbone in practice and will be out for a while, according to the school.
Brent Venables

Brent Venables
Def. Coordinator / Linebackers
View Full Profile
On Kellen Jones

Kellen Jones
RS Jr. Linebacker
#52 6-1, 215
Houston, TX
View Full Profile
"I think he has looked pretty good. I think he has done well. He is still in a yellow jersey which means he isn't at full speed, but we haven't tackled anybody yet. His change of direction has been really good. There hasn't been a lot of swelling, and we have a lot of depth there so we don't have to have him out there every snap."
On whether we will see Vic Beasley

Vic Beasley
RS Sr. Defensive End
#3 6-3, 225
Adairsville, GA
View Full Profile playing more like a linebacker than last season
"I think last season when you saw him in a two-point stance he was out on the edge. You see that against the spread in the running game, and we put Corey Crawford

Corey Crawford
Sr. Defensive End
#93 6-5, 270
Columbus, GA
View Full Profile there. If you look back at tape of Oklahoma, I have done that for years and years. I think in the spread game, those guys are more like outside linebackers and the game is out on the perimeter. The first thing they do against an option team or a zone-read team is on the snap they stand up and now they are in a two-point stance and we feel like that gives them an advantage. You see a lot of quick throws and a lot of bubbles. It gets them in more of a ready position and eliminates steps in the progression."
On the freshman linebackers
"I like all of three of our young freshmen – Chris Register

Chris Register
Fr. Outside Linebacker
#45 6-4, 240
Greensboro, NC
View Full Profile and Kendall Joseph

Kendall Joseph
Fr. Linebacker
#34 5-11, 230
Belton, SC
View Full Profile and Korie Rogers

Korie Rogers
Fr. Outside Linebacker
#43 6-2, 220
Buford, GA
View Full Profile . All three of those guys have showed they have instincts and they are physical. They all move pretty good and have a good level of football intelligence and have good football size already. They have a bright future because they also have high football intelligence."
Nickel-SAM
Venables said that he likes the battle at nickel-SAM and that Travis Blanks

Travis Blanks
Jr. Defensive Back
#11 6-0, 190
Tallahassee, FL
View Full Profile and Korrin Wiggins

Korrin Wiggins
So. Defensive Back
#12 6-1, 185
Durham, NC
View Full Profile are in a battle there.
"The battle is good. Just how you want it as a coach. Having a group of guys that can run and hit and have instincts and are tough. Travis has the most experience at that position but it's a good battle but it's fun to watch. But when it's all said and done I think we will have more than one guy that will play there for us."
On Stephone Anthony

Stephone Anthony
Sr. Linebacker
#42 6-2, 235
Polkton, NC
View Full Profile
"He wants to be great. Those aren't just words. He's out there with his hair on fire every day. He's willing to pay the price. He's completely bought in. To me, it doesn't get any better than him."