| | |
| --- | --- |
| Pigskin Prophet: I Overslept Edition | |
---
| | |
| --- | --- |
| Thursday, November 27, 2014 9:01 AM | |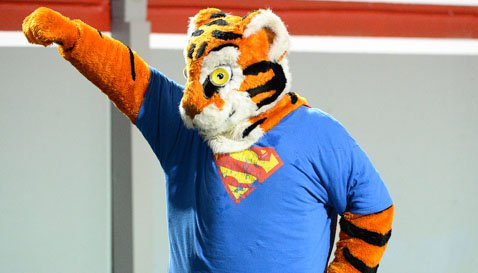 I know, I missed posting last week. See, what had happened was……
Last week I was supposed to send my Pigskin Prophet into Crump, and in honor of it being my third year doing this we had a big celebration planned. I was supposed to actually bring my story over to Crump's mansion on the Lower East Side, and he told me we were going to call it Pigskin Prophet Night.
I was going to get a TigerNet jersey (and steak knives!!!) with my name on it, my mom was going to get a big bouquet of flowers and my dad was going to get a plaque. We were going to play special music and take pictures and it was supposed to be wonderful.
Crump went out and bought a Little Caesar's pizza, mom and dad dressed up and other members of the Prophet family were invited. The flowers – not quite wilted – were waiting on my mom, the pizza was still somewhat edible and everything was ready to go…….except there was no Pigskin Prophet.
Phone calls were made. People posted stories that said 'Scary Situation Developing as Prophet Misses His Night.' Mom almost cried. Dad ate the pizza and handed the bouquet of flowers to the next door neighbor's wife, who is smokin' hot. Still no Prophet.
Turns out I had overslept. Not 10 minutes. Not 30 minutes. No even an hour. Five hours. The University of South Carolina found out about it and bestowed me with an honorary degree, which means I have two more degrees than they have SEC Championships. But I digress…it's Rivalry Week. And remember, it's all in fun.
FRIDAY
LSU AT TEXAS A&M
The good news is that the winner of this game – which is an SEC game of course – vaults into the Top 10 of the rankings. The loser jumps all the way to 11. I am Paul Finebaum and I approve this message. LSU 27, TEXAS A&M 23
ARKANSAS AT MISSOURI
All that stands between No. 17 Missouri and a second SEC East title is red-hot Arkansas. If Missouri wins, they will have the same number of degrees as the Prophet and one more SEC East title than South Carolina. However, Arkansas is red hot, and they shut out Mama Nkemdiche last week and every player on their team has been told they can no longer enter Nigeria. This week, they can enter Missouri, and while Missouri has the better record and a title on the line, these Razorbacks are playing so well the Pig Girl has stopped signing funeral songs on the internet. Mizzou pulls it out….MIZZOU 27, ARKANSAS 21
VIRGINIA AT VIRGINIA TECH
I almost got excited when I saw this game on the schedule, but then I put down my honorary degree and realized it's really not gonna be a lot of fun for anybody to watch. Unless you live in Virginia. And maybe not even then. VIRGINIA TECH 3, VIRGINIA 2
SATURDAY
NORTH TEXAS AT UTSA
Happy Thanksgiving UTSA. For this one week, I will act like I know who you are. UTSAWHOOOO 28, NORTH TEXAS 22.
MICHIGAN AT OHIO ST.
This used to be a huge game, one I looked forward to watching each year. Then Michigan started changing coaches like Kim Kardashian changes men and none have seemed to be the right fit. It doesn't get any better for Brady Hoke this week, because Ohio St. is playing really, really well and Michigan is playing Kim Kardashian. OHIO ST. 31, MICHIGAN 13
GEORGIA TECH AT GEORGIA
The Ramblin Wreck has put together a decent season, but the end of the season will feature losses to two programs who actually have athletes. Clemson could have beaten Tech a couple of weeks ago in Atlanta with a quarterback, and the bad news for the Wreckies is that Georgia has a quarterback and some really good running backs. Tech blew a huge lead last season at home, and they probably have the confidence to think they can still with the Dawgs in this one. Nope. They can't, unless half of the Georgia team is arrested shortly before kickoff. The Wreckies will fall and take out knees and end careers, and it won't matter. DAWGS 37, TECH 27
FLORIDA AT FLORIDA ST.
Last week was a perfect example of how the SEC gets all the love. If a middle of the road SEC team like Kentucky plays even with Alabama, the Paul Finetunenbaums of the world will tell you it shows just how deep the ES EEEE SHEEE is. If Boston College – which beat Southern Cal earlier this season – takes FSU to the wire it just goes to show that FSU is vulnerable in a bad ACC. Florida has the defense to keep this one close, and it will be close. Very close. FSU fans better hope that Shameis Jameis is still eligible, and barring him personally nuking a small country he will be. Shameis pushes an ACC official out of the way, steps on John Swofford's wine glass, kicks Bobby Bowden in the head and scores the winning touchdown. All contact is ruled "incidental." After the game, he has a lot more "incidental" contact on campus in celebration. FSU 24, FLORIDA 21.
MISS. ST. AT OLE MISS
Hey, didn't you used to be Mississiippiippisssiipis' college football playoff hopes? Both teams have taken it on the chin lately, and Mama Nkemdiche isn't about to take it lying down. Unless she wants to. And then she will. Word in Oxford is that she is trying to get Hugh Freeze pushed out so her husband can be the head coach (that hospital thing didn't work out). I think Ole Miss pulls this one out so they don't have to have Mama Nkemdiche running the program. NKEMDICHE TECH 27, MISS. ST. 23
AUBURN AT ALABAMA
Ah, the Paul Finetuninbaum Bowl, or known as the Iron Bowl outside of Alabama. The Team With 16 Different Mascots (Auburn) has played the toughest road schedule in the nation this year, and it continues in Tuscaloosa. Auburn wound up with a couple of miracle finishes last season and earned a trip to the National Championship Game – this year their luck has turned and you see plays where their center snaps the ball against his own butt to lose a game. It's been that kind of year. They find a little bit of that magic Saturday and keep the Finebaum Bowl close, but Bammer Bammer Rammer Jammer Yellow Hammer or whatever they saw pulls it out just in time……..BAMMER 30, AUBURN 27
SOUTH CAROLINA AT CLEMSON
South Carolina comes in with a five-game winning streak against the Tigers, pretty much the only thing they've won during the GREATEST PERIOD IN THE HISTORY OF THE PROGRAM!!!!!!! This year, the Chickens have a good offense and a really bad, just awful, did I mention bad, defense. Those guys get scored on more than the poor girl at the South Carolina tailgate and the Arkansas Pig Girl. Banner Visor is a good coach, however, and he will have his troops ready to play after threatening to pull everybody's scholarships and then retire to play golf, and this one will be your typical back-and-forth affair. Clemson's defense makes the difference late. CLEMSON 24, BANNER VISOR 20