---
| | |
| --- | --- |
| Monday, September 26, 2011 9:31 PM | |
CLEMSON – Some news, notes and quotes from Monday's interview session with selected Clemson players.
LB Quandon Christian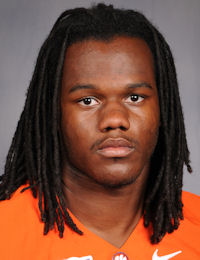 Quandon Christian
RS So. Linebacker
#34 6-2, 220
Lake View, SC
View Full Profile
On his interception
"My last interception was in high school- my senior year. I was playing safety and they threw it deep. Saturday, they did a play-action pass, like a naked boot. I shuffled down and saw his pass. I knew I had the flats. I saw him throw it and I made the catch."
On his duties
"I'm pretty much in coverage most of the game. I blitz some."
On tackling
"Tackling is all in the game. You will miss some and you will make some. We do tackling drills every week so it will get better."
On Virginia Tech QB Logan Thomas
"Their quarterback looks just like Cam [Newton]. He's big. We just have to wrap up and get him down. Tackle. Hold on for help."
Difference between this season and last season
"Last season I didn't really know the play book. At the end of the year, when I learned the play book a little bit more, I came on more. I wasn't out there looking at other players. I was playing my technique. I feel a whole lot more comfortable now than I did last year. I like pass coverage. I don't like it more than I like blitzing. Interceptions are just like sacks."
On hitting
"I love hitting. Before the game, I tell myself, 'I'm going to kill somebody when I go out there.' It sticks in my head. I love hitting. I love the pain I get and the pain that they face. Every game. I just want to hit the quarterback so hard. I think about hitting all of the time."
DB Coty Sensabaugh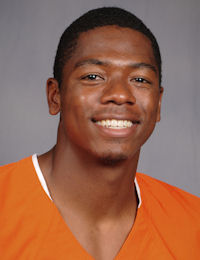 Coty Sensabaugh
Gr. Defensive Back
#15 6-0, 180
Kingsport, TN
View Full Profile
On Logan Thomas
"Body-wise, he looks like Cam Newton and E.J. Manuel. These quarterbacks are tall and strong. They are just getting big. When he runs, he likes to run people over. He can throw the ball well."
On the defense and doing his job
"I feel that we are starting to do our job more. We are just focused on getting better every week. When you are on defense, you just have to do your job. If you don't do your job at my position, it's going to be a touchdown or 80, 60, or however many yards they have to go. The main thing with big plays is just doing your job. Give credit to Florida State and all of the other teams that we have played, they have great personnel to make those plays.
"At defensive back, you are by yourself. You are in space. It's no different than being a running back or wide receiver. You are in space so when you do something good, you will get all of the glory. When you do something bad, you are going to get all of the blame. It comes with the territory.
"We are just trying to get better as a team. As long as we continue to play as a team and complement each other, then I feel that we will be fine. We are just trying to benefit each other and get better every week on offense and defense. "
On if the team has proved anything
"We won't be done proving ourselves until the end of the season. Our ranking right now doesn't mean anything. If we keep moving up in the ranking or stay where we are at the end of the season it might mean something. Right now it doesn't mean anything. We aren't even half way through the season. We still have a long way to go and a lot of improving to do."
OL Phillip Price
On the criticism of the offensive line
"I didn't buy into people calling us soft, because a lot of it had to do with the people we were playing and the schemes. Do you think Wofford is going to play us straight up? Or Troy? They did a lot of twisting and stunting. We have to adjust our plan every game. We just try to impose our will on every team that we play. We just try to get better and take on more responsibility because we are an older and experienced group.
"I want to drive my man into the dirt every play. Every play. But, every play isn't conducive to that. You want to do that every play. You want to drive people into the dirt and mow over people, but you have to play within yourself and within your scheme. Being out there and being over aggressive will get you beat more often than not. You have play within yourself and within the call. Every call isn't designed for me to drive people in the dirt every time. You just have to do what you are coached to do and play within yourself."
On scoring every drive
"We don't care what the score is. Every drive that we go out there, it is our job to put points on the board whether we are down 30 or up 30, it doesn't matter. Every time we go out there it's our job to score. That's just the way we approach it. We believe that we can score every drive. It's nice to know that you have homerun hitters and any time they touch the ball that they can be gone just like that. That makes me feel better. Nothing hurts a defense worse than a nice 14 play drive. It's just demoralizing."
On Va. Tech
"We just have to make sure that we are on the same page and that we don't have any procedural or pre-snap penalties. That's always a test when you go into a loud stadium. We have to make sure that we get the snap count right and little things like that.
"Everybody on this team is like that [has the "us against the world" mentality]. We are focused. People have been talking bad about us for long enough. Our mind is on the goal. Virginia Tech is the goal right now. Our goals haven't changed. Go in and win."
LB Corico Hawkins

Corico Hawkins
Jr. Linebacker
#42 5-11, 230
Milledgeville, GA
View Full Profile
On feeling good about where the team is
"We have kept it all in check thus far because we know that just as quick as we got to 4-0, we can be 4-4. We've been down this road-winning a few games and going on a losing streak. We are just trying to win and stay focused.
"There are a lot of guys on this team now that have had past seasons where we win a big game and lose three or four games. Just have those 6-7 seasons and having mediocre seasons. Those guys that have been here are doing a great job of telling us younger guys to 'hold up. The season isn't over yet. We've only won four games.' "
On what Virginia Tech does offensively
"The same offensive formation that they will line up in on Saturday, we will have seen that same formation at least 60 times in practice so everyone should know that 'when they line up in this formation that we have to do this or that.' Communication only goes so far because of the noise and the extra stuff that goes on in the game. My job is to reiterate what has already been taught."
K Dawson Zimmerman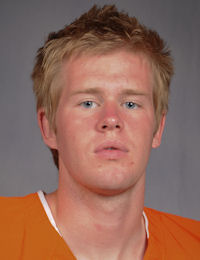 Dawson Zimmerman
Sr. Punter / Kicker
#96 6-2, 205
Lawrenceville, GA
View Full Profile
On play where he was hurt
"I actually thought that I had gotten it blocked. I actually didn't know until after the game that it hadn't been tipped or anything. I didn't even know that they had gotten a penalty or that we had the ball. It really hurt.
"My knee is basically why I went down and stayed down. Basically, he hit me when my knee was fully extended out so it hyperextended a little bit. I've got some swelling on it. I think that hopefully by the time Saturday gets here the swelling will be down. Structurally, it's fine. It's just bruised.
"On a low and left snap, I have to go low and bring it back across so I just tried to get it off as fast as I could. I saw the guy coming, but there was a chance to get it off. I was lucky to get it off. He kind of went right under it. I was just happy to get it off because that would have been a huge game changer. I have no idea how the ball went so far. There was no follow through."
On his health
"I'm just waiting for the swelling to go down so I can fully extend it and get the leg pop. I'm pretty optimistic because I'm walking on it."
On drawing two penalties
"Dwayne [Allen] told me that I really sold it on the second one."
On how the FSU player got in there so quick
"It was more on the protection. They were bringing something that we hadn't really seen. They were bringing three guys and twisting a guy through. All of us on the punt team and on special team, we are going to have to sure up our protection and work hard this week. Based on this week, Virginia Tech is probably going to try and block a punt."
On what he told Spencer Benton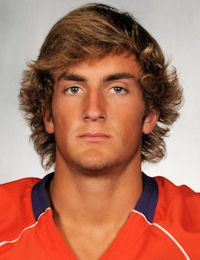 Spencer Benton
RS Jr. Punter / Kicker
#13 6-2, 195
Myrtle Beach, SC
View Full Profile
"I told him to be calm, go fast and don't rush it. I've been working with him pretty much all year- almost training him every day. If for some reason, I can't go I would be confident in him because he has really developed into a solid punter. "
On bright side of injury
"If you ever want to add Twitter followers, have something like that happen. I literally gained like 400 Twitter followers. But I am thankful that we have the kind of fans at Clemson that care."