| | |
| --- | --- |
| Swinney says Clemson is underdog for a reason | |
---
| | | |
| --- | --- | --- |
| Tuesday, September 18, 2012, 12:11 PM | | |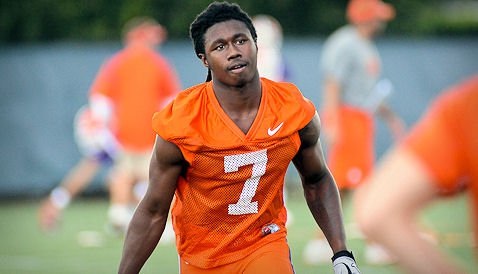 CLEMSON – Very few teams in the country would make the trip to Tallahassee to take on No. 4 Florida St. and not be an overwhelming underdog, according the Clemson head coach Dabo Swinney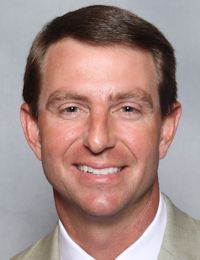 Dabo Swinney
Head Coach
View Full Profile .
No. 10 Clemson gets to make that trip this week, and is a double-digit underdog to the Noles, who have outscored their opponents 176-3 so far this season.
Despite winning the ACC Atlantic Division two out of the past three seasons and beating Florida St. six out of the last nine seasons, Swinney said that he understands where the oddsmakers are coming from, and doesn't think it shows a lack of respect.
"I don't know how to answer that. We are not a great football team right now," Swinney said. "If I was on the outside looking in, I would probably pick them too. But I'm not on the outside, I'm on the inside, and I like where I'm at. Top 10 team in the country at their place with GameDay. I don't think that's a lack of respect, I just think Florida State is a really good team. I don't know anybody would be favored going into Tallahassee except Alabama or LSU. We have to have a great week of preparation. I know we are a big underdog going down there but I don't know who wouldn't be? Alabama and LSU and that's probably it. Fourth-ranked team in the country playing at home."
Swinney said the players understand the importance of the game, but a win or a loss doesn't make or break a season.
"They aren't isolated in a cave somewhere. They understand. This is a huge game," Swinney said. "But you have to be careful of what you make this game- you know it's the fourth game. Our next goal is to win the division. So it's a big game. The winner of the game is in control, while the loser is at the mercy of others. But you can't make this game bigger than what it is because we have to go to Boston College next week. It's a long season guys. Same thing for both sides. You lose this game you don't control your destiny.
"We all remember Alabama-LSU last year. Division game between two top 10 teams. LSU won the game but guess who won the National Championship? Know why Alabama won it? Because they took care of their business. Alabama went back to work and took care of their business and look what happened for them? It's a big, big game- no doubt about it with GameDay and everything else. For us, it's game four. And it's the beginning of conference play. We are just trying to improve and play our best game. Hopefully that's this weekend."
Swinney said FSU is as "advertised."
"Looking at Florida State, they are advertised. They are explosive and they've made a ton of explosive plays against Wake Forest- and we have a ton of respect for those guys," he said. "Quarterback [E.J. Manuel] is a special player. They have three good running backs. [Chris] Thompson exploded last week. [Lonnie] Prior is a good fullback for them. Does a number of good things. Lot of skill at wide receiver. They can all run and catch. [Wide receiver] Rodney Smith is back and he's made a lot of big plays against us - a go route last year against us. [WR] Rashad Greene also had a touchdown on us. There's no shortage of skill players down in Tallahassee. I like their tight end. They have good depth up front. They've played a lot of guys these first three games.
"Defensively, they are probably as talented as team as I've seen since I've been here. They are very good and lead the nation in five different catagories. They've only played red zone defense three times this year and they've only given up three points. Their defensive line is where they have great depth. They lost one of the top pass rushers in the league and they haven't missed a beat. They are talented at linebacker. Their secondary is very talented and they play a lot of press man. They are confident in their front to get pressure and we have to figure out how to beat man coverage. That's what happened with Wake Forest."
Swinney said this will be Clemson's first true road test of the season.
"The big thing for us offensively is handling the environment. Great crowd. Great venue. But half the stadium isn't going to be for you like it was in Atlanta. I'm sure we'll have a small pocket there and hopefully we can bring them to their feet a couple of times. We can't have stupid penalties. We can't turn it over and we have to make plays. Special teams could very well be the difference. They took a punt back last week against Wake Forest. They have very good skill people that are dangerous. They have a very special kicker [Dustin Hopkins]. He's been outstanding. We all remember two years ago where the 55-yarder he kicked would have been good from about 70. Had a chance to meet him last year and he's a great kicker."
Swinney said the initial five starters on the offensive line – Brandon Thomas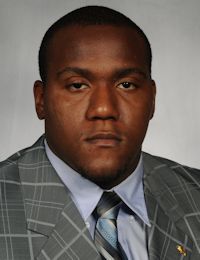 Brandon Thomas
RS Jr. Offensive Line
#63 6-3, 305
Spartanburg, SC
View Full Profile , David Beasley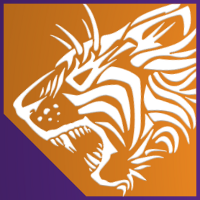 David Beasley
RS So. Offensive Guard
#68 6-4, 315
Columbus, GA
View Full Profile , Dalton Freeman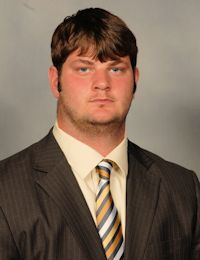 Dalton Freeman
Gr. Center
#55 6-5, 265
Pelion, SC
View Full Profile , Tyler Shatley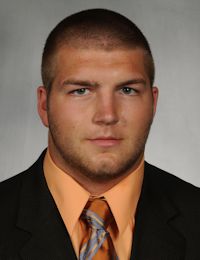 Tyler Shatley
RS Jr. Offensive Guard
#62 6-3, 295
Icard, NC
View Full Profile and Giff Timothy – should all be healthy.
"They are all back. Everybody is practicing and ready to roll," he said. "We've played a bunch of guys so whoever practices the best this week will start the game. We'll make a decision tomorrow whether it's David Beasley or Kalon [Davis] or Giff or Shaq [Anthony]. "
Swinney said the lack of pass rush exhibited by the Tigers this season is a concern.
"We've gotten quite a bit of pressure but we haven't been able to get sacks," he said. "Part of it is some of the teams we've played. It's not like they are sitting back there holding the ball and it's come out quick. But we haven't been able to sack the quarterback like we need to. Yes that's a concern."
Thompson ran for 197 yards in the first half against Wake Forest this past Saturday, and Swinney said the defense will have to concentrate on stopping the read option and stretch plays.
"The option is a concern because they have been successful," he said. "Their fullback has done a good job on the (stretch) plays. We have to mix it up and we can't give them the same look. And guys have to play fundamental football. We have to have 11 hats to the ball and we have to be fundamentally sound. We have to defeat blocks. That's the biggest thing. They block people."
On Tony Steward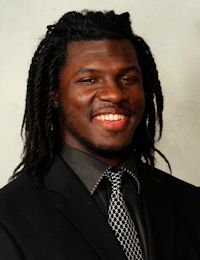 Tony Steward
So. Linebacker
#7 6-1, 235
Hastings, FL
View Full Profile
"I thought he looked good last week. That's his first significant time. Last year we were kind of bringing him along. He's done a great job on special teams for us. He's on every team- was in on 30-something snaps the week before. But for him to play and seeing him in there last week was really good. He was active. He's still not quite there but he's on his way. It was good to see him play like that."
On winner of this game having an edge in recruiting
"We are always going to compete against each other. At least we should. To be honest with you, Clemson- Florida State should be two of the best programs in the country. That's hopefully where we are headed. We all know our footprint here in South Carolina. We don't have a huge number of Division I-A players so we have to go down there and recruit. It will always be a competitive situation. We won down there in 2006. I don't think they've won here in quite a while. It's a very competitive series and I don't see that changing."
On the key to beating FSU's press coverage
"Protection. How our guys hold up with 95 and 93. That's where it starts. We have to have great technique and we have to finish plays on contested throws. We have to finish those plays. That's the key."
On Tajh Boyd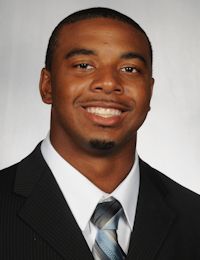 Tajh Boyd
RS Jr. Quarterback
#10 6-1, 225
Hampton, VA
View Full Profile being patient at FSU
"He's played them before. It's not like this is his first time playing Florida State. He played the game last year. He's got to play the position like he's supposed to. When there are opportunities to scramble he's got to do that. He has to make plays with his legs and extend drives and avoid sacks when he can."
On if he likes the idea of FSU playing press on Watkins and Hopkins
"I like both of those guys. But they have to play well Saturday night. But they have good players too. It's a game of inches. I wouldn't trade any of our guys for any other guys in the country."