| | |
| --- | --- |
| Swinney calls out Clemson fans who would boo Cole Stoudt | |
---
| | | |
| --- | --- | --- |
| Tuesday, November 18, 2014, 12:04 PM | | |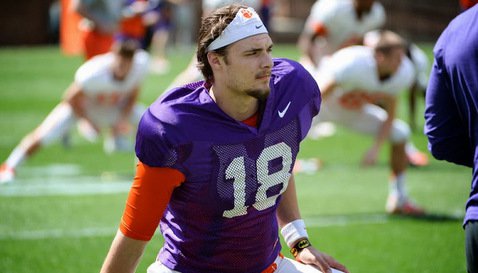 CLEMSON – Head coach Dabo Swinney

Dabo Swinney
Head Coach
View Full Profile spent the early part of his Tuesday morning press conference discussing Georgia St., Military Appreciation Day and Senior Day, but when he was asked about Clemson fans booing senior quarterback Cole Stoudt

Cole Stoudt
Sr. Quarterback
#18 6-4, 231
Dublin, OH
View Full Profile his passion went into overdrive.
Stoudt threw three interceptions – two were returned for touchdowns – last week at Georgia Tech and he was benched late in the third quarter. However, Swinney said that Stoudt will start this week's game and then called out Clemson fans who bash and boo Stoudt.
Swinney said that Stoudt gives his team the best chance to win and will thus get the start on Senior Day.
"Cole will start the game," Swinney said Tuesday during his press conference in the WestZone. "I like the way he has responded. He gives us the best chance to win. He had a bad day Saturday. The week before that he was our offensive MVP. The week before that he won the leather helmet. Everyone else has to play better and help, too."
And, to the fans who may react badly or plan to boo the senior signal caller, Swinney says to get a life.
"Not if they're who I think they are. Why would we react negatively to Cole Stoudt? Because he had a bad game. This kid has given four years of his life to Clemson University. He was always ready whenever we needed him," Swinney said. "He lost some confidence this year. Difficult situation? Probably. For our fans to not embrace him? At the end of the day we're supposed to be family and we have each others' back. This guy has done nothing but represent this university with class. He's not the reason we lost the Georgia game. He played pretty good against UGA. He's not why we lost to FSU. Young people today are surrounded by negativity. It's difficult. I think it's a shame that this question is even asked. What has he done to even warrant someone booing a guy. That would be an absolute embarrassment. Cole Stoudt could have left here. He was the best backup he could be three years. He did everything he could to help us win. He represented this program the right way.
"People need to get a life if they're going to boo a guy like Cole. He's a class act and deserves to be treated with class. It's my hope that Cole will finish out this thing great. We have won six out of the last seven. We had a bad day. A bad, bad day offensively. We played well enough on defense and special teams to win. We all have adversity and make mistakes and make bad decisions. What I try to instill in my players here is that when adversity comes, you have a choice. You can let that define you, let it destroy you, which a lot of people do, or you can let it develop you. I try to teach our guys that to allow good and bad things to develop them into the person God has created them to be. Winners in this world are the ones who don't get discouraged by defeats. The greatest winners in this world all had massive defeats but they didn't get discouraged by those defeats. They learned and grew from those experiences.
Swinney said that Georgia State game comes at a great time and provides Clemson as well as the fans an opportunity to honor the military and the seniors who have been a part of the program over the last four or five years.
"Anxious to get back out on the field this week and see if we can play better offensively. We look forward to finishing our season at home. It's great finishing with two home games. It's a special week for us because it's Military Appreciation Day Saturday. We will wear our purple. Also, we have some of our former players now in military who will meet our team at the bottom of the Hill.
"Our seniors have a chance to get their 40th win this week if we can win. That's pretty special. The 1990 group put together a special run with 40 wins, so this is pretty special. From a team-standpoint, we just want to regroup and finish. That's what we're focused on."
Other notes
Deshaun Watson

Deshaun Watson
Fr. Quarterback
#4 6-3, 204
Gainesville, GA
View Full Profile 's status
"It's day to day. He gets better everyday. When I talked to ya'll Sunday, I got the call. We got some good news. He's still got an injury. It's not like he's out there doing sprints. It's not what we thought it was. He was a lot better Sunday and better yesterday. It truly is a day-to-day thing. I don't see any way he would possibly play this weekend. We're hopeful he will play next weekend, but we don't know. It was an LCL sprain. They'll put a brace on it.
"Talk to the doctors about that. When they tell me he can play, he can play. We won't put anyone out there who's not ready to play. They all have risks. That's just part of this game. We have a ton of guys who are playing with minor injuries."
On Martin Jenkins

Martin Jenkins
RS Sr. Cornerback
#14 5-9, 185
Roswell, GA
View Full Profile ' and Charone Peake

Charone Peake
RS Jr. Wide Receiver
#19 6-3, 204
Moore, SC
View Full Profile 's health
"He's still out. We're hopeful he will be back against South Carolina. Charone responded well. We're encouraged with where he is right now."
On the possibility of Nick Schuessler

Nick Schuessler
RS So. Quarterback
#12 6-3, 195
Grayson, GA
View Full Profile playing Saturday
"I hope to play him. The more experience we get him, the better. Our objective is to win the game. He missed a couple of things, but he has really improved. He just doesn't have a lot of experience yet. We've got two quarterbacks coming in in a few weeks."
On Georgia State
"Georgia State has had some tough losses. They're a young program. They have a second-year head coach but they have some guys. They have some guys who can make plays on both sides of the ball. They throw the ball all over the park. They throw it as well as anyone we've played in a while. They do a lot of empty, a lot of verticals. They know what they're doing there.
"Defensively, it's harder to get dialed in on them. They've had a lot of different looks and fronts from week to week. Some of that is due to injuries. Some of it is due to them trying to find something that fits their personnel. We have to have a good plan and do a good job of executing. Big challenge for us. We want a great crowd. We only get seven days a year to gather in this stadium and that's special. We live for that all year long."