---
| | | |
| --- | --- | --- |
| Saturday, November 23, 2013, 5:18 PM | | |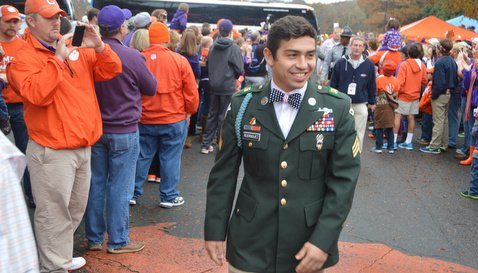 CLEMSON – Hearing the roar of a Death Valley crowd and seeing his teammates gather around him, Daniel Rodriguez

Daniel Rodriguez
RS So. Wide Receiver
#83 5-8, 175
Stafford, VA
View Full Profile felt that his story had finally been written.
Rodriguez took a flip pass from quarterback Cole Stoudt

Cole Stoudt
Jr. Quarterback
#18 6-4, 205
Dublin, OH
View Full Profile early in the fourth quarter of Saturday's 52-6 win over The Citadel, and sprinted into the end zone for his first career touchdown, a score that carried a lot of emotion for the Virginia native.
When he crossed the goal line, he carried not only the ball but the memories of fallen friends, a fitting tribute on Military Appreciation Day.
Rodriguez said that when he crossed the goal line, his mind wandered from Death Valley to the 24 friends that he's lost to war, all of his friends that are still serving and all that he has battled through that brought him to the endzone of Memorial Stadium.
The 25-year old Purple Heart recipient said that he couldn't have asked for a better time to score his first career touchdown and share his joy than Military Appreciation Day – a time when Death Valley is filled with fellow veterans and Purple Heart recipients.
"You couldn't ask for a more perfect story with every Purple Heart recipient and veteran in the building," Rodriguez said after Clemson's 52-6 win over The Citadel. "To be able to represent each one of them is just an honor. I don't think of myself as any different from any other veteran. I just have a different helmet on my head at this point in my life. To be on the same page and as them and to be out there on the field for the school that they love and I go to is just awesome."
There were three times during Saturday's game that Rodriguez's number was going to be called, but the situation didn't allow for it.
"There were a few times throughout the game [when they were going to come to me]," Rodriguez said. "If Zac Brooks

Zac Brooks
So. Running Back
#24 6-1, 185
Jonesboro, AR
View Full Profile ' fumble had been overturned, they were going to take a shot to me in the endzone. Then in the second quarter, in the endzone when Adam Humphries

Adam Humphries
Jr. Wide Receiver
#13 5-11, 190
Spartanburg, SC
View Full Profile ran the wrong route, that ball was supposed to come to me. And, then I was going to get in the game again when Martavis Bryant

Martavis Bryant
Jr. Wide Receiver
#1 6-5, 200
Calhoun Falls, SC
View Full Profile had the touchdown catch where he stretched out to the pylon."
However, when senior fullback Darrell Smith

Darrell Smith
Gr. Fullback
#40 6-1, 250
Gadsden, AL
View Full Profile couldn't get in the endzone on three tries, Rodriguez knew that his time had finally arrived.
"There were three times where I was going to get in, but the coin just didn't flip my way," Rodriguez said. "Darrell- I wish that he could've gotten in with it being his last game, but when it was fourth-and-goal, we were going to run the sweep with him giving me the assist. It was awesome."
And when he finally crossed the goal line, he knew it was for everyone who had ever helped him get to this point in his life.
"I really wanted to spike the ball and I felt like I could've thrown it out of the back of the endzone," Rodriguez said. "It was pretty powerful, just seeing your teammates' faces light up as soon as you turn around and hearing the crowd go crazy. It was awesome. I was just thinking about my buddies that are still in the military and my 24 buddies that I've lost in different conflicts. It was kind of just for them and for everything that I've been through and celebrating with everybody."
The Clemson coaches tried to get Rodriguez that elusive first touchdown back in October against Wake Forest, but he said that he was pretty sure his best opportunity to score would come this weekend against the Citadel.
"Don't tell the coaches, I purposely didn't score [against Wake Forest]," Rodriguez said jokingly. "Things happen for a reason and it just didn't happen that day. It was pretty fun having a shot, but I knew that today we would probably get up and I would have the chance to play a lot in the second half and that I would have a good shot to capitalize on it."
And for it to happen on Clemson's 20th annual Military Appreciation Day made it all the more special.
"There is definitely a sentimental value, but as a player we take every game as it lies no matter who the opponent is," Rodriquez said. "We had a game plan coming in and we had to execute it and I'm just happy to be a part of it. On the flip side, it being Military Appreciation Day and me having a military background it was very special."
Rodriguez said that he couldn't have picked a better place to play college football than Clemson University, a school with a proud and long military heritage.
"When I was first got here, I didn't what to expect being on a stage of this magnitude, but the Clemson fans and fan base and students here, it's just a family," he said. "It's so hard not to embrace it. It's so humbling when I go out there and get an ovation for a three-yard catch. There are not too many people that have that happen. On that side of things, it's awesome.
"It's awesome to be a part of this culture and this university. I'm so happy to be a part of it. Coming from what I've been through to here, it has been a great transformation coming from one military family to a Clemson family. I couldn't be happier with the situation that I'm in, the fans, the coaches, the players, and the students.