| | |
| --- | --- |
| One-on-one with Robbie Caldwell | |
---
| | | |
| --- | --- | --- |
| Tuesday, July 22, 2014, 11:14 AM | | |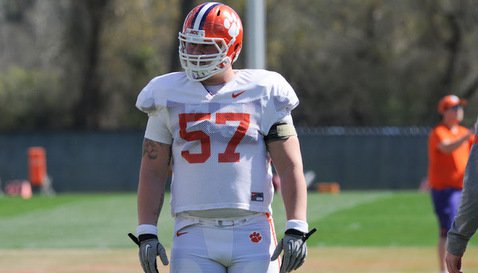 SUNSET – Clemson's offense line has to replace two starters in Brandon Thomas

Brandon Thomas
Offensive Line (2009 - 2013)
#63 6-3, 305
Spartanburg, SC
View Full Profile and Tyler Shatley

Tyler Shatley
Offensive Guard (2009 - 2013)
#62 6-3, 295
Icard, NC
View Full Profile , and will have two players who have seen significant snaps over the past two seasons miss the Georgia game due to suspension.
TigerNet sat down with offensive line coach Robbie Caldwell

Robbie Caldwell
Assistant Coach / Offensive Line
View Full Profile at head coach Dabo Swinney

Dabo Swinney
Head Coach
View Full Profile 's media golf outing earlier this week, and this Q&A is part one of our 1-on-1 session.
Is it hard going into camp knowing you have a couple of guys suspended for the opener, or does it change the way you will work things?
"Well, obviously it does and you would rather not have that. But it's also exciting, too, in the fact that we will have to spread some people around and let them play different positions and get people ready. Of course, we have to get those guys (suspended players) ready, too. It's just one game. At some point we have to get continuity with a front five and get them playing together and get them ready to go to Georgia. It will add some excitement and some interest to it. We tried to do that in the spring with our tackles as a group. We even put Kalon Davis

Kalon Davis
RS Sr. Offensive Guard
#67 6-5, 330
Chester, SC
View Full Profile in there, along with Shaq Anthony

Shaq Anthony
RS Jr. Offensive Tackle
#76 6-3, 265
Williamston, SC
View Full Profile , Isaiah Battle

Isaiah Battle
Jr. Offensive Tackle
#79 6-6, 280
Brooklyn, NY
View Full Profile and Joe Gore

Joe Gore
RS Jr. Offensive Tackle
#73 6-4, 275
Lake Waccamaw, NC
View Full Profile . We put Kalon in there and he did a great job, and I don't have any hesitation with putting him in at tackle on really either side.
Eric Mac Lain

Eric Mac Lain
RS Jr. Offensive Line
#78 6-3, 260
Hope Mills, NC
View Full Profile started out the spring playing right tackle, but do you see him moving inside to guard this fall?
"I do. I think the world of Eric Mac Lain. He has been put at tackle and at guard and he came here as a tight end. He's been put everywhere. And that has been very difficult. We tried in the spring to get him in a spot and let him stay there a little while and then he hurt his foot and it was a pretty serious injury. He is just about full speed now, works hard and is a great competitor. It will be interesting getting him back. But I do think he is an inside guy that can play right tackle. He could give us some help there if we needed him to."
Talk about moving Kalon to tackle
"He can play both, but we let him play a little tackle last fall just to get him used to it, and he had played it some in high school. He has lost weight and is quick as a cat. But Kalon had that injury when he first got here and missed weightlifting with his lower body and back for a long time. Now he is getting into the swing of it, and he is a very powerful man and he is getting to be something special. I think he can play at the level. I think he can play either spot, and the thing I love about Kalon is that he loves a challenge and he loves it when someone tells him he can't do something and wants to prove to them that he can. The other thing about Kalon is that he is one of the smartest players I've coached in my whole career. He sees what we are trying to do and he can read the defense. That isn't a necessity, and there are some that can get by without it, but if you can do that it makes you a better player. He can answer every question and he is like a coach out on the field."
Is there a chance Tyrone Crowder

Tyrone Crowder
RS Fr. Offensive Line
#55 6-2, 325
Marston, NC
View Full Profile can jump into the competition for playing time?
"There is. Tyrone has had a great summer, is managing his weight. He loves weightlifting and has had some great days in the weight room, along with Maverick Morris

Maverick Morris
RS Fr. Offensive Line
#69 6-4, 285
Broxton, GA
View Full Profile . They are guys that we recruited specifically for this offense, and by that I mean since Coach Morris and myself have been here we want guys that can run and pull."
What does Jay Guillermo

Jay Guillermo
RS So. Center
#57 6-2, 290
Maryville, TN
View Full Profile have to do to get on the field
"He is learning to use his hands. That is the thing that has hurt him in pass protection. He is a very physical guy and a hard worker. He has learned now and he knows what is going on. You will see a lot more of him, and you might see him playing center and a little guard. That is the only thing that has been lacking with him is the use of his hands."
I guess the preference would be to leave Ryan Norton

Ryan Norton
RS Jr. Offensive Line
#58 6-3, 270
Simpsonville, SC
View Full Profile at center?
"Obviously he has had more snaps at center. In a shotgun system, snaps are critical. A lot of people like Dalton Freeman

Dalton Freeman
Center (2008 - 2012)
#55 6-5, 265
Pelion, SC
View Full Profile you just took for granted because he had been there for so long. The timing of what we do is critical for the snap. Not to say that Jay or Ryan can't do that, but repetition is key there. But Ryan is smart and he can play guard. Who knows? Jay could play center and Ryan could play guard. We are going to try and get our best five on the field. I don't want one of my best five sitting on the pine."
What does Isaiah Battle have to do in order to be the kind of player you want him to be?
"He just has to be more consistent in his work. He has had a good summer, but he needs to take on more of a leadership role. He needs to watch his diet and he needs to gain weight. He needs to eat. If he wants to continue to blossom he needs to add bulk. He is probably about 270 right now, and he needs to be about 290 or 300 pounds, especially with how tall he is. That takes dedication in the weight room. He is very strong and likes the weight room. But I wish I had his metabolism. He doesn't like to eat. I do. But it is something you have to do. It's like weightlifting – you have to train yourself to eat. Clemson has a nutritionist and has everything you want in that category. It's just up to him."
Tell me about Joe Gore
"Joe is just learning to play offense. He has a lot of talent and just needs to compete. Him being a junior this year, I think you will see a big difference. He played in a different scheme in high school – the Wing T with the shoulder blocking. Which is good, because you need to do whatever it takes to win, but in pass protection you have to really use your hands and that has been his shortcoming. He is a tackle and he has the ability to play either side."
Who has stepped into the leadership void?
"Ryan Norton has really stepped up, and so has Kalon. Kalon missed the first summer session of school because he was in Japan, and what a unique opportunity for a person. He trained and kept his weight down. I think those two, along with Eric, who takes leadership roles. It is interesting to see because people don't speak up like they used to, but Ryan and Kalon are starting to speak up."

Tags: Clemson Football
,
Brandon Thomas
,
Dalton Freeman
,
Isaiah Battle
,
Jay Guillermo
,
Joe Gore
,
Kalon Davis
,
Maverick Morris
,
Robbie Caldwell
,
Ryan Norton
,
Shaq Anthony
,
Tyler Shatley
,
Tyrone Crowder