| | |
| --- | --- |
| Monday Update: Swinney talks injuries, Chad Kelly, Notre Dame | |
---
| | | |
| --- | --- | --- |
| Monday, September 21, 2015, 1:07 PM | | |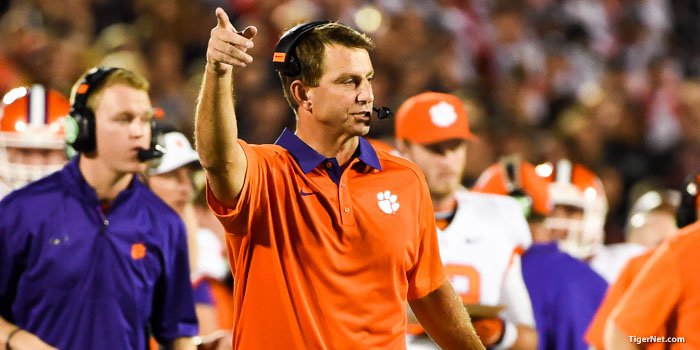 CLEMSON – The Clemson Tigers are far from a finished product, but Dabo Swinney

Dabo Swinney
Head Coach
View Full Profile 's team is exactly where they want to be three games into the season.
Clemson is coming off of a thrilling 20-17 victory over Louisville last Thursday night, and Swinney said that the win is all the more sweet after seeing what happened in the college football landscape on Saturday.
"Really proud of our team. Just a great win. The more I watched football this weekend, the better it became," Swinney said during a Monday morning teleconference with the media. "It's a big win especially early in the season with the heart that our team displayed. I'm proud of them. We were 1-8 on Thursday nights before I got this job here and now we're 5-1. That just shows you that it's difficult to win on Thursday nights especially against a really good team like Louisville. Louisville is a good team. They're going to win a bunch of games. They're going to upset somebody. We're 3-0 in September and that's where we wanted to be."
Swinney then said that the Tigers – who have two weeks to prepare for Notre Dame – have a chance to fix some things before hosting the Irish.
"I'm proud of our guys. I think we have a great opportunity in front of us. The goal was to win and we got that done," he said. "I think we have a lot to fix and a lot to improve upon. We're not a finished product and didn't expect to be. If we will stay focused on the things we talk about, then I think we have a chance to keep getting better. It's all out there for us. Everybody just needs to take ownership in doing a better job in some areas, and if we do that then we have an excellent chance.
"I told our team that we won the national title in 1992 at Alabama. In September we weren't a good team. We beat Louisiana Tech 13-7, and we were down. The only reason we won the game was because David Palmer took a punt return back and we won the game 13-7 and we end up in the national championship beating Miami 34-13. We got better as the year went, and that's what I want to see our team do. We need to keep improving, learning from our mistakes. We have a lot of young guys who are getting coached hard."
Other notes
Louisville review
"Looking back at the game, offensively I loved the balanced that we had, rushing the ball for 200-and-something yards. The other thing I was really pleased with is we only had eight negative yards. We did a good job of eliminating negative plays. We did have one sack. We were patient. I think Louisville's thought process was, 'We aren't going to out-score them, so let's see if Clemson will be patient. Let's see if Clemson will run the ball. Let's see if they will stick and take things that are there and put some drives together. I was pleased with how we were able to do that. We stayed patient and took what was there. There weren't a lot of opportunities downfield.
"We did create a couple of explosive touchdowns which was big. Wayne Gallman

Wayne Gallman
RS So. Running Back
#9 6-1, 210
Loganville, GA
View Full Profile had 135 yards rushing and Deshaun Watson

Deshaun Watson
So. Quarterback
#4 6-2, 207
Gainesville, GA
View Full Profile had four and a half yards a rush. I was pleased with what we did offensively. We missed two plays that we could've put the game away with - an angle route that we don't make. They finally brought a blitz and Leggett was wide open. It was a huge play and Deshaun got a little antsy and had poor footwork and had a poor throw. The penalties were disappointing. The two turnovers - the first one, it was a great throw and a great play by their kid. The ball is either going to be caught by Leggett or incomplete if our receiver does his job. The receiver was really the biggest problem on the play. He broke way too short, so that gives the corner eyes in the backfield. The other interception was a poor throw. But that's ball and we'll get better from that.
"Defensively, a tremendous effort. I thought we dominated the line of scrimmage. We talked about not letting them have balance. They had 18 yards rushing. We had five sacks. We held them to 272 yards, and they had three plays that would've kept them under 200. We did have a big, big bust at the end of the game. We had a big pass interference on Cordrea Tankersley

Cordrea Tankersley
Jr. Defensive Back
#25 6-1, 195
Beech Island, SC
View Full Profile . Obviously, the big play of 55 yards that they had, which set up a score for them. Overall, just a tremendous effort. The game went exactly like I felt it would; close first half and I thought we would get control of it late third quarter or early fourth quarter and pull away. 20-10 with 9:50 to go, and the only thing I didn't expect was the explosive kickoff return. That got them back in the game. That's a great lesson we can learn - one play can change the game. You can't relax. We handled the adversity well, but we have to handle success. We did not do a good job. We had two of our best players unblocked free to the ball and we didn't make a play. We have a lot of work to do there to get that corrected to get it fixed. It's something we can do a better job.
"Field goals were outstanding. Punt team was solid. Artavis didn't get any opportunities in return, but he did an excellent job of handling the ball for us. Proud of Greg Huegel

Greg Huegel
Fr. Punter / Kicker
#92 5-11, 180
Blythewood, SC
View Full Profile - two big kicks on the road. At the end of the day for us it was good, hard-fought win."
Notre Dame
"I'm looking forward to moving forward and enjoying this open date and getting a head start on Notre Dame. Our mentality is the same, The biggest game of the year is now Notre Dame. An opportunity to play a great team. It should be a great matchup and a great night in the Valley."
Injuries
"Injury-wise, Chris Register

Chris Register
RS Fr. Outside Linebacker
#45 6-2, 248
Browns Summit, NC
View Full Profile we think is getting better. We will re-evaluate him next Monday. Ryan Norton
Ryan Norton
RS Sr. Offensive Line
#58 6-3, 284
Simpsonville, SC
View Full Profile is improving. He will be out for sure for the Notre Dame game. We don't think he'll be ready for that, but he is improving. We'll get him back at some point. Same thing with Dane Rogers
Dane Rogers
RS So. Defensive End
#85 6-3, 269
Shelby, NC
View Full Profile . It's a big week for him as far as getting better. We will re-evaluate him on Monday and see what his status is for the Notre Dame game. We feel good about Jake Fruhmorgen

Jake Fruhmorgen
Fr. Offensive Line
#63 6-5, 282
Tampa, FL
View Full Profile . He's just got a PCL sprain or injury. He should be back in practice by next Monday. Nothing where he will have to have surgery. Joe Gore

Joe Gore
RS Sr. Offensive Tackle
#73 6-5, 294
Lake Waccamaw, NC
View Full Profile was able to come back and finish the game. He is sore in his right ankle, but we will get him better this week. He should be ready to go. Everyone else is good."
Kicking situation
"Ammon (Lakip) will be back for the Notre Dame game. We're glad to get him in the mix. (Greg) Huegel is our starter. He has earned that. It is his job right now, but Ammon will have a chance to jump back in and compete. It's not an open competition going into it. We have a starter and Huegel has earned that. He's done what he needed to do these first three games. He's 5-of-6 and had a couple of big kicks on the road. He's done a solid job. The biggest thing for Ammon is let's see if he can win that kickoff job. Now that is open. We'll just evaluate the field goal situation as we move throughout the season. Every day matters. You have to go out and perform. Greg is the starter."
Kickoff coverage issues
" Marion Hobby

Marion Hobby
Co-DC / Defensive Ends
View Full Profile and Brent Venables

Brent Venables
Def. Coordinator / Linebackers
View Full Profile coach our kickoff coverage team. They know what they're doing, that I can tell you. We have to execute what we're doing and what we're teaching. We did a decent job on the other kicks. We go up 20-10, we've got young guys out there and you relax a little bit. The most disappointing part of that kick - two of our best players who are starters for us were completely free. They had nobody blocking and nobody touched them. They just poor technique and a dive at the feet, while the other guy isn't where he needs to be position-wise and fundamentally. We also had a freshman who did a poor job of squeezing things down. We have to do a better job of coaching them and teaching some of these young guys. We have a couple of personnel changes that we're going to make, too."
D.J. Reader
D.J. Reader
Defensive Tackle (2012 - 2015)
#48 6-2, 321
Greensboro, NC
View Full Profile update?
"Nope. Nope. I have not talked to him. I don't have an update at this point."
Players of the game for Louisville
"Offensively it was Wayne Gallman. Defensively it was Kevin Dodd
Kevin Dodd
RS Jr. Defensive End
#98 6-5, 268
Taylors, SC
View Full Profile and Cordrea Tankersley. Really, really pleased with both of those guys; huge plays in the game. Just proud of their development. Two guys we were really counting on them coming into this year to step up for us and both of them have really come through. Doing a nice job. And then Huegel was our special teams player of the game."
Chad Kelly
Chad Kelly
RS Fr. Quarterback
#11 6-2, 210
Buffalo, NY
View Full Profile 's performance for Ole Miss
"I am definitely proud of him. I don't take any pride in having a situation here having to dismiss him here. I don't take pride in that at all, but I am very happy for him and proud of him for where he is right now. Hopefully he can continue to have great success. I love all my guys that come through here. It doesn't always go the way I want it to, but I want them all to grow and be the best player they can be, good husbands, good fathers, graduates and all that. Hopefully Chad is right where the good Lord wants him to be. Hopefully he will take full advantage of this opportunity and go on and be a great, great player like we all know he can be and be a graduate and continue to grow as a man. That's what I certainly want."
Notre Dame's defense
"I've watched them a little bit versus Virginia and obviously watched the game versus Georgia Tech this weekend. I'll spend all week studying those guys. They're just well-disciplined is the first thing I would say. I know Georgia Tech very well and to be able to hold those guys down like they did just speaks to the discipline of their team and the physicality up front being able to disrupt. They were very, very disruptive. We have not seen many people line up and challenge us outside. It's really been a vanilla-type, soft coverage type of approach to us these first three games. "
"We really just haven't had a lot of opportunity where people are kind of getting up in our grits and saying let's go. We are going to see more of that because athletically they are a different level. They are much more like us. They have really good personnel up front. They've got a couple of superstars on that side of the ball and much more talented in the secondary that can line up and do some things from a pressure standpoint and count on their guys to hold up in man coverage. That will be the biggest difference. Coming in, this is a top-10 football team. These guys are legit, maybe a top five team. It's a whole different ballgame getting ready for this one.
Trick play on Jordan Leggett

Jordan Leggett
Jr. Tight End
#16 6-5, 252
Navarre, FL
View Full Profile touchdown
"We have scored on that several times in the last few years. That was a little trick play that we started running in '11 when Coach Morris came in here. We probably have hit it four times over the last few years. We hit (Stanton) Seckinger for a touchdown. I think we hit Dwayne Allen
Dwayne Allen
Tight End (2008 - 2011)
#83 6-3, 255
Fayetteville, NC
View Full Profile for a touchdown on it in '11. We hit Sam Cooper
Sam Cooper
Tight End (2010 - 2014)
#86 6-6, 245
Brentwood, TN
View Full Profile I believe up at BC one year for a touchdown. Now we were able to hit Leggett. Like I said, with what they were doing it was great to be able to create a couple of explosives, not explosive plays, explosive touchdowns. Because they were really not going to let us throw the football down the field.
"They were really just trying to stay on top of everything. We just kept taking things underneath and kept moving the ball. Again, outside of a couple of misses, it was very efficient day, very efficient day. A lot of field position in the first half. We did a good job with that. But it was the right time and the right call. The other one we have been hitting some out cuts. So we wanted to try down in the red zone there since it was a shorter field, we felt they might be a little more aggressive down there and bite on the out cut. So we tried to run the out and up and great play by Deshaun Watson. Sometimes quarterbacks get locked in on things. He is just not that way. He has a great vision and understanding of the game. They just so happened to go Cover 2 on us there and really rolled up the corner so he stayed with it. He knew what his progression was. He went to his second read which was (Hunter) Renfrow and just did a great job and threw a strike. That's how we got that explosive."

Tags: Clemson Football
,
Dwayne Allen
,
Sam Cooper
,
Joe Gore
,
Ryan Norton
,
Kevin Dodd
,
Chad Kelly
,
Cordrea Tankersley
,
D.J. Reader
,
Wayne Gallman
,
Dane Rogers
,
Jordan Leggett
,
Deshaun Watson
,
Chris Register
,
Jake Fruhmorgen
,
Greg Huegel
,
Brent Venables
,
Marion Hobby