| | |
| --- | --- |
| Maye transferring to Miss. St, sends message to Clemson fans | |
---
| | | |
| --- | --- | --- |
| Tuesday, March 22, 2011, 11:30 AM | | |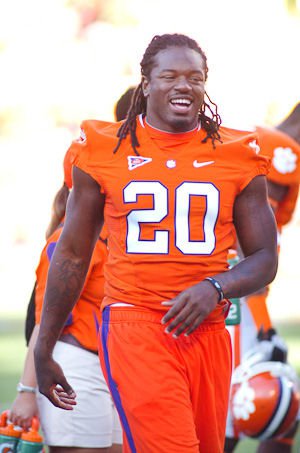 CLEMSON – Brandon Maye saw the chance he had been looking for and he took it.
Clemson's redshirt junior linebacker will transfer to Mississippi State for his senior season. Maye is a three-year starter, and he told TigerNet Tuesday morning that he plans to enroll in MSU's sports administration graduate program after completing his undergraduate degree in May at Clemson.
Because he is enrolling in a graduate program not offered at Clemson, Maye plans to petition the NCAA for a waiver that would allow him to play immediately at Mississippi State. The Bulldogs lost all three of its starting linebackers, so Maye would be a contributor right away.
Maye said he wanted to make it clear that he was not leaving Clemson because of problems with the coaching staff or with playing time - that the move was of a more personal nature.
"First thing was the academic standpoint," Maye said. "Sports Administration is something I always wanted to get into. I also had a few personal issues back towards home, and it all played out and came together at Miss. St. Despite all of the different speculation as to why I left, that was pretty much the main reason.
"It all came down to the fact that I want to work with sports and younger guys. It wasn't just about football. As far as football, though, I wanted to find a program on the upswing where I could compete for a starting job. I wanted to go somewhere and finish my career the right way. "
He said he looked at several different programs before deciding on Miss. St.
"I looked at a couple of SEC schools, and I looked at Texas A&M," he said. "I had built a great relationship with Coach [head coach Dan] Mullen, defensive coordinator Chris Wilson and linebackers coach Geoff Collins. I think I can make an impact on their team, in the locker room and in the community. That was the biggest thing – I want to make an impact wherever I go. "
Maye said he leaves Clemson at peace with his decision.
"I wasn't going to do it, but then I found a place close to home and it all just fell into place," he said. "Miss. St. is three hours from the house, and I get a chance to work on what's going on back home and work towards my future at the same time. There were no bridges burned. I talked to Coach Swinney and we are all on the same page. Clemson will always be my alma mater, and even if I get drafted, I will say I am from Clemson."
He also said he had a final message to all Clemson fans.
"Thanks for the memories. Thanks for all of the memories and how good everyone has been to me and my family the last four years. I want to thank them for showing up for every game, win or lose. I am thankful for the support of the Clemson fans. There is no other family like the Clemson family, and there are no other fans like Clemson fans."