| | |
| --- | --- |
| Clemson vs FSU Prediction | |
---
| | | |
| --- | --- | --- |
| Friday, September 23, 2011, 12:34 PM | | |
CLEMSON – Last week was fun. Now it's time to move on as the Tigers welcome 11th-ranked Florida St. into Death Valley for a 3:30 p.m. showdown that could go a long way towards determining the Atlantic Division champion.
However, no matter who wins this game, make no mistake of the fact that FSU has the easier schedule over the next several weeks.
The Seminoles have an open date next week, and then travel to Wake Forest and Duke before coming home to host Maryland on Oct. 22nd. They follow that up with a trip to Boston College before ending up the ACC schedule with home games against Miami and Virginia.
This week, a wounded bunch of Seminoles come in to take on a wounded bunch of Tigers – both squads have injuries to key personnel – and the winner may be the one that comes out the game as the healthiest. FSU quarterback E.J. Manuel hasn't practiced this week after injuring his shoulder last week against Oklahoma, and he looks to be a game time decision, while Clemson running backs Andre Ellington
Andre Ellington
RS Jr. Running Back
#23 5-10, 190
Moncks Corner, SC
View Full Profile and D.J. Howard
D.J. Howard
RS Fr. Running Back
#22 5-11, 195
Lincoln, AL
View Full Profile have both battled hamstring injuries this week.
Let's take a look at some of the matchups.
NO. 11 FLORIDA ST. at NO. 21 CLEMSON
WHEN FSU HAS THE BALL
The FSU offense prides itself on being able to run the football, and despite having a solid and veteran offensive line, they haven't done much of it this season. Manuel leads the Noles with 79 yards rushing in three games, while James Wilder is second with 76 yards, and he gained all of those against Charleston Southern. In contrast, Clemson has four runners with better or equal marks – Andre Ellington (300), Mike Bellamy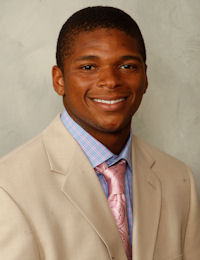 Mike Bellamy
Fr. Running Back
#5 5-10, 175
Nocatee, FL
View Full Profile (136), D.J. Howard (117) and receiver Sammy Watkins
Sammy Watkins
Fr. Wide Receiver
#7 6-2, 200
Fort Myers, FL
View Full Profile (79). The true threat that Manuel brings to the table is his ability to run and throw on the move, but if he plays you have to figure the Florida St. coaches would try and limit his carries in order to protect the shoulder. If he doesn't play – and most FSU sites say he won't – redshirt freshman Clint Trickett will take the snaps. He did an admirable job in a tough situation last week against Oklahoma, and I was impressed in how he didn't try to force things. The son of FSU offensive line coach Rick Trickett, Clint looks like more of a game manager than Manuel, who uses his athleticism to make plays happen. Assuming it's Trickett under center, look for Clemson defensive coordinator to bring blitzes off the edge and up the middle in order to confuse and harass the young signal caller. If I'm Jimbo Fisher, I ask my offensive line to go out and simply push the Clemson defense around and see if I can't get 50 carries out of Ty Jones and Chris Thompson. The Clemson run defense gave up 165 yards to Troy, 272 to Wofford and 237 against Auburn. The Noles are down to four healthy scholarship receivers after Scooter Haggins broke his hand last week, and he was playing in place of Bert Reed, who went out with an ankle injury but is expected to play against Clemson. In all, this sounds like a push unless Clemson can eliminate the chunk plays that have haunted the defense the first three weeks.
ADVANATGE – SLIGHT TO CLEMSON
WHEN CLEMSON HAS THE BALL
The Tigers exploded for 624 yards last week against Auburn, but Florida St. is a different animal. This defense is big, fast and athletic and gave Oklahoma quarterback Landry Jones fits last week, and this is the best matchup of the week. FSU corners Greg Reid and Xavier Rhodes will be tasked with keeping up the Clemson receivers Nuk Hopkins and Sammy Watkins while linebacker Christian Jones will have either tight end Dwayne Allen
Dwayne Allen
RS Jr. Tight End
#83 6-3, 255
Fayetteville, NC
View Full Profile or the backs coming out of the backfield. Bjoern Werner and Brandon Jenkins are difference makers at defensive end, so Landon Walker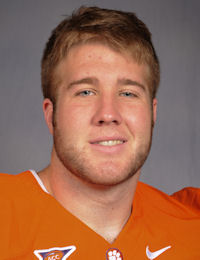 Landon Walker
RS Jr. Offensive Line
#72 6-6, 310
North Wilkesboro, NC
View Full Profile and Phillip Price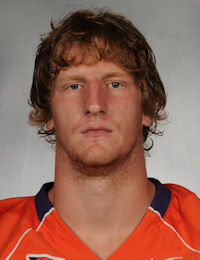 Phillip Price
RS Sr. Offensive Line
#79 6-5, 300
Dillon, SC
View Full Profile need to have big games for the Clemson offensive line. The big question becomes, however, can Clemson run the ball? We simply don't know how effective Andre Ellington will be with his hamstring injury, and backup D.J. Howard injured his hamstring in practice on Tuesday. If Clemson can't run effectively, it lets FSU wander out of the zone and bring the blitz a little more often than normal. The X-factor in this game is tight end Dwayne Allen. When Allen is focused, there isn't a linebacker that can stay with him 1-on-1, and offensive coordinator Chad Morris has already proven he can find favorable matchups and exploit them. The big key for the Clemson offense will be first down – they have to be able to get positive yardage on first down in order to take pressure off Boyd and open up the playbook. If the Tigers are getting into second-and-long and third-and-long, it plays into the hands of the FSU defense. Freshman receiver Sammy Watkins was great against Auburn, catching 10 passes and running the ball seven times. But the reverses won't work as well against FSU as they did against Auburn [too much speed on the edge], so look for Clemson to run more traps, counters and draws in an effort to take advantage of the aggressiveness of the FSU front seven.
ADVANTAGE – EVEN
SPECIAL TEAMS
FSU kicker Dustin Hopkins, who beat Clemson with a 55-yard field goal last year, is 6-for-6 this season and has the big leg to make it up to 60 yards or better. Clemson's Chandler Catanzaro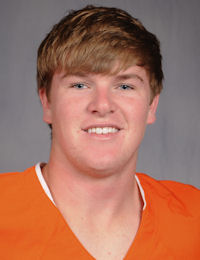 Chandler Catanzaro
RS So. Punter / Kicker
#39 6-2, 200
Greenville, SC
View Full Profile is 4-for-5 this season, and didn't flinch last week against Auburn. Both teams have solid return games – Greg Reid and Lamarcus Joyner for FSU and Waktins, Hopkins and Bellamy for Clemson – but the Tigers are solid in kick coverage. FSU punter Shawn Powell is averaging a whopping 46 yards per punt, while Dawson Zimmerman
Dawson Zimmerman
Jr. Punter / Kicker
#96 6-2, 205
Lawrenceville, GA
View Full Profile is averaging 43 yards per kick. The only difference between the two teams is that Hopkins has made the big game-winner, while Catanzaro hasn't. A special teams mistake, just one, could decide this game.
ADVANTAGE – SLIGHT TO FSU
BOTTOM LINE
These are two very talented teams and both have a lot of youth on both sides of the ball. One team has playmakers on defense and the other on offense. Solid special teams plays. Good coaches on both sides of the ball. I doubted Clemson's ability to win a big game last week and got burned [I will take that burn any day] and now I find myself wondering if this team can do it two weeks in a row. Past history says no – the Tigers have never been able to handle success. Two things jump out at me, however. Last week, even in the press box and even though it was a noon game, Death Valley sounded like Death Valley. The players and coaches all remarked this week that crowd noise and the emotion of the crowd made a difference. The second thing is that players like Sammy Watkins and Nuk Hopkins and Tajh Boyd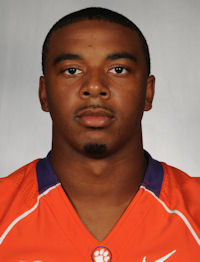 Tajh Boyd
RS So. Quarterback
#10 6-1, 225
Hampton, VA
View Full Profile aren't part of a history that shows big wins followed up by losses to Duke. They don't know about that history and don't care.
The 12th man makes the difference.
FINAL SCORE
CLEMSON 23, FSU 16
GUEST PREDICTIONS FOR FSU GAME
Mickey Plyler - 6AM-9M on WCCP 104.9FM - 27-26 Clemson
Dan Scott - 9AM-12PM on WCCP 104.9FM - 27-16 Clemson
El Swann - TigerNet Talk - 35-31 Clemson
Computer simulation - 28-24 FSU (Boyd: 28-44 for 383 yards, 2 TDs, 1 Int; Ellington: 19 carries for 59 yards, 1 TD;
Hopkins: 9 catches for 157 yards, 2 TDs; McClain: 5 pancake blocks; Branch: 5 tackles, 2 TFL, 1 sack; Catman: 1/3 FG)
PREDICTION TRACKER
| | | | | | | |
| --- | --- | --- | --- | --- | --- | --- |
| Game | Actual | David Hood | Mickey Plyler | Dan Scott | El Swann | Computer |
| Troy | 43-19 CU | 41-20 CU | 37-17 CU | 34-14 CU | 27-10 CU | 34-7 CU |
| Wofford | 35-27 CU | 51-13 CU | 48-17 CU | 40-14 CU | 48-13 CU | 38-0 CU |
| Auburn | 38-24 CU | 30-27 AUB | 31-30 CU | 34-31 CU | 24-22 AUB | 34-17 CU |

Tags: Clemson Football
,
Andre Ellington
,
Chandler Catanzaro
,
D.J. Howard
,
Dawson Zimmerman
,
Dwayne Allen
,
Landon Walker
,
Mike Bellamy
,
Phillip Price
,
Sammy Watkins
,
Tajh Boyd